Tigers could line up with four pacers?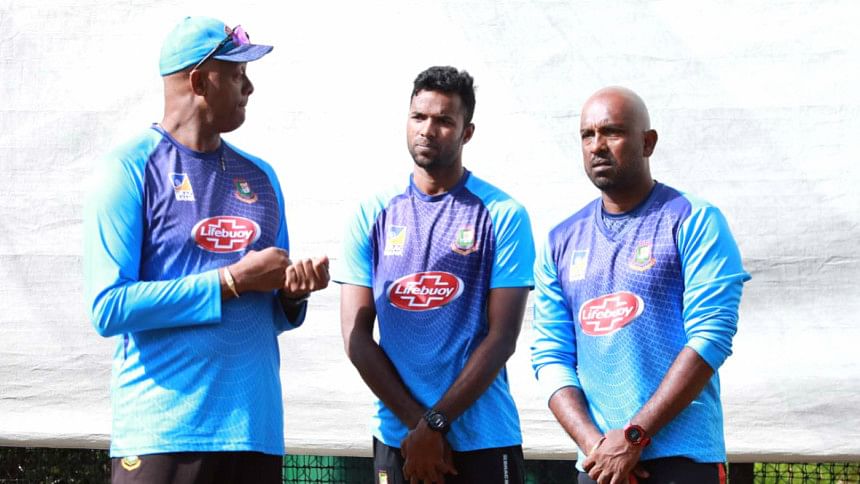 Bangladesh have quite recently played four spinners at home in Test matches but the Tigers pacers hardly get that sort of involvement when it comes to the longest format of the game in home series. Struggling with injuries and a greenish looking pitch in the offing, stand-in skipper Mahmudullah Riyad said it was not impossible for the team to play four pacers with Mustafizur Rahman coming back into the lineup after being rested in the first Test at Hamilton.
"Yes, probably we could line up with four pacers as well. The wicket is quite greenish looking. We will decide on it after discussion between me, the team management, bowling coach and head coach," Riyad reiterated.
After giving away 715 runs in the first innings of the first Test, the onus will be upon the bowlers to turn things around. How would the plan exactly look like if Tigers played four pacers?
Riyad hinted at a process from the new ball through to the older ball. Abu Jayed and Ebadot Hossain started brightly in the first Test and are capable of swinging the ball. Khaled Ahmed had shown a tendency to use reverse-swing with the older ball when he last played a Test back at home. In Mustafizur they have someone who can add variety to the attack.
"If you consider our bowling, I think we started really well, especially the first 10 overs of the first Test. Rahi was bowling really well. They [New Zealand] batted a bit better since they were leaving some of the length deliveries just because of the true bounce and maybe also since they are used to playing on that surface. We tried something with the new ball and also went to short pitch stuff. Then with Soumya we tried a tempting length outside [off stump]. We will try to execute things according to our bowling plan. Execution is the main aspect with how we approach with the new ball, then the middle overs and maybe the option of reverse-swing," he said.
Riyad though warned that it is too early to expect too much from the faster bowlers as bar Mustafizur, the rest are very inexperienced in all formats at international level.
"It will be very hard for the pace bowlers if I expect a lot from them as they are still quite inexperienced and a new bowling attack. They are really good bowlers and will need to be given time. As they groom, they will be better for Bangladesh and perform really well."
The skipper will be working on a strategy bowling-wise but was adamant consistency will be key, he however encouraged the aggression from Tigers bowlers.
"They have the aggression which was very pleasing to me. I admit that they were very aggressive which I wanted them to be. They bowled a lot of overs and tried a lot of things like short ball, bowling away [from the batsmen] and length deliveries and they were able to execute it. Maybe a bit more consistency is what we need."
The management is yet to decide on who will make way for Mustafizur and it also remains a likely possibility that a pacer would make way. Riyad reiterated that he was hopeful Fizz will play the second Test.
"Mustafizur will hopefully be back but who he will replace will be decided by the management," the skipper concluded.