'Can't get into the national side even if I perform'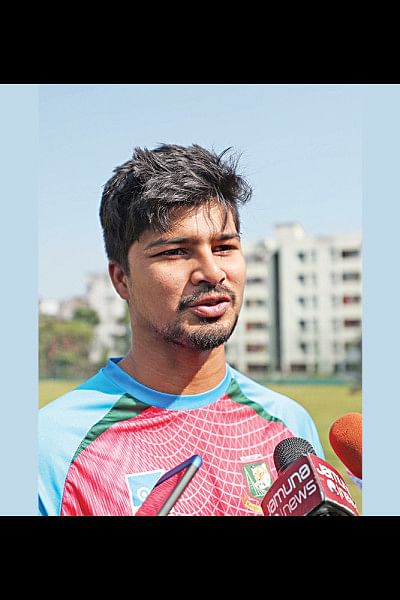 Bangladesh wicketkeeper-batsman Nurul Hasan, who has been on the fringes of the national side for the past few years, had some strong words after being left out of the contingent of 35 cricketers that were called up for a conditioning camp ahead of the one-off Test against Afghanistan and the following T20I tri-series involving Bangladesh, Zimbabwe and Afghanistan.
Exclusion from conditioning camp certainly means that a player is not being considered by the selectors for the national team. 25-year-old Nurul last played for the Tigers during their tour of West Indies, where Bangladesh lost the Test series in disastrous fashion.
However, he was the only Bangladesh batsman aside from skipper Shakib Al Hasan to hit a fifty in that series. He had also struck 47 against the Kiwis earlier and showed sensibility in away conditions with the bat. With some decent knocks under his belt in the domestic circuit recently as well, Nurul was quite disappointed to not even make the conditioning camp.
He might have felt that his exploits in West Indies would land him a place in the side for the home Test series against Zimbabwe, but Nurul suggested otherwise.
"Actually, for the last 3-4 years, that's how I have been with the national team. I always think that I might be dropped anytime. I will be mentally down if I think of these things. It's not in my hands and it's not like I will even get back into the national side if I perform well," Nurul told reporters in Mirpur yesterday.
"However, the focus remains on being around the national team and if I can manage to participate in the conditioning camps, then it will be good for my fitness and help me improve."
He also revealed that national selectors did not mention anything to him in the recent past. This week, chief selector Minhajul Abedin said that while Nurul and opener Anamul Haque were excluded from the camp, they were still part of a pool of 60 players that will feature for the A team, HP and BCB XI sides. However, neither are currently involved with any of those sides.
The case of Anamul is curious given he was called up for the ODI series in Sri Lanka after he had not been included in the team since the ODIs in the West Indies. It is not merely a matter of performance as it calls into question the selection and thought process around readying players for national team duty.
The BCB initially excluded one of Bangladesh's most commendable performers in Mohammad Saifuddin from the conditioning camp. Given how loosely they handle such matters, it was not difficult to understand Nurul's disappointment.
"As a human being it's hard to motivate yourself since you have been on the periphery of the national side but can't even make the 35 for the camp. I was in a good touch so obviously I am disappointed," said Nurul.
"If it continues then it's bad for my career. I try to always motivate myself," the cricketer said.
He informed that he had appointed a personal coach and a batting and wicketkeeping coach.
"If I want to keep my career on track then I have to take initiative myself," concluded Nurul, who was hailed as one of the best wicketkeepers in the country in 2016 by the selectors.