Bangladesh vs New Zealand: 1st Test, Hamiltion
NZ 86 for no loss after Tigers crumble for 234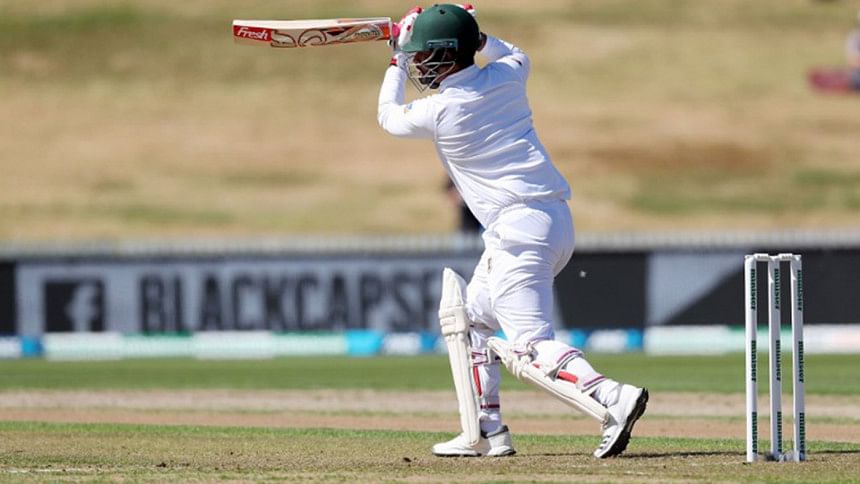 Stumps: New Zealand 86 without any loss in 28 overs  (Jeet Raval 51*, Tom Latham 35*)
So that is stumps on Day 1 of the Hamilton Test, which had started brightly for Bangladesh but swung considerably in favour of New Zealand. After bowling out the visitors for 234 despite a quickfire 126 from Tamim Iqbal, the hosts have guided their innings to 86 in 28 overs without losing a wicket, trailing by 148 runs. With all ten wickets in hand and no demons on the pitch, looks like it will be quite a labout for the Bangladesh bowlers tomorrow and perhaps even on the following day.
Bangladesh had made a blistering start anmd raced to 121 in 26 overs before they lost their second wicket. But since then it was a continuous procession from and to the pavillion, and once Tamim got out with the team score on 180 for five, there was hardly any resistance from the brittle lower order.
Bangladesh's two opening bowlers Ebadot Hossain and Abu Jayed troubled the New Zealand openers, but once the shine was off the cherry, it was easy pickings for the Black Caps. The Tigers will need something extraordinary on the second day to turn the tide in their favour. 
This is all from here today. Will join you with all the action tomorrow morning.
New Zealand 46 for no loss after 14 overs. Jeet Raval and Tom Latham, the two opening batsmen for New Zealand, have weathered the early storm and have now got a move on, reaching 37 at the end of the 13th over. Latham, who has been very quiet thus far, had offered a chance from the first over by debutant Ebadot Hossain, but Soumya Sarkar at slips, put it down. Since then the two batsmen played and missed some, left some riskily before starting to hit the boundaries. Raval has been pretty fluent, reaching 41 off 48 deliveries with eight boundaries. 
Prospects not looking very bright for the Tigers. Having rached 121 for one at one stage in their innings, the visitors folded for 234 despite a classy ton from Tamim Iqbal on what looked like a very good batting surface. And now that the early assiatnce from the cherry disappeared, the Bangladesh players go for what should be the last drinks break of the day, with New Zealand racing to 46 for no loss. Ominous signs here for Bangladesh!
New Zealand 0 for zero wickets in 1.2 overs. Ebadot Hossain, playing in his debut, produced a beautiful delivery that beat Tom Latham for pace. Latham pushed at it and a thick outside-edge went to the slip cordon. Soumya puts it down. Dropped!
Tigers bowled out for 234
Bangladesh innings crumbled after the morning session as none of the other batsmen made meaningful contributions following Tamim Iqbal's ton. Khaled Ahmed was the ninth batsman to fall. Liton Das was looking to mount some sort of rearguard action but losing partners at the other end, he finally perished too as Bangladesh were bowled out for 234. 
Bangladesh 234 all-out in 59.2 overs. Liton Das is the last wicket to fall. Out trying to hook Neil Wagner, who bags his fifth wicket of the innings. Liton Das c Boult b Wagner 29 (68m 58b 4x4 0x6) SR: 50.00
Bangladesh 234 for nine in 59 overs. Khaled is yorked by Southee. The tail-ender fails to contend with the pace. Khaled Ahmed b Southee 0 (11m 6b 0x4 0x6) SR: 0.00
Bangladesh 226 for eight in 56.5 overs. Abu Jayed Rahi is dismissed by a Tim Southee shorter delivery. Tried to get some bat on it to make it fly over the wicket-keeper. Only managed to help it to Watling who takes a comfortable catch. Abu Jayed c †Watling b Southee 2 (4b 0x4 0x6) SR: 50.00 
Tigers falter as NZ dictate terms following Tamim ton
It's tea on Day 2, Bangladesh are 217 for seven in 55.2 overs. New Zealand have come back strongly in the second session after Tamim Iqbal's fiery ton, picking up five Bangladesh wicket after lunch on Day 2 of the first Test match.
The barrage of short deliveries worked its magic as after Liton Das and Mahmudullah Riyad had looked like consolidating the innings following Tamim's wicket, New Zealand struck back-to-back blows.
Mehedi Miraz was the final wicket to fall before tea was called. Wagner banged it short and forced Mehedi to romp back onto his back foot. The all-rounder could not keep it in the ground and was caught at short square-leg. Wagner has bagged four of the five wickets in this second session. Mehedi Hasan Miraz c Nicholls b Wagner 10 (7m 6b 1x4 1x6) SR: 166.66
Bangladesh are 207 for six in 53.2 overs. Riyad, perhaps not checking where the fielder was, top-edged a Neil Wagner delivery to deep fine-leg. A rash shot not expected off Riyad so close to lunch. Tigers have lost their way following a good showing in the morning session. Mahmudullah c Boult b Wagner 22 (69m 43b 5x4 0x6) SR: 51.16
Tamim falls after magnificent ton
Bangladesh are 180 for 5 in 43.2 overs. Tamim Iqbal's fantastic knock comes to an end, out to a soft dismissal.
It was a short, wide long hop outside the off stump from Colin de Grandhomme, waiting to be put away. Tamim had so faw kept it on the ground while playing through the off side but this time he played it in the air and it was an easy catch for Williamson at gully. New Zealand have managed to pull things back after lunch picking up three wickets. Liton Das is the new batsman at the crease. Tamim Iqbal c Williamson b de Grandhomme 126 (191m 128b 21x4 1x6) SR: 98.43
Tigers lose Mithun and Soumya post lunch
Bangladesh are 149 for four in 37.2 overs. The short ball strategy since the beginning of the second session has brought New Zealand two wickets. Bangladesh batsmen have not dealt with the short stuff too well here. Tamim batting on 104 the only exception.
Soumya Sarkar wanted to leave the Tim Southee delivery all alone but just like Mominul, he did not get the gloves out of the way. A faint nick off the gloves and through to the wicket-keeper. Soumya Sarkar c †Watling b Southee 1 (11m 9b 0x4 0x6) SR: 11.11
Bangladesh are 147 for 3 in 35 overs. Mohammad Mithun wanted to pull a Neil Wagner delivery in front of square. Ball was angled across and Mithun did not execute the pull. Hit him high on his bat and looped towards mid-wicket. Mohammad Mithun c Latham b Wagner 8 (35m 24b 1x4 0x6) SR: 33.33
Tamim destroys New Zealand attack in quick-fire ton
Bangladesh 145 for 2 in 33 overs. Tamim Iqbal has notched his ninth Test hundred as he destroyed the New Zealand attack so far on the first Day in his wake. 
The conditions were meant to be tough for batsmen, especially early on in the innings and there was further evidence to support that theory when Kane Willamson chose to bowl first. Tamim made a mockery of that as he stayed true to his style, mixing aggression with control to notch his hundred in 100 deliveries. He laced his innings with 18 fours, hitting one of those in front of square -- executing a lovely pull shot -- to get to his hundred. If he had dominated proceeding by getting on to the front foot early on, the Kiwis looked to make this difficult by banging it short. Tamim remained sublime showing his capabilities to make a mark in this Test match.
Lunch on Day 1, Bangladesh are 122/2 in 28 overs. It has been Tamim Iqbal's session as Tigers went to lunch with 122 runs scored in the very first session of the Test match. Tamim is closing in on a ton. He opened the innings with Shadman Islam, who himself was looking comfortable before falling to a Trent Boult delivery that feigned to go towards the leg side before shaping away to miss the bat and hit the stumps. Mominul Haque starred in a solid 64-run partnership with Tamim, who is closing in on a ton. Mominul fell to a weird dismissal as he failed to leave alone a delivery outside the leg stump, gloving it on its way through to the wicket-keeper. 
Bangladesh are 121/2 in 26.4 overs. Bangladesh have lost their second wicket in this morning session as Mominul Haque fell after a 43-minute stay at the crease. The batsman was looking to leave a Neil Wagner delivery -- aimed at the leg side alone. Surprisingly could not manage to take his gloves out of the way and the ball took the gloves an d went through to the wicket-keeper. Mominul Haque c †Watling b Wagner 12 (46b 0x4 1x6) SR: 26.08
Bangladesh 101/1 in 20 overs. Bangladesh have managed to cross 100-run mark in just 20 overs. It has been an incredible morning scoring-rate wise. Class-wise it has been all Tamim Iqbal.
Bangladesh are 79 for 1 in 13 overs. The toss went New Zealand's way but everything following the toss in the early overs went Bangladesh's way. The Tigers must have had a lump in thier throats after being seved with the prospect to bat first at grassy Hamilton wicket but Tamim Iqbal dismissed early nerves with some fine shots. Tamim raced to a fifty off just 37 deliveries as he hit three successive fours of Trent Boult. Following his fifty, he hit another four as Tigers reached 79/1 in 13 overs.
End of 13 overs, Ban 79/1
Tamim Iqbal 55 (40b)

Mominul Haqu e0 (6b)
TA Boult 7-0-39-1

TG Southee 6-0-40-0
Bangladesh are 57 for in 10.2 overs. Trent Boult bowled a ripper to go through Shadman's defence. The ball swung late from leg to off, forcing Shadman to attempt to play towards the leg side before disturbing the batsman's off stump. Shadman Islam b Boult 24 (43m 32b 3x4 0x6) SR: 75.00 
Toss: Fizz out as Kiwis ask Tigers to bat first
New Zealand skipper Kane Williamson won the toss and chose to field first on a green Seddon Park wicket in the firs Test against Bangladesh. 
In team news, Bangladesh have dropped or rested their most experienced pacer in Mustafizur Rahman, giving fast bowler Ebadot Hossain a debut. Partnering him in the pace department will be Abu Jayed, who has played three Tests, and one-Test rookie Khaled Ahmed. Mustafizur has played 12 Tests since his debut against South Africa in mid-2015. 
There have been five changes to the last Bangladesh team that played a Test -- the innings and 184-run win over West Indies in Mirpur in December 2018. Apart from Mustafizur, skipper Shakib Al Hasan and first-choice wicketkeeper-batsman Mushfiqur Rahim are missing out due to injury while left-arm spinner Taijul Islam has been jettisoned because of the seaming conditions on offer. In their places have come in Jayed, Ebadot, Khaled and opener Tamim Iqbal, who missed the home series against Zimbabwe and West Indies due to injury. 
The pitch, hardly distinguishable from the outfield in its green tinge, could see pacers dominate terms, although it said to have something for both batsmen and bowlers.
Bangladesh failed miserably in the preceding three-match ODI series, being whitewashed in their favoured format. While the batsmen's failures, especially the top-order debacle, were mainly scrutinised for the outcome, the bowlers were also far from an acceptable standard.
Teams
Bangladesh: Tamim Iqbal, Shadman Islam, Mominul Haque, Mohammad Mithun, Mahmudullah Riyad, Soumya Sarkar, Liton Das (wicketkeeper), Mehedi Hasan Miraz, Abu Jayed, Ebadot Hossain, Khaled Ahmed.
New Zealand: Jeet Raval, Tom Latham, Kane Williamson (captain), Ross Taylor, Henry Nicholls, BJ Watling (wicketkeeper), Colin de Grandhomme, Todd Astle, Tim Southee, Neil Wagner, Trent Boult