'Bangladesh possess more than the big five'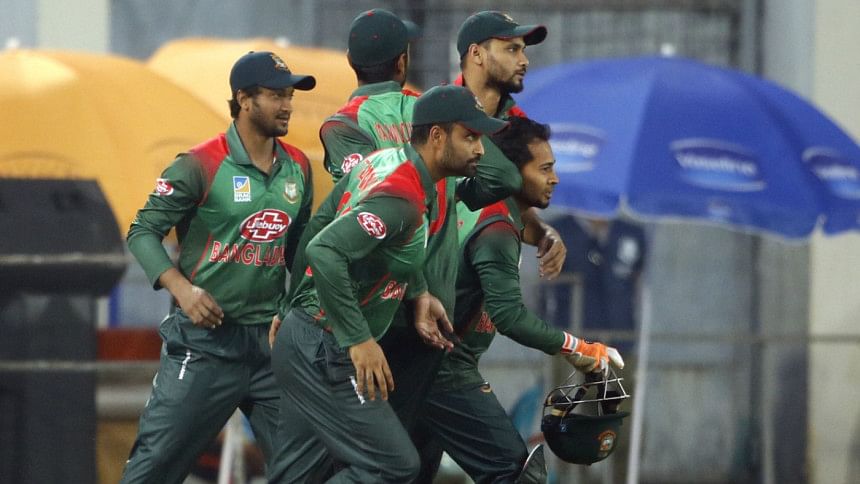 There is a feeling that the outside the big five of Bangladesh cricket there have not been many consistent performers for the Tigers in international cricket. Coach Steve Rhodes though outlined that Bangladesh cricket is more than just the contributions of Mashrafe Bin Mortaza, Shakib Al Hasan, Mahmudullah Riyad, Mushfiqur Rahim and Tamim Iqbal -- the stalwarts of the side.
"The big five gets a mention a lot. And I respect them and I think they are wonderful players. But I'm so pleased that Bangladesh possess more than the big five," Rhodes opined.
He pointed out the contributions of Mehedi Miraz in a recent few series and also the performances of Mustafizur Rahman. Both climbed up the ICC  ODI all-rounder rankings after the latest updates took place.
"You've only gotta look at Mehedi Miraz and his season so far and what he's been doing for a while now. A young fellow who's a great all-rounder, good fielder, he can bat well and he's a wonderful spin bowler who bowls well at any time.
"The other one is Fizz. I mean Fizz doesn't seem to get a mention, in my eyes he is one of the best death bowlers in the world, one of the best one-day bowlers in the world. Liton Das, he's got crucial runs for us in the Asia Cup final. Look at Soumya's couple of innings he has played recently. Imrul in the one-dayers against Zimbabwe was outstanding," Rhodes added.
Skipper Shakib Al Hasan had said earlier that the pressure on the less established players right now are immense and the big five were able to take their time to perform on a consistent basis, a luxury not many newcomers will be afforded. Rhodes was happy with the contributions from those outside  and said while the big five is special, the whole team is 'magnificent'.
"I think we've got quite a few of the guys now who are standing up. Let's call it the magnificent 11. Because I think we are a team and Shakib and all the other boys in the magnificent 5, they'll be happy because it will take a lot of the pressure off them," he concluded.