Fatullah looking sunny again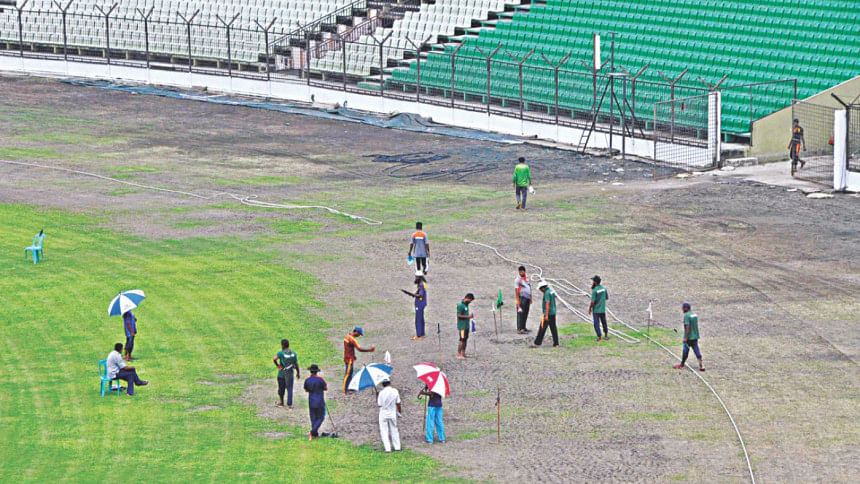 The sincerest efforts are underway at the Khan Shaheb Osman Ali Stadium (KSOAS) in Fatullah to get the ground ready in time for the practice match between the visiting Australians and a BCB XI scheduled for August 22, and the possibilities of the match getting underway tomorrow have improved significantly with the recent decrease in rainfall.
The Bangladesh Cricket Board (BCB) and the Australian management are willing to wait till the last moment, in other words till today evening, before deciding the fate of a match that was plunged into uncertainty by the aggressive monsoon.
The situation at the KSOAS has improved substantially from even a week ago, when the entrance to the stadium and the ground itself was heavily waterlogged. Someone visiting the ground yesterday afternoon would have seen that the area outside the ground itself is no longer submerged, and crucially, the central area of the main ground -- the venue for the practice match -- is completely dry, with a little dampness persisting near the boundary.
Babul Mia, the stadium in-charge said: "The water has been siphoned out using two pumps of 2 horsepower each and two pumps of 20 horsepower each, and the result is that the ground is now dry. Only the boundary areas are still damp, but that will be resolved if the sunshine continues over the next two days."
"The area around the wicket is dry," said Rahim, a member of the groundstaff who have been tirelessly working to get the venue ready. "However, even though there is no water near the boundary ropes, it is still damp. But if there is sunshine over the next two days [Sunday and Monday], the ground will be completely ready."
"The ground has been dried four times, but when the rain returned it became waterlogged again," said Shubudh Das, another groundstaff. "There were four pumps siphoning water out of the ground, but now since there is no more water, only one is being used."
The other problem has been the collection of debris and garbage outside the ground, but that too is now being solved rapidly.
"The workers have been divided into two groups to get the ground ready," supervisor Mohammad Kamal said yesterday with a smile, perhaps emboldened by the welcome sunshine. "10 to 12 men and women are working to get the ground and adjoining areas clean, and 25 to 30 people are working to get the ground completely dry. They have been working extremely hard over the past five days, which is why the water has reduced.
"The match will take place on our ground. We also want to show our skills, which is why everyone has been working hard."