'I feel for the side that is going to be in his way'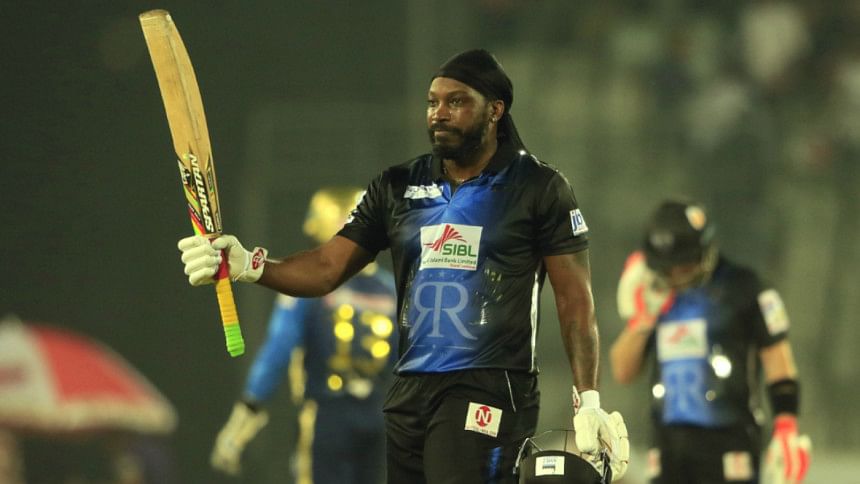 Rangpur Riders are lying in fifth spot in this season's BPL standings after six matches with their batting being the weak link so far despite their bowlers consistently doing the job. Their top-order has collapsed in some matches and dangerman Chris Gayle is yet to fire. Rangpur Riders coach opined that once the 'Universe Boss' keeps going, he will be a gale force of nature but the team's emphasis should be on the collective responsibility of scoring runs in the top-order.
Yesterday, Riders were handed a 27-run defeat by Sylhet Sixers as they lost three wickets for 11 runs while chasing Sylhet's 187. "We can't rely on one batsman continuing to be the only one to step and that is Rilee Roussow," Rangpur coach Tom Moody said about Rossouw, who has performed fantastically this season. "We need to collectively take responsibility as a top order, and that's the reason we missed our chances with those close matches. And last night, to be honest with you, 180 was a score we should have chased down, it was a very good batting wicket," he added.
Gayle usually gets going once he has settles in to the mix of things. Last season the resurgent T20 wreaked havoc in the late stage of the tournament as Mashrafe Bin Mortaza's side won the tournament in style even after a bad start.
"I'm sure Chris is frustrated. He has got a record in T20 cricket that no one's close to. And he is also a very proud man and we know that a player of his quality is going to shine at any given moment. Once Chris comes to the party with the bat, I feel for the side that's gonna be in his way," Moody said.
Moody reiterated that his team are in a tough spot but said they know what they have to do. "We are fully aware of the position we are in; we've only won two games. But we are also fully aware that there's a long way to go in the tournament. We know that we have to bat a lot better than what we have done," he stated.
Help is on the way too for Rangpur as Mr. 360 is already in town and Moody said that while AB de Villiers will not solve all their problems, he certainly would add value.
"I think AB de Villiers in any side is going to add a lot of value. But we'd be foolish as a side to think that he's going to be the magic that's going to make a difference. It's a collective effort; there's no individual that can make massive changes," he concluded.