Tigers in final following record victory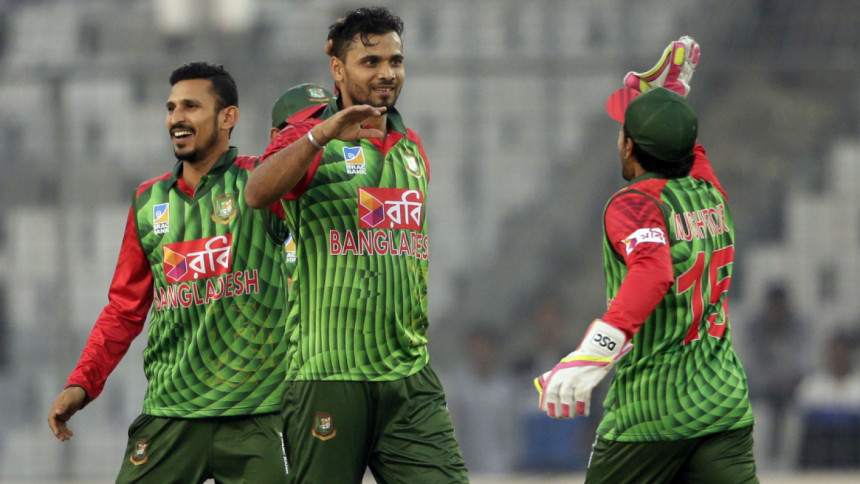 Bangladesh impress with a record 163-run victory against Sri Lanka in their second match of the tri-nation series.
With this victory, Bangladesh also recorded their largest margin victory, beating their previous 160-run victory against the West Indies back in 2012.
The victory also saw the Tigers go through to the final of the tri-nation series. Bangladesh have won both their games with bouns points and currently have 10 points from two matches. Zimbabwe are second with four points while Sri Lanka, who are yet to win a match have zero points.
Shakib Al Hasan followed up his innings of 67 with three wickets for 47 runs and was chosen as the Player of the Match. Mashrafe Bin Mortaza and Rubel Hossain bagged two wickets each.
Earlier Tigers posted 320 runs on the board Tamim Iqbal, Shakib Al Hasan and Musfiqur Rahim all struck fifties. Tamin top-scored with 84.
Also Read: Tamim's 11k, Shakib's 10k
End of match, SL all out for 157
Rubel Hossain gets the final wicket as Dananjaya splices a full toss to mid on. A Dananjaya c Shakib Al Hasan b Rubel Hossain 14 (17b 3x4 0x6) SR: 82.35
Rubel's inswinging yorker is too good for Lakmal as the ball crashes onto the stumps. RAS Lakmal b Rubel Hossain 1 (6b 0x4 0x6) SR: 16.66
Sri Lanka lose their ninth wicket and Bangladesh are on course for a victory.
End of over 30, SL 151/8
Thisara Perera hit Shakib for a two fours and two sixes in the 30th over. Thisara goes for Shakib again on the fifth delivery and is holed out at long off as Mahmudullah takes the catch. NLTC Perera c Mahmudullah b Shakib Al Hasan 29 (14b 3x4 2x6) SR: 207.14
Shakib Al Hasan struck twice in the 26th over to remove Asela Gunaratne and Wanindu Hasaranga in quick succession. The two wickets leave Sri Lanka with a mammoth target to chase and only three wickets in hand as defeat looks almost certain.
Hasaranga tries to slog sweep Shakib Al Hasan but ball loops up and is caught b wicket keeper Mushfiqur Rahim. PWH de Silva c Mushfiqur Rahim b Shakib Al Hasan 0 (1b 0x4 0x6) SR: 0.00
Gunaratne leaves through a soft dismissal off Shakib. DAS Gunaratne c Mohammad Saifuddin b Shakib Al Hasan 16 (19b 2x4 0x6) SR: 84.21
End of over 25, SL 115/5
Shakib's electric throw finds Chandimal out of his ground as Sri Lanka lose their fifth wicket. LD Chandimal run out 28 (39b 0x4 1x6) SR: 71.79
Sri Lanka are in dire straits as they lost their captain Dinesh Chandimal following a sharp piece of fielding from Shakib Al Hasan. Thisara Perera came to the wicket and hit Saifuddin for two boundaries but there is still a long way to go.
End of over 20, SL 88/4
Nuwan Dickwella is bowled by Mustafizur Rahman. N Dickwella b Mustafizur Rahman 16 (22b 0x4 0x6) SR: 72.72
Mustafizur Rahman removed Nuwan Dickwella in his fourth over as the batsman failed to judge a shortish delivery and missed it completely. Ball clipped Dickwella's off stump and Sri Lanka are in a bit of bother in their chase of 321.
End of over 15, SL 67/3
Bangladesh have been able to take three Lankan wickets inside the first 15 overs as Nasir Hossain got the first wicket before Mashrafe got two.
Skipper Dinesh Chandimal and Niroshan Dickwella are at the crease for Sri Lanka as Mustafizur Rahim was brought into the attack.
Mashrafe gets his second wicket as Kusal Mendis falls. BKG Mendis c Rubel Hossain b Mashrafe Mortaza 19 (34b 1x4 0x6) SR: 55.88
End of over 10, SL 44/2
Mashrafe Bin Mortaza takes the scalp of Upul Tharanga who was trying to hit the bowler over mid-off. WU Tharanga c Mahmudullah b Mashrafe Mortaza 25 (35b 3x4 0x6) SR: 71.42
Rubel Hossain is targetting his bouncers well as he hit Kusal Mendis on the helmet in the ninth over. Rubel followed up with another short stuff.
End of over 5, SL 27/1
Bangladesh started with Nasir Hossain at one end and skipper Mashrafe at the other. Mashrafe had a close leg-before shout against Upul Tharanga in his very first over and the umpire gave the decision in his favour. However, the decision was overturned after a review. Ball was pitching outside leg stump.
Nasir Hossain picks up the wicket of Kusal Perera as Sri Lanka lose their forst wicket. MDKJ Perera b Nasir Hossain 1 (3b 0x4 0x6) SR: 33.33
Bangladesh get what they were looking for as Nasir gives them provides an early wicket, that too the important wicket of Kusal Perea, out bowled.
End of over 50, Ban 320/7
Bangladesh reach 320 for the loss of seven wickets against Sri Lanka in the third ODI of the tri-nation series .
Some lusty hitting from Sabbir Rahman in the last over, when he struck Lakmal for two fours and a six off the last three deliveries, ensured that Tigers posted a formidable total against the Lankans. Sabbir remained not out on a 12-ball 24.
Earlier, fifties from Tamim Iqbal, Shakib Al Hasan and Mushfiqur Rahim saw Bangladesh dominate the Lankan attack. Bangladesh were 277 for three in the 45th over but Sri Lanka came back strongly in the final five overs, picking up four wickets. Sabbir's late hitting, where he picked up 19 runs eventually allowed the Tigers to score 43 runs off the last five overs.
Nasir Hossain falls leg-before to Perera in the first delivery he faced. Nasir Hossain lbw b NLTC Perera 0 (1b 0x4 0x6) SR: 0.00
Sri Lanka have attempted quite a lot of slowers in the death overs. Mashrafe Bin Mortaza looked to pull a Pradeep slower delivery towards square leg but is holed out.
Mashrafe is the sixth wicket down. Mashrafe Mortaza c Dananjaya b Pradeep 6 (5b 1x4 0x6) SR: 120.00
Sri Lanka managed to get two vital wickets in quick succession as Mushfiqur Rahim is bowled out by Thisara Perera after a 52-ball 62.
Bangladesh lose their fifth wicket. Mushfiqur Rahim b NLTC Perera 62 (52b 4x4 1x6) SR: 119.23
Skipper Mashrafe Bin Mortaza arrives at the crease to join Sabbir Rahman.
Bangladesh lose their fourth wicket as Mahmudullah Riyad falls. Mahmudullah c NLTC Perera b Pradeep 24 (23b 2x4 1x6) SR: 104.34
End of over 45, Ban 277/3
43.5: Mushfiqur swivels well to run two and bring up his fifty in style. 50 off 42 deliveries
The 44th and the 45th over has seen Bangladesh batsmenn Mushfiqur and Riyad looking to free their arms. Mushfiqur Rahim executed a tricky scoop off Pradeep's slower delivery on the 44th over before running two off the next delivery to reach 50. Mahmudullah hit de Silva over long-on for six as Bangladesh reached 277 for three with five overs remaining.
End of over 40, Ban 243/3
Bangladesh lose their third wicket as Shakib Al Hasan falls after scoring 67. Shakib Al Hasan c & b Gunaratne 67 (63b 7x4 0x6) SR: 106.34
Shakib gets out of a nothing delivery as he slaps the ball straight into the hands of bowler Asela Gunaratne. Frustrating end to Shakib's innigs and Bangladesh would have loved to see him carry on. Mahmudullah Riyad is the new batsman at the crease.
Mushfiqur Rahim is going strongly at the other end as he is on 39 off 32 balls. He is in good form as was showcased by his magnificent six off Thisan Perera in the 36th over, where he danced down the wicket and slapped the bowler over mid-off for six.
End of over 35, Ban 202/2
Bringing Shakib up the order is paying dividends for the Tigers as he struck a 50 off 50 deliveries. Mushfiqur Rahim is batting on 15.
33.4: Shakib drives it to mid-off and hurries for a quick single and that brought up his 36th ODI fifty. A run-a ball 50 from the all-rounder.
End of over 30, Ban 171/2
Bangladesh lose their second wicket as Sri Lanka make the crucial breakthrough. Tamim Iqbal c Dickwella b Dananjaya 84 (102b 7x4 2x6) SR: 82.35
Tamim Iqbal falls trying to play Dananjaya without getting to the pitch of the ball. The feet did not move adequately and he adjusted by reaching out for the ball. Got the slightest of nicks and Sri Lanka make the crucial breakthrough. The Tamim-Shakib partnership stops at 99. They put on 99 off just 86 runs and Bangladesh innings as Bangladesh innings gained momentum. Mushfiqur Rahim is the new batsman at the crease.
End of over 25, Ban 144/1
Tamim Iqbal is really looking to assert dominance now that he has reached his fifty. He went after Gunaratne in the 24th over hitting the bowler for consecutive sixes to pick up 15 runs in that over. In the next over an overpitched Nuwan Pradeep delivery did not go unpunished as Tamim drove it handsomely through the covers for four. The opener is on 73 off 87 deliveries while Shakib  Al Hasan is batiing on  25 off 26 deliveries.
21.1: Tamim Iqbal knocks the ball to mid on to take a single and bring up his 40th ODI fifty off 72 balls. It is his second successive fifty in the tri-series.
End of over 20, Ban 107/1
Shakib Al Hasan comes in and along with Tamim Iqbal, carries forward the early impetus provided by Anamul to take the score past 100. 
End of over 15, Ban 71/1
Bangladesh lose their first wicket as Anamul Haque falls. Anamul c Dickwella b NLTC Perera 35 (37b, 3x4, 1x6)
Anamul kept living dangerously as he remained positive but always providing a chance for breakthrough and he was finally gone trying to hook Thisara Perera in the 15th over. Anamul left after scoring 35 runs as Shakib Al Hasan joined Tamim Iqbal at the crease..
End of over 10, Ban 50/0
Bangladesh reach 50 without loss after 10 overs in their match against Sri Lanka in the third ODI of the tri-nation series.
It has been a shaky start for Anamul Haque as he struck a couple of boundaries but also got lucky when he was dropped in the very first over. He then hit Akila Dananjaya for six in the 10th over and in the very next ball a difficult stumping opportunity was missed.
Anamul survived again as Lakmal found the edge of hid bat in the seventh over. Ball went to slips again and just fell wide of the fielder and ran away for four. Tamim on the other hand is looking pretty solid out there as he drives Nuwan Pradeep through the covers for four. 
End of over 5, Ban 18/0
Tamim has been watchful while Anamul has looked to play his shots after the first five overs of play. Anamul is lucky to be still there after he played away from his body and was dropped at first slip by Kusal Mendis in just the third delivery of the very first over bowled by Suranga Lakmal. Tamim Iqbal followed him with a similar shot in the very next ball. An eventful first over. Tamim and Anamul then played two lovely straight drives for four runs as they presented the full face of the bat in the second and the third over respectively.
Bangladesh have won the toss and elected to bat first against Sri Lanka in the third ODI of the tri-nation series.
Tigers are buoyed by their win against Zimbabwe on the opening game of the tri-nation however Zimbabwe came back strongly with a brilliant win against Sri Lanka in their second game.
Lankan skipper Angelo Matthews is ruled out through an hamstring injury and in his absence Dinesh Chandimal will lead the side. Bangladesh have picked Mohammad Saifuddin to replace Sunzamul Islam in a bid to further strengthen the pace attack.
Teams:
Bangladesh XI: Tamim Iqbal, Anamul Haque, Shakib Al Hasan, Mahmudullah, Mushfiqur Rahim (wk), Nasir Hossain, Sabbir Rahman, Mashrafe Mortaza (capt), Rubel Hossain, Sunzamul Islam, Rubel Hossain
Sri Lanka XI: Upul Tharanga, Kusal Perera, Dinesh Chandimal (wk & capt), Nuwan Pradeep, Kusal Mendis, Asela Gunaratne, Thisara Perera, Akila Dananjaya, Suranga Lakmal, Wanindu Hasaranga, Niroshan Dickwella.