Live Updates: South Africa vs Bangladesh second Test, Day 1
SA lose third wicket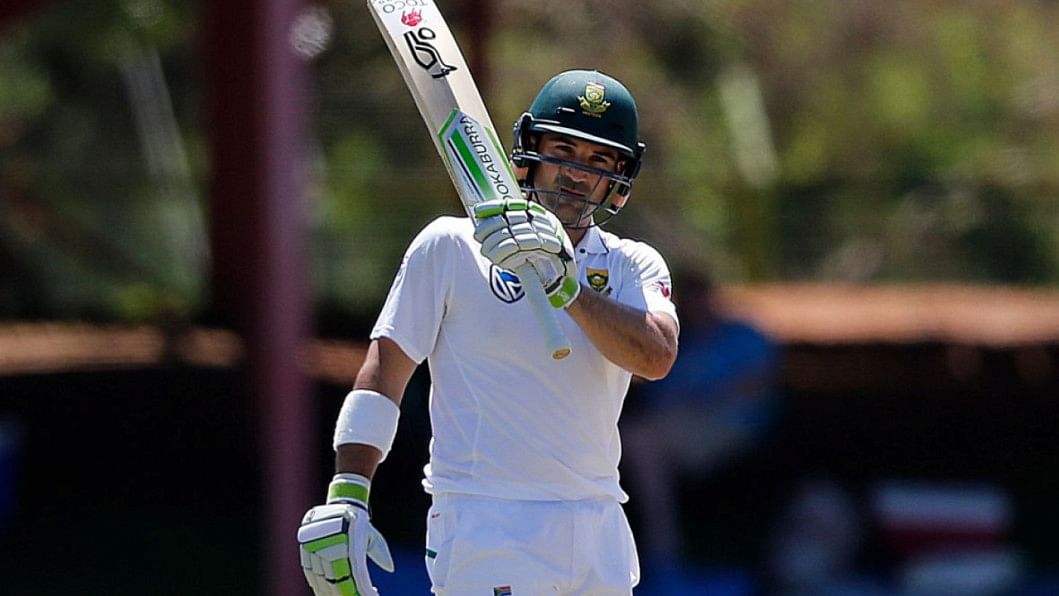 61.2, SA 288/3 - Subashish Roy gets the edge of Temba Bavuma's bat and the nick carries through to the keeper. Bavuma is gone!
T Bavuma c Liton Das b Subashis Roy 7 (12b 1x4 0x6) SR: 58.33
58.4, SA 276/2 - Hint of reverse swing from Rubel and ball goes through Markram's defences. Out!
AK Markram b Rubel Hossain 143 (186b 22x4 0x6) SR: 76.88
It's Tea on Day one of the second Test. South Africa are 256 for the loss of one wicket after 56 overs. Hashim Amla has joined Elgar at the crease. Markram is not out on 135.
53.4, SA 243/1 - Elgar is holed out at deep square leg after he tried to pull Subashish roy and got a a thickish top-edge. Mustafizur takes the catch diving forward.
D Elgar c Mustafizur Rahman b Subashis Roy 113 (152b 17x4 0x6) SR: 74.34
58.4, SA 276/2 - Rubel strikes as he bowled out opener Markram for 143. Hint of reverse swing as the ball tailed into the right hander.
49.6, SA 225/0 - Elgar tries a pull shot off Mustafizur. Ball takes the top edge of the bat and Liton Das can'y hold onto the catch. Dropped!. It was a difficult chance.
43.4, SA 211/0 - Markram strike back to back boundary off Rubel to bring up his maiden ton in just his second Test match.
41.4, SA 201/0 - Markram punches Rubel wide of extra cover and that brings up the 200 for South Africa and also the 200-run stand between the two openers.
40.3, SA 197/0 - Elgar reaches ton with back to back boundaries off Taijul.
End of over 40, SA 188/0, Markram 89, Elgar 94
South Africa have picked up the run rate since coming out after lunch. Both batsmen have played in similar fashion to the first Test. They have watched the ball closely and then punished the bad deliveries accordingly. Batting has gotten easier as the day wore on. Both batsman are close to their scoring centuries and they will look to pile on the misery for Bangladesh. The current run rate after 40 overs in 4.7.
End of over 35, SA 162/0
33.6, SA 153/0 -South Africa reach 153 without loss as Markram romps back on to the back foot and ball races to the boundary through cover. The batsmen reach their 150-stand as well.
31.3, SA 140/0 - Markram punishes a full-toss from Taijul and drives the bowler through cover for four.
The current run rate is 4.35 as South Africa look to capitalize on their start.
30.3, SA 135/0 - Markram whips Mustafizur through mid-wicket for four.
The players are back after lunch. The Proteas have dominated the first session.
Lunch have been called on the first day of the second Test between Bangladesh and South Africa. South Africa are 126 for no loss after 29 overs. Markram is on 54 and Elgar is batting on 72.
27.4, SA 122/0 - Markram reaches his 50 with a boundary off Taijul.
The South African batsmen have batted with a lot of authority. No silly shots from the opening pair as they build their innings in the same way that they did in the first Test.
End of over 25, SA 104/0, Elgar 63, Markram 41
24.1, SA 102/0 - Rubel to Elgar and the batsman before timing the ball through the covers for four to bring up South Africa's 100.
21.4, SA 86/0 - Markram comes down the track to Taijul and thumps him wide of mid-on for four.
20.1, SA 82/0 - Elgar drives Subashish Roy through the covers for four to bring up his 50. That's his ninth Test 50.
End of over 20
18.6, SA 73/0 - Markram clips Subashish Roy's delivery onto his pads for four.South Africa are going on at a run rate of 3.72 as they reached 67 for no loss after 18 overs.
15.4, SA 60/0 - Markram lifts it effortlessly past the bowler for four.
Spin has been brought on as Taijul Islam is introduced.
End of over 15, SA 56/0, Elgar 41, Markram 15 not out
13.6, SA 55/0 - Short stuff from Mustafizur. Some signs of aggression from the left-arm quick. Awkward one for Elgar as ball hits him on the forearm before looping to the keeper.  
13.3, SA 55/0 -  Elgar punches Mustafizur through point for four. Stands tall and guides it down really well.
Bangladesh just cannot maintain the pressure on the batsmen as South Africa reach 50 without loss.
11.5, SA 42/0 - Mustafizur lands the delivery on Markram's off stump and it swings away. Markram hangs his bat away from his body but does not manage to connect. Close call.
10.6, SA 41/0 - Short and wide outside off stump from Rubel. Markram cuts hard and nobody moves as ball goes through point for four.
End of over 10, SA 35/0
9.4, SA 35/0 -  First signs of the serpent on this pitch. Ball zips after pitching and bounces sharply. Elgar does well to keep his bat away from that one as ball flies to the keeper. That was a deadly delivery from Mustafizur.
Mustafizur Rahman is back in the attack after one expreimental over from Soumya Sarkar. He finishes the over with a maiden. SA 30/0 after eight overs.
South Africa have started brilliantly in this second Test after being put into bat by Bangladesh skipper Mushfiqur Rahim.  Both batsman look in good touch and although there is pace and bounce on this wicket, the batsmen out there do not look fussed. They have left alone the good deliveries and pounced on anything slightly loose.
5.6, SA 27/0 - Soumya over pitched almost every delivery in that over. Elgar finally punishes him with a classy straight drive that goes for four off the last ball of the over.
Soumya Sarkar has come onto bowl from the other end. Mushfiqur Rahim opting for quick changes here.
End of over 5, SA 23/0, MArkram 7, Elgar 16
4.2, SA 23/0 - Rubel induces the drive from Markram. Batsman plays and misses.
Rubel Hossain has been introduced to the attack.
3.5,3.6, SA 23/0 - Two back to back boundaries off Subashish by Elgar off the last two balls. Both perfect for drives. One goes through mid off and the the other through mid-on for four. Three boundaries have come off this over.
The South Africa openers have punished the bad balls that have come their way. Mustafizur Rahman strayed down Elgar's pads and was dispatched to the bounday. Next over, Markram drives a full-toss through covers for four off Subashish Roy. These are the kind of deliveries the Bangladesh bowlers must minimize. Pressure is relieved with every boundary.
There is good carry on this wicket. Bowlers need to land their boucers in the right spot to troble the batsman. The extra bounce will surprise coming from something that has not landed on the middle of the pitch.
1.4, SA 4/0 - Subashish Roy to Markram. Markram drives but ball takes a inside edge. Bangladesh appeal for leg-before but not out says the umpire.
0.4, SA 4/0 - Mustafizur Rahman strays down the leg side and Dean Elgar punishes him accordingly. Ball races to the fine-leg boundary for four.
Bangladesh have won the toss and elected to field first in the second Test between Bangladesh and South Africa at Mangaung, Oval, Bloemfontein.
Tamim Iqbal as expected is out of the second Test through an injury. In an interesting turn of events however, the Tigers have dropped their main spin weapon Mehedi Hasan Miraz. Pacers Taskin Ahmed and Shafiul Islam have also been dropped from the side.
Spinner Taijul Islam makes the squad for the Bloemfontein Test. Soumya Sarkar makes a return after he was sidelined in the first Test. Rubel Hossain has also been included in the lineup.
Faf du Plessis: "There is a little bit of grass, so the first session will be important. After that it should be a good batting wicket and it could get quite dry by days four and five,"
Bangladesh XI: Mushfiqur Rahim(c), Soumya Sarkar, Imrul Kayes, Mominul Haque, Mahmudullah Riyad, Shabbir Rahman, Liton Das(wk), Mustafizur Rahman, Rubel Hossain, Subashish Roy, Taijul Islam
South Africa XI: Dean Elgar, Aiden Markram, Hashim Amla, Temba Bavuma, Faf du Plessis(c), Quinton de Kock(wk), Andile Phehlukwayo, Wayne Parnell, Keshav Maharaj, Kagiso Rabada, Duanne Olivier