Bangladesh should not have made the Champions Trophy semis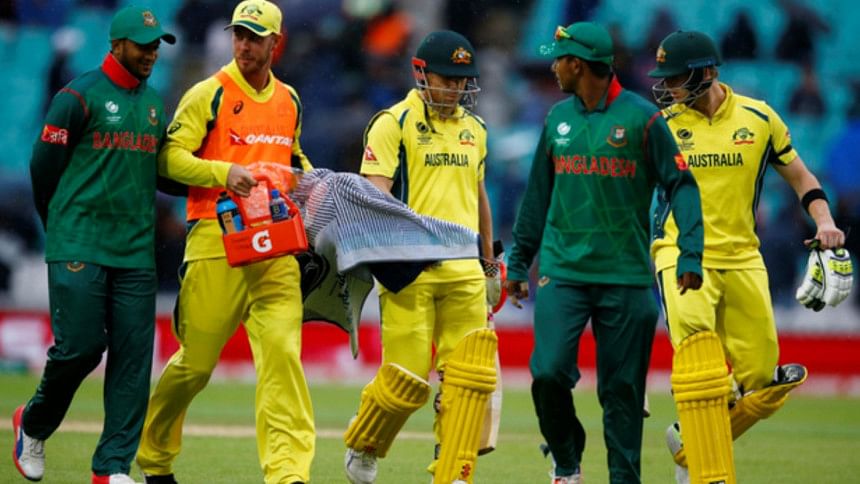 The inventors of the Duckworth-Lewis method, say that Australia should have been declared winners in the rain-affected Group A match of the Champions Trophy.
That would have seen Australia and not Bangladesh play the semifinal match against India.
Bangladesh put on a 183-run target for Australia to chase and Steve Smith's men reached 83 for the loss of one wicket in 16 overs.
Four more overs needed to be played for a result to take place but Bangladesh slowed down the over-rate by bowling only pacers towards the end. After the shower, play was unable to continue and the umpires had to call the game off. The points were shared between the two teams as 20 overs were not bowled during the Australia innings—as per the DLS method.
In a column on ESPNcricinfo, Frank Duckworth and Tony Lewis wrote that Australia should have been awarded victory which would have earned them two points because there are 'compelling reasons, within the existing ICC ODI regulations, for Australia to have been awarded'.
Australia were 45 runs ahead of the required target when play stopped due to rain. When play was stopped, the lost time was converted to seven overs which brought the required target to 166 in 43 overs for the Aussies.
According to the table of possible targets, the required target reduces as the number of lost overs increases. So, as overs were lost from 8pm that day, the required target kept decreasing while the umpires suggested that play would restart at 8.30pm.
If 20 overs of the match were lost and the match was brought down to a 30-over game, then the required total would have been 120 runs. No more than 30 overs of a match can be lost. If the match was brought down to 22 overs then the required target would be 79.
The cut-off time for calling off the match was 9.59pm and with 8 minutes left (at 9.51pm), the umpires decided to call-off the match instead of consulting the table of possible targets.
However, Australia, who were 83-1 had already achieved the revised target of 79 runs, if 28 overs were lost due to rain. So, they did not need to play the six overs to win the game cause at 9.51 pm the game would have come down to 22 overs with 8 minutes left till cut-off time.
Duckworth and Lewis 'believe that a more dynamic view of the process would be fairer'.