House full as Tigers train in Cardiff
After nearly a week in the United Kingdom, the Bangladesh contingent bore a complete look yesterday when their official World Cup training camp started at the picturesque Cathedral School ground in Cardiff. The 13 players who came to the UK after the Tigers won their maiden multi-team trophy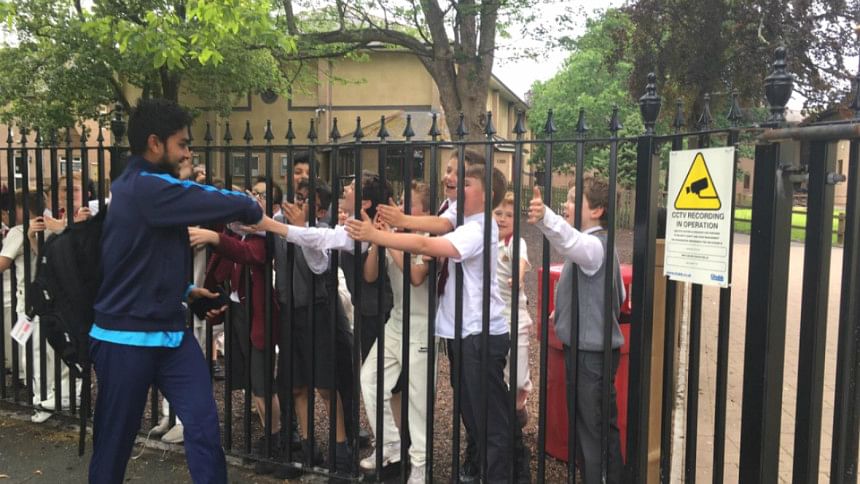 After nearly a week in the United Kingdom, the Bangladesh contingent bore a complete look yesterday when their official World Cup training camp started at the picturesque Cathedral School ground in Cardiff. The 13 players who came to the UK after the Tigers won their maiden multi-team trophy in Ireland on May 17 had been in high spirits during an optional training block in Leicester, but the feel-good factor seemed to have been dialled up to 11 as talismanic skipper Mashrafe Bin Mortaza and the ever-popular Tamim Iqbal -- both of whom were granted a break after the Ireland series -- joined the team.
The team were accorded a reception by the students as they entered the premises, before making their way down a slope that led to an expansive field with three centre wickets. Mashrafe, who arrived in Cardiff on Thursday night after attending the official captains' press conference in the afternoon, was the only one of the 15 who did not physically take part in the practice but the inspirational leader was seen discussing strategy with the coach and later cracking jokes with teammates on the sidelines.
Tamim, upon whose opening salvos the health of Bangladesh's innings often depends, was among the first batch of batsmen to head to the centre wickets, along with Mushfiqur Rahim and Sabbir Rahman. Shakib Al Hasan joined them not long afterwards. Mahmudullah Riyad, who is still recovering from a shoulder injury, rolled his arm over a few times, tossing full tosses to spin consultant Sunil Joshi. Mahmudullah did not seem too happy with his progress because he winced in pain after each arm roll and asked physio Thihan Chandramohan for an extra layer of strapping on his shoulder. Mainly a middle order batsman, his shoulder troubles will not prevent him from playing matches in the World Cup, but his useful and canny off-spin is crucial to the team's balance and the Tigers will be hoping that Mahmudullah returns to bowling fitness sooner rather than later.
Yesterday was a continuation of the feel-good factor that has characterised the Bangladesh team's training sessions in the UK so far, with an example being teammates vociferously cheering on Rubel Hossain in an impromptu fast bowlers' race with Abu Jayed, which Rubel appeared to win at the last moment.
However, the Tigers' good cheer will soon be put to the test when they take on Pakistan tomorrow in a warm-up encounter at Sophia Gardens. That will be followed by a second warm-up match at the same venue against India on Tuesday. Mashrafe and Co will be hoping that the fun and intensity sustains through those encounters and into the deadly serious matter of their World Cup opener at The Oval in London against South Africa on June 2.