Bangladesh's top ten moments against India-3
Bangladesh's 15-run win against India in 2004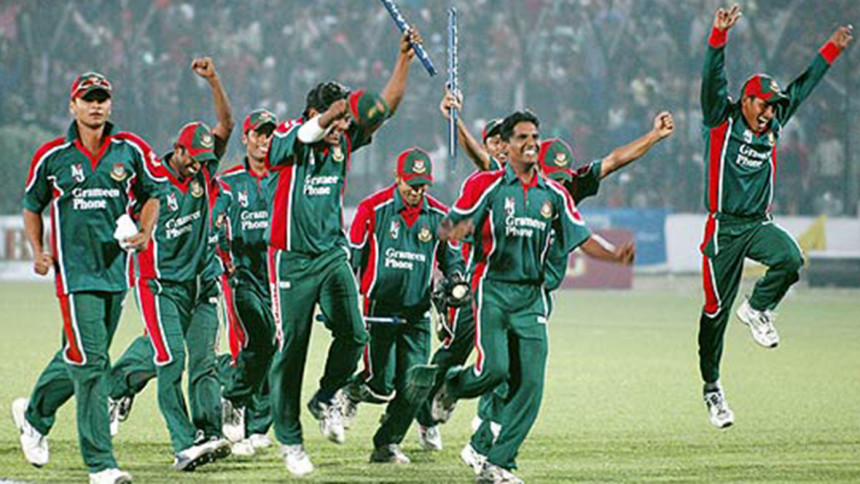 As the India series in 2004 progressed, Bangladesh's chances of doing something special gradually improved.
Mohammad Ashraful's breathtaking 158 in the second Test had laid the platform.
That was followed by a near-miss in the first ODI when Bangladesh went down to India by just 11 runs; a close result, considering the previous face-offs between the two sides.
As the Tigers travelled from Chittagong to Dhaka to play the second ODI, there was a sense of confidence growing in the team.
They knew that they had managed to stir a few nerves in their opponents in the last few weeks as for brief periods of the tour they dominated the visitors.
They could sense that they were close to achieving something special: their first win against India; their first win against a top-ranked side since their triumph against Pakistan back in 1999.
The second ODI at the Bangabandhu National Stadium though didn't start in the best of ways.
Bangladesh's experiment to promote Mohammad Rafique at the top failed and the Tigers were down and out at 88 for 5 in 22 overs.
That's when Aftab Ahmed came into the fray. The diminutive batsman knew that he had nothing to lose, unleashed his strokes and took the attack to India.
Along with a resolute Khaled Mashud at the other end, the hosts began their recovery.
Following Mashud's departure in the 30th over, Aftab, who ended up scoring 67, and Khaled Mahmud fell in quick succession and Bangladesh, despite the comeback, were in danger of getting bowled below 200.
Mashrafe Bin Mortaza entered the scene at that point of time and changed the game.
He smacked a six and three fours to light up the arena with his 39-ball 31. His blitz took the hosts to 229, which still seemed to be a below-par total.
If all the wielding with the bat wasn't enough, Mashrafe came back with the ball in his hands and removed Virender Sehwag off the very first ball after the exchange.
Feeding on the momentum that Mashrafe inserted into the game, Tapash Baisya, Khaled Mahmud and Mohammad Rafique put in stellar bowling performances, taking two wickets each.
In fact, that was one of those evenings when the Tigers performed brilliantly as a team.
Aftab and Rajin Saleh effected two run-outs while the rest was handled by the bowlers.
It was an enormous win and a much needed one, considering the immense criticism that the Tigers faced prior to that series.