Bangladesh v South Africa, 1st Test, Chittagong
Tigers show fight in drawn Test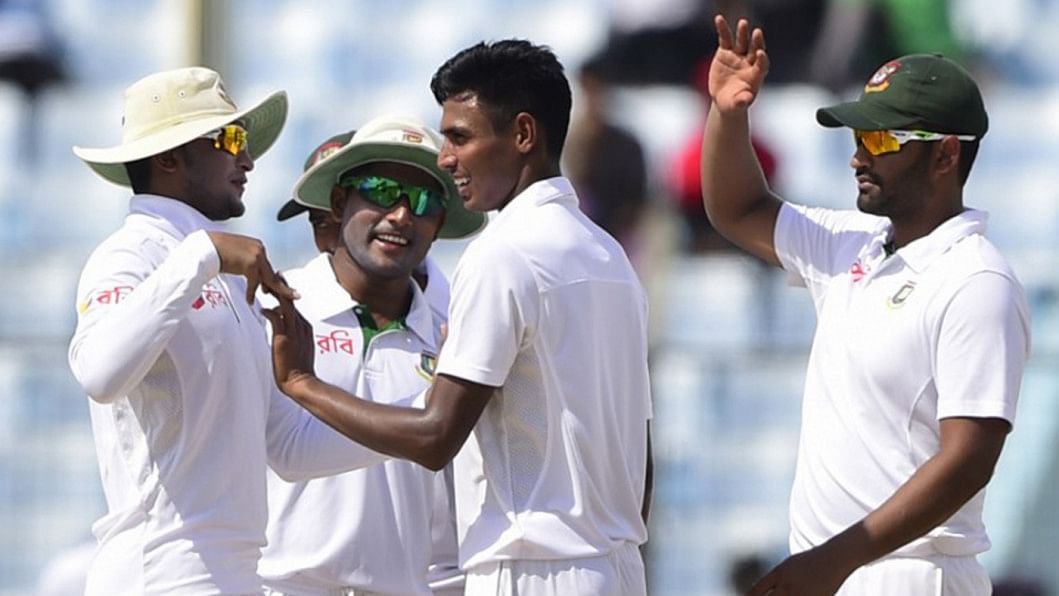 The 1st Test match between Bangladesh and South Africa ended in a draw after rain washed out the last two days of the game at Chittagong Stadium.
9th Test between the Tigers and Proteas was poised for an exciting finish after South African openers all but wiped out the 78-run deficit by the end of day 3. Bangladesh recorded their highest total with 326 runs in the first innings.
The result ought to be a welcome relief for Tigers after eight consecutive losses against the current world no. 1 team in ICC Cricket Rankings.
Bangladesh were defeated by an innings in the seven Test matches out of nine, the 5-wicket loss at Dhaka in 2008 broke the streak of embarrassing hammerings at the hands of South Africa.
The first Test of the 2-match series at Chittagong witnessed a rejuvenated Tigers after back-to-back ODI wins dictate terms to the visitors for crucial periods of the game.
At 136 for 2, when it looked like South Africa were running away with the game in the first innings, Bangladesh came back in the most comprehensive manner, taking the last eight wickets for 112 runs.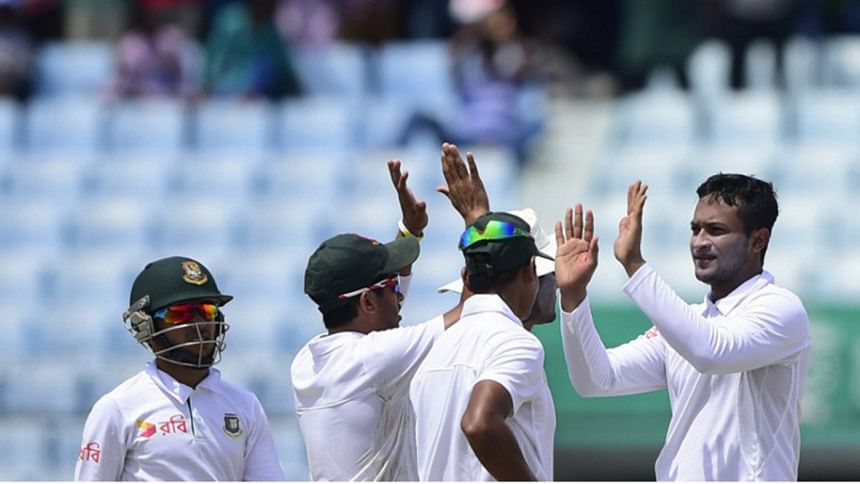 Even after Shakib Al Hasan sent back Faf du Plessis for 48 with his arm-ball, South Africa had seasoned batsmen in their ranks, but Mustafizur Rahman threw a spanner in their works with one over of incredible bowling.
Bangladesh's left-arm fast bowler won his Test cap on July 21, 2015 and needed some time to control his nerves when South Africa began batting first.
Mustafizur found it difficult to string together several good deliveries, and lacked the control he enjoyed during the ODI series. His early overs contained too many loose deliveries to put pressure on the opposing batters.
In his 13th over of the match, Mustafizur turned the game on its head with three wickets in four balls, demolishing South Africa's middle-order in the process.
Hashim Amla, JP Duminy and Quinton de Kock were victims of Mustafizur's guile and skill with the ball, the 19-year-old bowler proved once again how he can outsmart even the most experienced of batters.
Mustafizur enticed Amla with a fullish delivery outside off, with the seam pointing towards the slip cordon. The ball pitched and went away, taking the edge for a simple catch behind the wicket.
Expecting a cutter slightly short of good length, JP Duminy stayed back at the crease. Mustafizur's full and swinging delivery struck the batsman in front of middle and leg, and the bowler got his reward after umpire's decision was reviewed.
The next ball was probably the highlight of the match when de Kock's off-stump was sent cart-wheeling by a pacy, swinging delivery from Mustafizur.
Mustafizur bowled 17.4 overs, took four wickets for 37 runs.
At 173 for 6, South Africa stared down the barrel but Temba Bavuma resisted with a pugnacious fifty, and helped to add crucial runs for the last four wickets.
Jubair Hossain couldn't believe his luck, his rank long-hops producing wickets late in the innings to restrict the Proteas for their lowest total against Tigers, 248 runs.
On the other hand, Mohammad Shahid did not enjoy any good fortune, with two not so difficult catches dropped of his bowling. Shahid's spell of 17 overs for 34 runs with nine maidens doesn't do justice to his lion-hearted effort to pile on the pressure on the Proteas batters.
Before the series began, Bangladesh coach Chandika Hathurusingha had said his bowling attack could take 20 wickets to The Daily Star. He shouldn't be disappointed since South Africa were bowled out in 83.4 overs in the first day of the match.
"Not only Jubair, Shakib [Al Hasan] as well. We have forgotten about him. He has been the highest wicket-taker. We have also got Mustafizur [Rahman] and Rubel [Hossain] and [Mohammad] Shahid is a work horse. I am much more confident than before with this bowling attack when it comes to taking 20 wickets," said Hathurusingha.
A bitter-sweet experience followed when Bangladesh batted in the first innings of this match. The good showing was limited to two substantial partnerships over 80 between Tamim, Mahmudullah and Shakib, Litton after a steady opening stand.
When Bangladesh ended day 2 at 178/ 4, only 70 runs behind the visitors with Shakib and Mushfiqur at the crease, hopes were raised for a big lead with the pitch easing out a bit.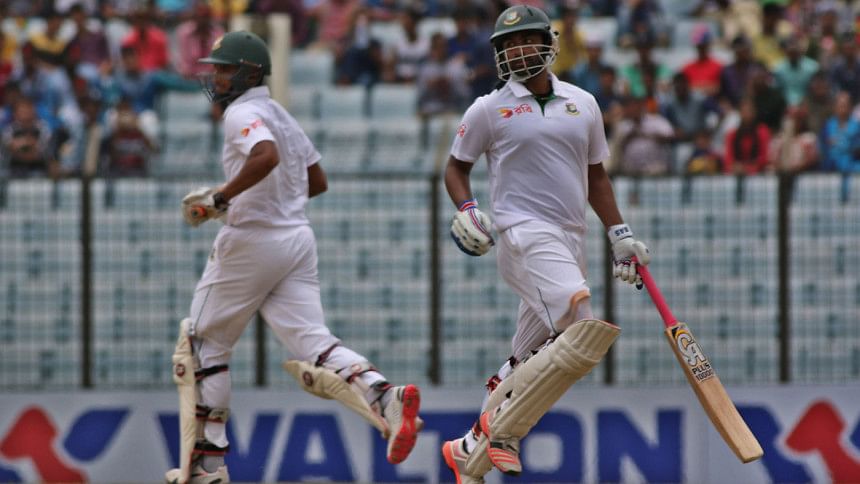 Tamim Iqbal, Mahmudullah and Litton Das all picked up their maiden fifties against South Africa, Shakib Al Hasan scored 47, but none of the set batsmen could capitalize and reach three figures.
Bangladesh needed at least one of them to hold the innings together with a bigger knock, which would have been invaluable for a good lead over South Africa.
Tigers opener Imrul Kayes and current team manager Khaled Mahmud both felt rain took away Bangladesh's chance to cause an upset, but look forward to the next match on July 30 at Mirpur brimming with confidence.
Let's hope the weather allows the second and last match of the Test series to take place without any interruptions, after all the rain in Chittagong.
Go Tigers Go!