Greater freedom has helped batsmen: Kayes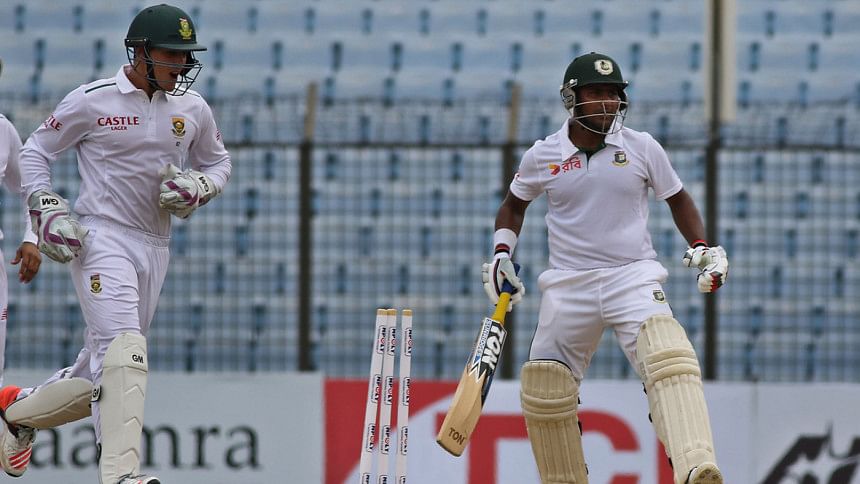 Imrul Kayes has said the greater freedom given by coach Chandika Hathurusingha has helped the Bangladesh batsmen perform better. They took on a full-strength South African pace attack and claimed 78-run first-innings lead in the Chittagong Test and Kayes himself was part of a world-record 312-run second-innings opening partnership against Pakistan in April.
"The coach supports us a lot," Kayes said. "He has given us all the freedom to play shots. Previously, we faced a situation where we had to play in a certain way. I like it now that he doesn't put stipulations on us. He tells us to play like we want to. It is a positive thing."
Kayes isn't the first batsman with praise for Hathurusingha. Mahmudullah, after his twin hundreds at the World Cup, had said Hathurusingha doesn't blame a batsman for playing a bad shot when there is need for quick runs. Tamim Iqbal too, after his hundreds against Pakistan in April, credited the Hathurusingha for helping him get out of a slump in form. Equally important is that the Bangladesh batsmen have not misused the freedom from Hathurusingha. Almost all of them have enjoyed good form since the Zimbabwe series last October.
Kayes has put a modest World Cup showing behind him and was looking good on 26 when he was stumped off part-time seamer Stiaan van Zyl. He fronted up to Dale Steyn, Morne Morkel and Vernon Philander for over an hour and blunted the new ball. Consequently, the middle-order batsmen were given a smoother entry into the game.
"We are playing against the No. 1 team in the world," Kayes said. "They hardly give a bad ball, always on the money. You could have survived on the Chittagong wicket but you couldn't play shots.
"Every batsman has an individual plan, what shots he will play, what his strength is. We want to play out the new ball. Our basic plan is to stay in the wicket for as long as possible. The more we spend time at the crease, the easier it becomes for the next batsmen and they can bat with more comfort."
Kayes added that the 150 against Pakistan in April helped increase his confidence. He also believed that handling South Africa's bowling attack, one with more pace than Pakistan's or India's, will stand him in good stead moving forward.
"When you can score against an attack that bowls at 140kph, you get a lot of confidence. You think, 'that I can do it against them, I can do it against everyone else too'"
"The 150 [against Pakistan] was a turning point for me because I didn't do well in the World Cup. The comeback was necessary for me. I want to hold on to this rhythm so that I can bat smoothly from now on."
Another factor responsible for Bangladesh's performance, according to Kayes, is the level of competition within the team. He said that while someone like Liton Das is a talented batsmen, he knows that talent won't guarantee him a spot in a Bangladeshi dressing-room environment that is rapidly changing due to better results.
"Liton has a bright future. If he keeps batting this way, he can reach a higher standard. The team environment has completely changed. Now everyone knows without performing there's no place here. We have to do well in every game. It is a positive sign for the team and Bangladesh cricket that newcomers are hungry to perform."