Bangladesh: From not wanting to lose to getting used to winning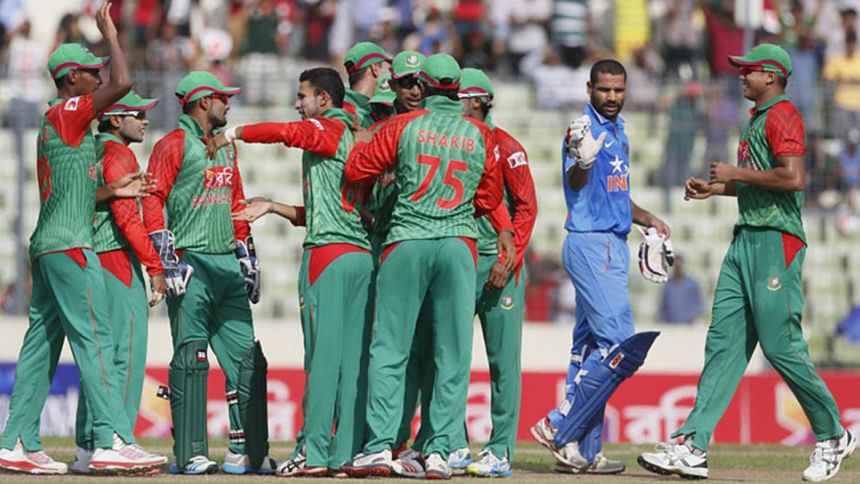 For years Bangladesh tried not to lose. Now they must get used to the idea of wanting to win, renowened cricket commentator Harsha Bhogle writes writes in The Indian Express.
Before the two South Asian cricketing nations lock horns in the third and final ODI match at Mirpur today, we're reproducing the opinion piece below:
I have seen Bangladesh fans over the years and I have never stopped marvelling at the emotions they displayed and the hope they brought to a cricket match. You could say most fans do but these were different. Through sappingly humid weather they turned up, cried themselves hoarse and carried their disappointment back home with them. Always. For Bangladesh cricket gave them so little to feel good about. If enthusiasm in the stands could win matches, Bangladesh wouldn't lose any. If despair could produce riches, the Bangladesh fan would be the wealthiest. It was tough being a Bangladesh fan.
Until these magical last three months.
I must admit I had seen Bangladesh fans in ecstasy once. It wasn't in Dhaka or in Chittagong but in unlikely Kuala Lumpur where they probably paid more than they could have earned to watch their team play Kenya through weather that was dismal even by standards back home. It was 1997 and a win would have put Bangladesh into their first World Cup. They came with their flags, their voices and they invested what they had in hope. This time Bangladesh didn't let them down and on an artificial surface where you could only play in rubber soles, they won and you would have thought Kuala Lumpur was transformed into Dhanmondi and Gulshan.
For seventeen years after that there was an occasional smile and a more familiar tear. Last year, at the Asia Cup, they lost to Afghanistan and they looked in a shambles. Then Shahid Afridi tore into their hopes one forgettable evening. We had a camera on a group of women and you didn't need a script for this primetime soap. If you had told me then that a year later, I would see a team wearing the same colours but completely unrecognisable in their approach, I might have laughed. Many would have laughed with me.
Then I saw Kuala Lumpur happen again. It was a cold, drizzly kind of day in the pretty administrative town of Canberra in Australia. It was an open stadium, it could only take about twelve thousand and there were many strikingly good looking Afghans there. They were the story, not Bangladesh. But the familiar green and red flag was there too and as the match wore on, and their team started clawing themselves into a good position, the fans found their voice. I learnt later that there were some misgivings in the dressing room. What if they lost again? What if they dashed hopes again? But Shakib Al Hasan and Mushfiqur Rahim pulled them back and they won. Canberra that evening had a Bengali accent and the players went around the ground to thank their fans. To me, it is still one of the moments of the World Cup.
But Adelaide was to be their defining moment. You could argue England lost it but in Mahmudullah and Rubel, two new stars announced themselves. I believed that match, more than any other in their history, transformed them. They were not short of belief anymore, they didn't find defeat when victory looked benignly at them. Now they were aggressive, in your face, even send-offs arrived. I must admit that the obsession with one iffy decision in the quarterfinal, and the erroneous feeling that it cost them the game, left me wondering if the cloak of martyrdom might prevent the fighters from surfacing.
But there are young people in this team who are breathing a different air. There were many good players before too. Aminul Islam, Mohd Rafique, Habibul Bashar and the amazingly gifted Mohd Ashraful. But maybe they played at a different stage in the evolution of a team and a sporting nation. These youngsters are different. Alongside Tamim, Shakib, Mushfiq and Mashrafe are players of class. There is already a hint of steel about them though the observation needs time to be ratified. With Sarkar and Litton Das (who will be fine players), and Shabbir and Nasir they bat with flair but also with confidence. But the biggest change is in the transformation from an agonisingly predictable slow bowling line-up to an aggressive, in-your-face fast bowling unit. Rubel, Taskin and now, Mustafizur Rahman are so completely different from the Bangladesh team we had seen. It is this young blood, I believe, that overcame the misplaced obsession with wanting to look wronged after the World Cup.
There are still many miles to walk. These fabulous results have come at home and they still put up a defeatist display in the one-off test. One swallow, ah well a few swallows, don't make a spring and Bangladesh need to be careful not to start believing the world has been annexed. For years Bangladesh tried not to lose. Now they must get used to the idea of wanting to win. It is not as easy as it seems and every country has grappled with it. Each of their three senior neighbours has had to walk that path.
But for the first time the fans can be optimistic. And happy. And loyal as they have been, they must enjoy this phase.
This article was published in The Indian Express on June 23.