ICC Cricket World Cup 2015
Australian cricketers up for $340K pay day if victorious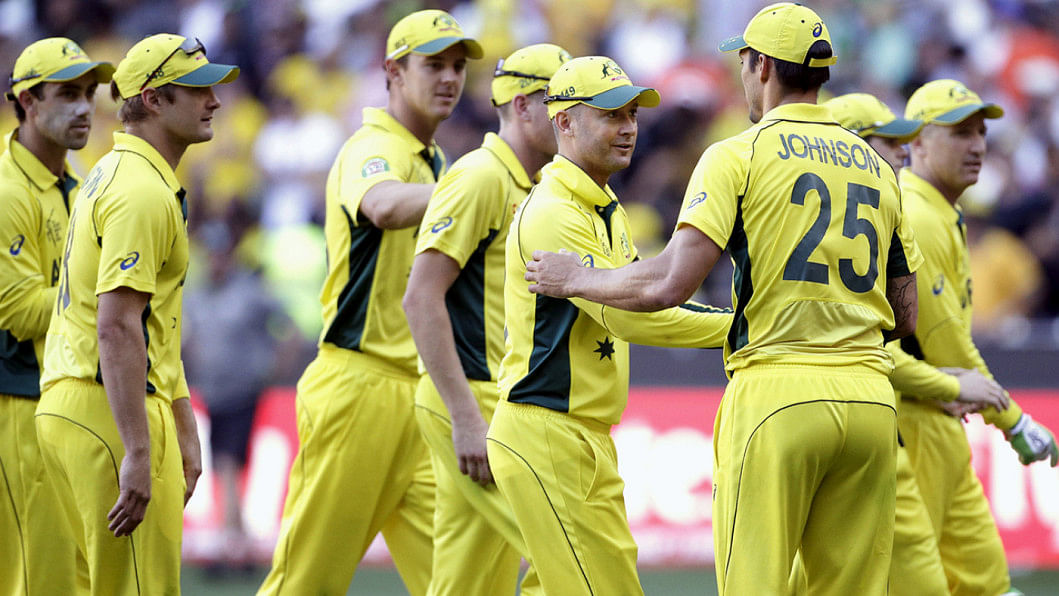 It will be bonuses all around should the Australian cricket team beat the Kiwis at the MCG on Sunday night with each squad member in line to pocket almost $340,000, reports the Sydney Morning Herald.
Meanwhile, should disaster strike and the Australians somehow don't win, each player will still take home about a tidy $150,000 each.
The prize money for a World Cup victory is US$3.975 million ($5 million).
While different teams have different methods of sharing the money, the egalitarian nature of the Australian cricket side means that all 15 members of the squad will share equally in the prize money win or lose, and regardless of how many games they played
The AFR Weekend's John Stensholt revealed that not only will the spoils be shared equally, but that George Bailey, "the forgotten man of the Australian cricket team's World Cup campaign," will be in line for his equal share of the World Cup kitty, despite only playing the first match against England.
The other occasional members of Australia's starting XI such as Xavier Doherty, Pat Cummins and Mitchell Marsh, will also share equally in the spoils of either defeat or victory.
The payments come in addition to the players' Cricket Australia contracts, match payments, IPL contracts and any other other sponsorship deals they might hold.
The New Zealand team operates on a slightly different formula, as games played are taken into account, so players who have not played all the games, will receive less.
For a number of Australian squad members however, the sums will be nice but not exactly life changing as BRW recently revealed when it released the Top 50 sports earners in Australia list. A number of members of the Australian cricket squad made the grade.
Shane Watson was the top cricket earner making an estimated $4.5 million in 2014, while Ashes destroyer Mitchell Johnson took home an estimated $4.1 million, with captain Michael Clarke following closely behind on $4 million. David Warner clocked in at a lower but still respectable $3.8 million, meaning a world cup victory for him would represent a bit under a 10 per cent bonus.
Likely future captain Steve Smith made an estimated $3.1 million, while all-rounder James Faulkner took home $2.7 million.
Brad Haddin and Glenn Maxwell both earned an estimated $2.5 and $2.4 million respectively, although after his swashbuckling performances in this world cup, "the big show's" value would be expected to rise again.
Another man with improved earning prospects post the World Cup will be Mitchell Starc, Australia's top wicket-taker at this tournament, whose 2014 earnings were estimated at $2.2 million.
Meanwhile, a tournament win for New Seelands Black Caps will have a much greater financial impact on the players, who work in a much smaller market and, the odd IPL contract notwithstanding, are paid substantially less, on average, than their Australian opposition.
But the player to gain the most from either team is undoubtedly Kiwi journeyman Grant Elliott, whose heroic six off the second-to-last ball in New Zealand's semi final ensured the Blackcaps advanced through to the MCG.
Last year he lost his New Zealand Cricket contract, meaning his cricket earnings were only match fees, plus his Wellington domestic salary - around NZ$40,000. If the Kiwis win he stands to make about ten times that amount.