ICC Cricket World Cup 2015
AUS vs NZ: The Grand Finale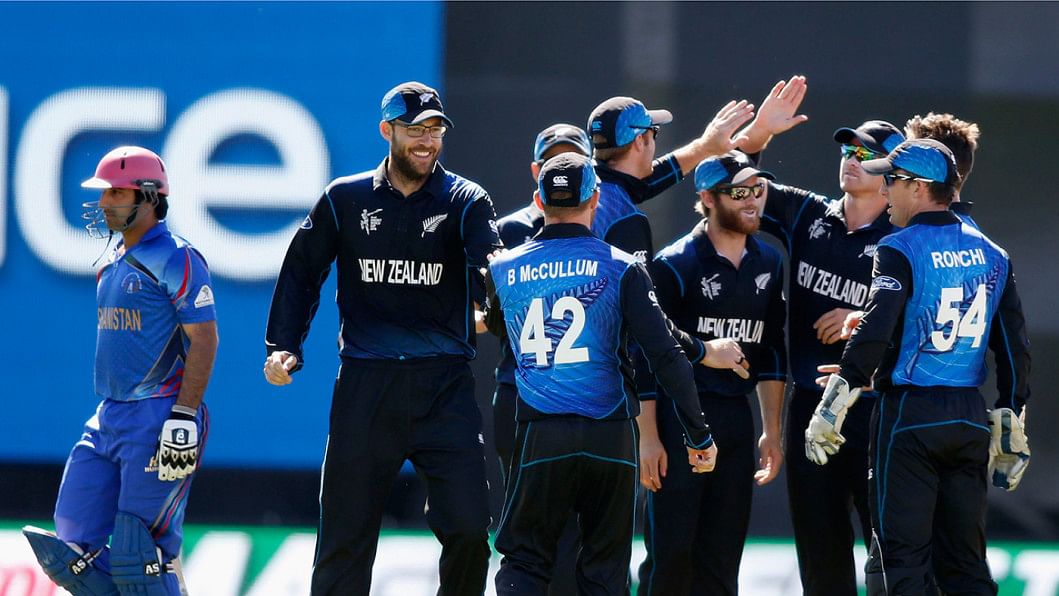 The Grand Finale
Australia vs New Zealand
Sunday, 29 March 2015
Melbourne Cricket Ground
9:30 am (Bangladesh Standard Time)
How quickly time passes by…six weeks ago the ICC Cricket World Cup commenced with the colourful fanfare of its opening ceremony. Fourteen teams. Ten test-playing countries. Four associate nations. Forty-eight matches later, two teams stand at the cusp of glory. New Zealand and Australia. Let's see how these teams reached the finals before one of them is crowned the champions on 29 March at Melbourne.
Since Australia would be playing in their backyard, and considering their form in the Carlton Mid One-Day International Tri-Series just before the world cup, they were billed as one of the tournament favourites by many. They have lived up to that expectation quite superbly. In a matter of hours, Australia might lift the trophy for an unprecedented fifth time in their cricketing history. In fact, they looked like title contenders from their very first match against arch-rivals England.
The English team was taken back to school, and given a thorough lesson by the Aussies. Aaron Finch got in the act early and smashed the first hundred in the World Cup while Glenn Maxwell toyed with the English bowlers to his heart's content. England batters were overwhelmed by the 343-run target, and lost the match by a whopping 111 runs at Melbourne.
With their next match against Bangladesh at Brisbane abandoned due to incessant showers, Australia went to Auckland to face the plucky Kiwis. Trent Boult welcomed them with a superb spell of swing bowling, enabling his team to skittle out the Aussies for a paltry 151 runs. Defending this low total, Australia nearly pulled out a miraculous victory with Mitchell Starc giving the Kiwis a good run for their money. As captain Michael Clarke said, the one-wicket loss was a kick up their backside to get their world cup campaign back on track.
Australia never looked back from the defeat at Auckland and went from strength to strength as the tournament progressed. They squashed Afghanistan with the weight of their batters while the bowlers ensured an early shower for the boys at Perth.
Sri Lankan bowlers were next to face the wrath of Aussie batsmen at Sydney, where Maxwell's belligerent ton and fifties from Smith, Clarke and Watson enabled their team to score 376 runs in 50 overs. Even after the Dilshan-Sangakkara show, the target was a bridge too far for the Sri Lankan batsmen on that day.
Australia made short work of Scotland at Hobart with Starc and Cummins at the peak of their game. It became quite clear that the Aussie quicks could win them the World Cup if they continued their form in the knock-out phase of the tournament.
Fortunately for Australia, that is exactly what they did against Pakistan in the quarterfinal match at the Adelaide Oval. Pakistan were bowled out for 213 runs. During the chase, Australia endured Wahab Riaz's spell of hostile short-pitch bowling and were helped by shoddy Pakistani catching on their way to a resounding six-wicket victory for a place in the semifinals.
Australia couldn't have asked for a better team than India in the semifinals, simply because India were yet to taste success against them throughout the summer. This psychological edge gave the Aussies the upper hand in this encounter as they thrashed India by a whopping 95 runs, and in the process burst India's bubble of retaining the World Cup.
New Zealand were labeled as the dark horse of this World Cup, and became real title contenders by the sheer weight of their performance. Needless to say, they are the only unbeaten team in this competition, and can remain undefeated after 29 March at Melbourne, given their brilliant display of cricket continues for another match. The Kiwis meant business from the very first match of this world cup when they faced Sri Lanka at Christchurch.
New Zealand batsmen belted the Sri Lankan bowlers all around park, and amassed 331 runs with relative ease. Kiwi bowlers did not disappoint either, as their disciplined performance gave their team a massive victory of 98 runs to begin their world cup campaign with a bang.
The Scots came to Dunedin hoping to give New Zealand a good fight, which, to the surprise of the home crowd nearly resulted in an upset of celestial proportions. The Kiwis were made to sweat in chasing down 143 runs, which they did after losing seven wickets to tight Scottish bowling. Thankfully for the hosts, disaster averted.
Tim Southee gave England an unforgettable reception at Wellington where he picked up the best bowling figures in this world cup with seven wickets to his name. English batters were all at sea in the swinging conditions, surrendering to a paltry total of 123 runs in front of the jubilant home crowd. New Zealand supporters could only cheer for another thirteen overs or so as Brendon McCullum smashed 77 runs from 25 balls to put an abrupt end to English misery at Wellington.
The Trans-Tasman rivalry resumed at Auckland when Australia made a short trip to face the Kiwis in this mouth-watering Pool A encounter. Trent Boult and co blew the Aussies away with terrific swing bowling, and gave the Kiwi batters only 152 runs to chase. Mitchell Starc decided to come to the party, and nearly rescued Australia with some fine bowling of his own. His efforts went in vain as New Zealand scraped through to a one-wicket victory to the delight of their home fans.
Afghanistan came, lost and left Napier without giving New Zealand any trouble in their match. With this lop-sided win, the Kiwis prepared to face Bangladesh at Hamilton for their last match in the group phase of the world cup.
Riding on Mahmudullah's ton, Bangladesh posted a challenging total of 288 runs for the Kiwi batsmen. The game went right down to the wire as Bangladesh bowled well in patches, but in the end New Zealand prevailed by three wickets with Guptill's century and late-hitting from Elliot and Anderson.
New Zealand's quarterfinal against West Indies saw Guptill smash records left, right and center with his belligerent batting. His unbeaten 237 runs was the highest world cup individual score to date and the highest by any Kiwi batsman in one-day cricket. He became the fifth member of the elite double-hundred club after Sachin Tendulkar, Virender Sehwag, Rohit Sharma and Chris Gayle. West Indies never really recovered from the Guptill onslaught as New Zealand won comfortably by 143 runs to book their place in the semis against South Africa.
In a rain interrupted match, New Zealand faced the daunting task of reaching 298 runs in only 43 overs after de Villiers and Miller propelled South Africa's innings with their characteristic big hitting. New Zealand "No Fear" attitude kept them in the game even when the required run-rate seemed getting out of their reach. After McCullum's initial assault on the Proteas bowlers, Elliott and Anderson combined for a match-winning partnership of 103 runs. Elliot struck a six in the last over bowled by Steyn and sent the packed Kiwi supporters at Eden Park into seventh heaven as New Zealand were through to the finals for the first time in their cricket history.