'I am the greatest'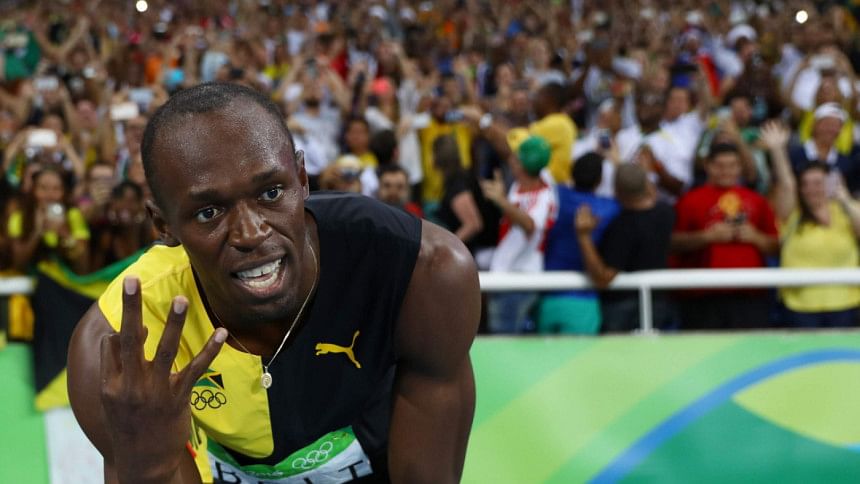 "There you go, I am the greatest," announced Usain Bolt emphatically as the Jamaican drew the curtains on his incredible Olympic career with a record ninth gold medal in nine finals, after anchoring his team to a third consecutive title in the men's 4X100m relay at the Olympic Stadium in Rio de Janeiro on Friday night.
It was the culmination of eight years of sprint dominance and many years of hard work and sacrifice reaching its climax. The now nine-time Olympic champion and the world record holder in 100m, 200m and 4X100m relays was racing for one last time in the Olympics, and he made it a memorable night with a show of his brilliant best, helping himself to become only the third athlete after Paavo Nurmi and Carl Lewis to win nine Olympic gold medals in track and field and the first one to do so in sprint events.
When the baton was passed onto Bolt for the final leg of the 4X100m relay, Jamaica was slightly ahead of the rest of the field, and there was hardly any doubt about who was going to win gold. With his weakest point -- the start from a crouching position taken out of the equation -- there was always going to be only one winner, Bolt, and Jamaica in this case. The Kingston native applied the afterburners and pulled away to the finish line way ahead of the chasing pack. Bolt was happy that he was left with a rather easy job by his teammates.
"I told the guys, 'Don't give me too much work to do, please,' and they did exactly that. I had no work to do but to just run to the line," the Jamaican told reporters at the press conference after wrapping up the victory and the elaborate celebrations. "As soon as I got the baton, I knew I was going to win this one, because there's no one on the anchor leg that can outrun me."
He was relieved and sad at the same time. Relieved because he had a mission and that mission was accomplished; sad because this was the last time he was racing in the Olympics.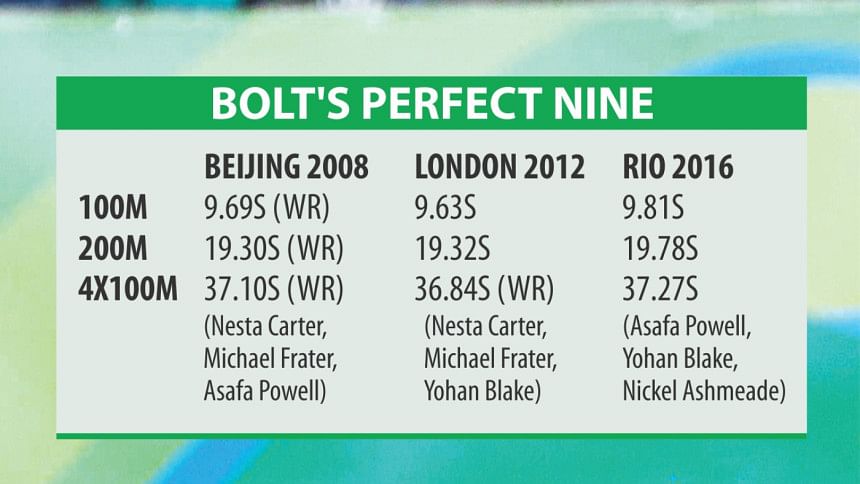 "It's mixed feelings," Bolt said. "It's relief because it's really stressful -- the years that I've gone through injury problems. It's been so much. It's a relief but I'm also sad I have to leave and this is my last one. I'm going to miss the competition and it's just so many different feelings I'm feeling."
The final act of the Jamaican's storied career came just about 25 hours before his 30th birthday, and he couldn't have had himself a better birthday present than achieving the rare feat of a 'triple, triple' to celebrate. The trailblazer certainly thought so. "I don't know how I'm going to celebrate but it's a great birthday present so far, so I'm happy."
But with sprinters like Justin Gatlin still doing fine at the age of 35, isn't it be a bit too early for Bolt to hang up his racing boots in a year's time? Bolt seemed pretty determined to stick to his decision even if his teammates would love to have him back in four years' time.
"We wanted to win to make Usain immortal and he is immortal. I've told him he should come back for 2020!" Bolt's teammate and training partner Yohan Blake said.
Indeed billions of fans around the world will be praying that the sprint king returns to grab three more gold medals and raise the bar even higher come Tokyo 2020. 
What they said
Salute to my team for helping me win another gold.

-Usain Bolt 



If Usain Bolt had participated in the same number of events as Michael Phelps he would have won 30 gold medals in the Olympics.

-Mohandas Menon



Usain Bolt just threw the javelin 56 meters while messing around with volunteers in a darkened Olympic Stadium. Really.

-Tim Reynolds