Baki fumbles after strong start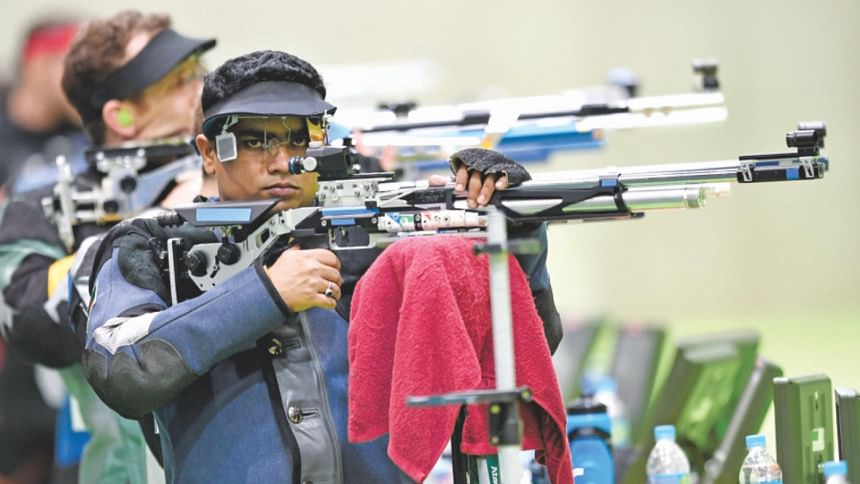 Up till 40 shots of the qualification round of the 10m air rifle event -- that is two-thirds as it is a sequence of six series of ten shots each -- Abdullahel Baki's name was hovering in between 4th and 8th position on the giant screen of the Olympic Shooting Centre in Deodoro, Rio de Janeiro on Monday morning.
Baki, the 2014 Commonwealth Games silver medallist, scored 416.8 points in the first four series of shots, including a brilliant 105.4 in the third series. Bangladesh team officials and journalists got excited sensing the ace shooter might create something special today. Even Professor Muhammad Yunus, the founder of Grameen Bank and Nobel laureate for peace, watched with great appreciation from the stands.
But then disaster struck as the 27-year-old shooter from Gazipur shot a poor 100.6 in the fifth series, all but ending his hopes of being among the eight men for the final round. He scored 103.8 in the sixth round, which only salvaged the respectability of finishing 25th among 50 competitors.
"I wanted to give my full effort and shoot to full satisfaction," the ace shooter told reporters after wrapping up the round with a total of 621.2 points as compared to his best of 624.8 three months ago in Munich.
 "I had a good practice session yesterday [Sunday] where I scored 626 and I was thinking it would be enough to qualify if I could keep that score," he added
Baki said he did not suffer any lack of concentration either towards the end, he claimed, but instead it could be the lack of facilities and patronage back home which made the difference.
"Most shooters here have multiple medals from international events, and they participate in all the big competitions," said Bak.
The event was eventually won by Italy's Campriani Niccolo who finished with a score of 630.2 Russia's Maslennikov Vladmir and Croatia's Gorsa Petar won the silver and bronze respectively.