The neglect of a gold-winner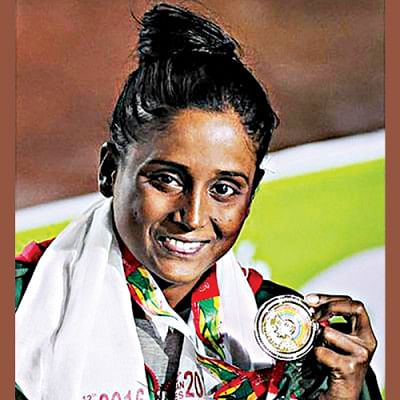 Having been ignored from Bangladesh international squads in the past, South Asian (SA) Games double-gold medallist swimmer Mahfuza Khatun Shila removed herself from the ongoing training camp for December's SA Games, citing a lack of physical fitness.
Shila was the first female swimmer in the country's history to win not just one but two gold medals in the SA Games, breaking a 32-year gold draught at a time when Bangladesh seemed unlikely to win a single medal in the last edition in Guwahati, India in 2016.  
Bangladesh went to compete in the 12th edition of the multi-discipline sporting extravaganza in India on the back of 18 gold medals in the 11th SA Games but there was little hope of winning a single gold medal. Shila's double gold helped save Bangladesh's blushes as they finished with four gold medals.
However, the prolific swimmer of Bangladesh Navy got hardly any appreciation or access to facilities from the Bangladesh Swimming Federation (BSF) to better her performance over the last two years, which eventually forced her to take the alternate option -- starting a family.
"You know everything about my past. What is the benefit of swimming? I have been criticised despite producing gold medals and I wasn't considered in the camp [for other international competitions]. I am kept only in the SA Games training because of the hope of winning a gold medal. But I have self-respect.
"Despite having the quality, I have not been considered for the national camp for different international meets, which forced me to take the second option -- family planning -- because I'm getting older. I talked to doctors, who advised me not to work too hard if I wanted a family; I submitted the doctor's certificate to the federation and they accepted my appeal," the 29-year-old swimmer said while talking to The Daily Star last month.
Before the 2016 SA Games, Shila reportedly faced some troubles in the training camp from a federation official because of her 'straightforward approach' against irregularities. Shila was even told that she got a place in the national team because of 'the Muktijoddha quota' and that she had nothing left to offer in the pool.
Shila finally answered the federation's negligence by winning two gold medals, creating a Games record in the 50m breaststroke by clocking 34.88 seconds after winning the 100m breaststroke gold medal the previous day.
Despite her gold medals, the BSF has apparently not changed its attitude towards Shila. She was one of those who complained about unsavoury activities of the then camp commander Abdul Hamid. He has however strengthened his hold at the federation as its investigation committee found no evidence against Hamid, who is now the joint secretary of the swimming federation.
The local game's governing body sent Shila to the South Asian Swimming Competition in Sri Lanka in 2016 but she could not perform well due to a lack of preparation, before coming back strongly in the 4th Islamic Solidarity Games in March, 2017 to finish fourth in the 50m breaststroke.
Despite bettering her SA Games timing, Shila was not considered in three big competitions -- FINA World Championship in 2017, Gold Coast Commonwealth Games in 2018 and the Jakarta Asian Games in 2018 -- although the federation sent both male and female swimmers, who were eventually unsuccessful.
The Bangladesh Navy swimmer once again responded to the negligence by winning five gold medals in the 2019 national swimming championships.
"I wasn't given the opportunity to compete in any international competitions from July 2017 to 2018 but I won five gold medals in the national championships in 2019. It is not possible to win five golds without performance. I want to thank Bangladesh Navy for arranging uninterrupted training facilities for me. You know it was also not possible for me to win gold medals in SA Games without the help of Bangladesh Navy, who took care of me for three years," said a despondent Shila, adding that the federation did not give a single penny as incentive or bonus for winning double-gold medals in SA Games.
BSF general secretary MB Saif said: "We don't have anything to say about it because Shila first appealed to Bangladesh Navy to withdraw her from training and we approved Shila's plea."
Saif also added that Shila has been irregular in the training camp since the start of SA Games preparation.