Special fitness regime for Russel's seven
Special fitness regime for Russel's seven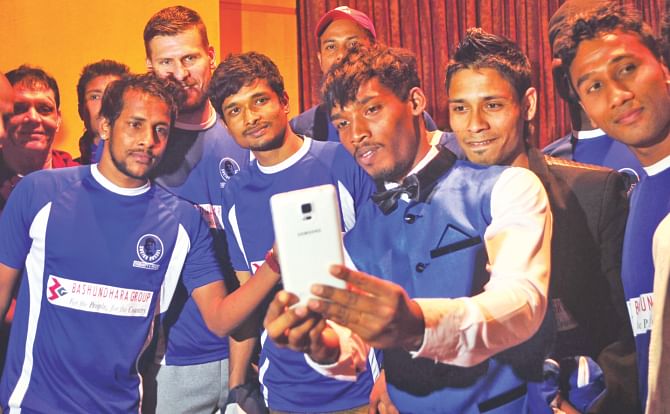 The fitness of national booters had always been a concern ahead of any international engagement and it is no different this time as they gear up for the Bangabandhu Gold Cup International football tournament.  The interim coach of the national team, Saiful Bari Titu, is reportedly working hard to bring into shape Sheikh Russel KC's seven players -- Zahid Hasan Emily, Zahid Hossain, Mithun Chowdhury, Atiqur Rahman Meshu, Hemanta Vincent Biswas, Tapu Barman and Rasel Mahmud Liton.
These players have been out of almost any action since their AFC President's Cup campaign in September last year, and are struggling to keep pace with the others players of the national team, who had been in action for their respective clubs due to their participation in the King's Cup in Bhutan.
"Since the start of the training camp on January 1, the fitness of those seven players have improved much but they are still behind the others. I have been conducting special fitness regimes for those players after regular sessions every day," said Titu, adding that he has been following training schedules prepared by Lodewijk de Kruif, who is expected to take charge within a few days.
"I think the seven players will be able to get their fitness level up to that of the other players within the next ten days and all the players will be on pick of their fitness before the start of the tournament," observed the former Bangladesh International.
Admitting the lack of fitness, veteran striker Emily said that they have made considerable progress in the last few days. "We face trouble to maintain fitness during off-season but we are doing our best to regain fitness. The improvement is mentionable as we have lost two kilograms each in the last two days," said Emily.
"We are hoping to get back to full fitness before the tournament because putting the best performance on the pitch is of foremost importance to us," said Meshu, who returned to training after recovering from a knee injury he had sustained during the Asian Games.