Chaos at DMCH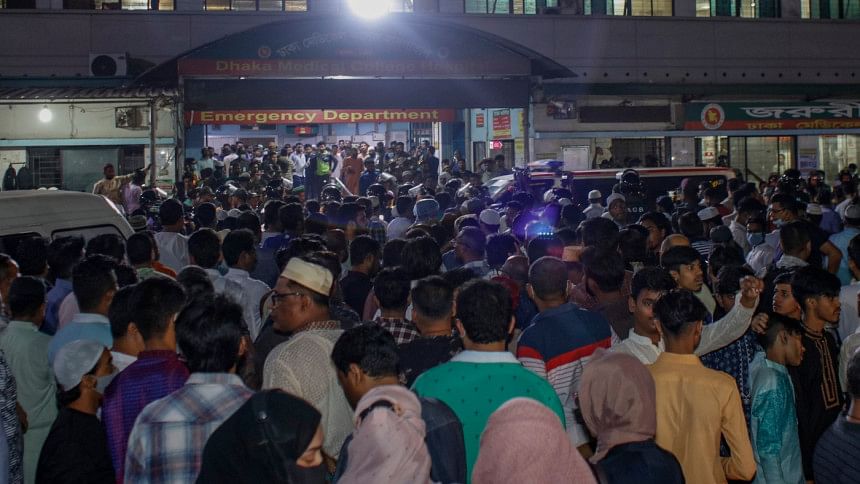 All hell broke loose at the Dhaka Medical Collage Hospital around 5:15pm yesterday, about half an hour after an explosion at a building in Gulistan.
Hundreds of people who thought their dear ones could be at the blast site thronged the number one public hospital in the country.
Some were looking for their brothers, sisters, or friends while others were accompanying people who were looking for their dear ones.
While some went straight to the emergency department morgue to see if the few bodies that arrived from the scene by then were their relatives, others were standing in the corridor inspecting every new arrival to see if they were their loved ones.
And then there were journalists trying to report, YouTubers trying to get more views, and high officials of law enforcers and other agencies making visits.
They all contributed to the chaos along with people who rushed there to donate blood and overenthusiastic citizen trying to have a glimpse of what was going on.
If there were any system or rules for visiting the hospital, they did not exist at that time.
There was chaos outside as well.
Hundreds of motorbikes were inconsiderately parked on the road in front of the hospital, obstructing ambulances and other vehicles rushing to the hospital with the injured.
The situation became worst around 9:40pm when there was a queue of ambulances carrying serious patients, including ones who have just had a stroke, trying to get into the hospital. The ambulances had to wait at least 20 minutes to get into the hospital.
All because there were too many people at the hospital and many of them did not bother to park properly.
Policemen and Ansar members stationed at the hospital were trying their best to control the situation but they were virtually overrun by the sheer number of people gathered at the hospital.
Then there were relatives of the deceased who did not want autopsies done.
At least two bodies were taken away by their relatives after a heated exchange of words between hospital staffers and the relatives.
Each of the bodies were accompanied by over 100 people.
However, it appeared that places where the victims actually got treatment were calm and relatively quiet.
DMCH Director Brig Gen Nazmul Haque said they have tried their best in treating the victims and believe that they have succeeded in delivering the services despite the chaos.
Even though there was chaos around the emergency section and outside, this correspondent saw that security officials prevented people from getting into rooms and wards where patients and victims were being treated.