'I'll pass this story to my children'
Metro rail workers ecstatic on inauguration day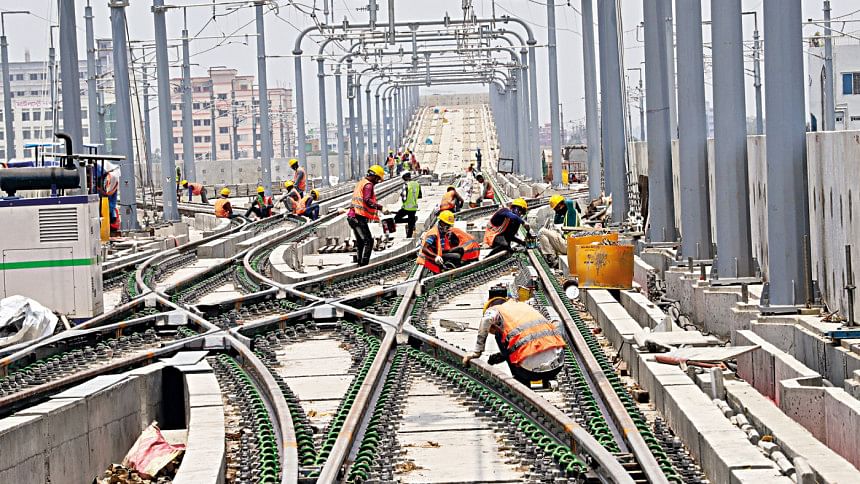 As the metro-rail train started its maiden journey yesterday afternoon, Swadhin Ahmed, a young man, had a wide smile on his face. In fact, it was a day of pride for Swadhin, who had been working for the metro-rail project  for three years.
"This is the happiest day of my life. My contributions will remain alive for eternity," he said. "I want to share this dreamy chapter of my life with my children and grandchildren in future."
Not only Swadhin, all the workers were elated on the watershed day in the transport sector of Bangladesh.
"I don't have words to express my feelings. It's beyond everything," said Abdullah Al Noman, in-charge of mechanical work at the firefighting department for Uttara North and Agargaon metro stations.
Another worker, Abdul Alim, said that their work would be successful when metro-rail trains start in full swing, as passengers will reach their destination faster and comfortably then.
The country almost came to a standstill during the Covid-19 pandemic. But even then, these workers continued their work.
One of them is civil engineer Mosaddek Hossain. "There were many uncertainties surrounding the construction works, but we kept going," he said.
Not only workers, people from all backgrounds were celebrating the occasion.
Maria Akter Bristy, a fourth-grader of Hazi Yousuf Ali Government Primary School, came to  Agargoan with her father to see the train.
"It's beyond my imagination. It's awesome," she said.
Bristy and many others couldn't ride the metro yesterday as it would be made open for public from today, said officials.
Md Shohel, 29, who works at a private firm, was one of the many onlookers. "It was a nightmare to go to my office at Motijheel from Mirpur. The metro would be a great help for job-holders like me."
Over 200 hundred selected people, including dignitaries, wounded freedom fighters, teachers, students, garment workers, rickshaw pullers, farmers, hawkers and some metro-rail workers, joined the prime minister in the maiden metro rail journey from Uttara North to Agargaon.
Boarding the train, ministers and lawmakers expressed their joy.
Lawmaker from Mirpur-Pallabi area Elias Uddin Mollah said people of his constituency suffered a lot during the construction period of the metro project, as it caused gridlocks.
"But we have forgotten our pain as the inauguration of the metro rail took place today," he said.
Agriculture Minister Abdur Razzaque said, "The metro rail is a milestone for this country. Bangladesh is marching forward."
A SEPARATE BOGIE FOR WOMEN
Prime Minister Sheikh Hasina, while addressing the opening ceremony of the metro rail yesterday, said the trains will have one reserved bogie for women.
There will also be separate wash-rooms for women and a care-centre for children, the PM added.
Besides, freedom fighters will get to ride the trains free of cost, Sheikh Hasina revealed.
The PM also urged everyone to use the metro rail responsibly, in a neat and clean manner. She asked commuters not to litter inside trains and at stations.