5 Top stories today
Catch up with all the buzz under 5 mins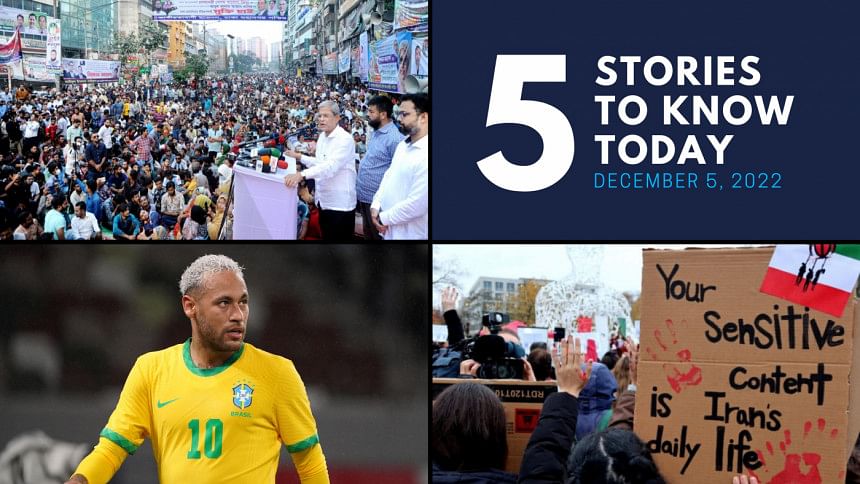 Inflation slightly dropped in November. On the other hand, the Election Commissioner announced that Gaibandha-5 polls, which was postponed for mass irregularities, will be held within 15 January. The step has raised hopes for a free and fair election. And here's everything else you need to know today. 
1. BNP Dhaka rally venue still undecided
The DMP commissioner said today that they will only permit the Dhaka rally on "open grounds or fields," and not on the capital's streets. Previously, BNP was hell-bent on staging their rally in the Nayapaltan office. But yesterday, party insiders told The Daily Star that BNP will consider if the government offers an alternative other than Suhrawardy Udyan. The BNP may propose Kakrail, Arambagh, Fakirapool or Shanti Nagar intersection as alternative venues that are not far from the BNP central office in Nayapaltan, they said, adding that they would not hold the rally outside the city. Read more 
2. World Cup
Brazil head coach Tite confirmed that star attacker Neymar will be playing in their World Cup 2022 last-16 clash. Neymar missed the final two group stage matches against Switzerland and Cameroon after he sustained ligament damage during the opening match against Serbia, which Brazil won 2-0. He was seen at the sideline as Brazil lost to Cameroon. South Korea, on the other hand, is not intimidated by the squad full of world-class players in Brazil. "We really want to show everyone what we've got and show what we've been waiting 12 years for," said wingback Kim Jin-su. The Daily Star Sports Desk predicts Brazil will win 2-1. Read more for key stats and stakes.
3. Dhaka Wasa MD: HC asks more info from ACC
The HC bench today sought information from the Anti-Corruption Commission about the ongoing probe on Dhaka Wasa Managing Director Taqsem A Khan. The bench passed a writ petition that was submitted yesterday questioning the legality of Taqseem's appointment. The Supreme Court lawyer who submitted the petition alleged that Taqseem was appointed through "fraud practice" and that this recruitment exam was tampered with. Though the position requires 20 years of serving as a sewerage officer or any other relevant administrative post, Taqseem had none. Nonetheless, he has been serving as MD of Dhaka Wasa for last 13 years. There's been allegations of corruption on Taqseem's end. Read more 
4. Iranian protesters call for three-day strike
Protesters in Iran have called for a three-day strike this week amid conflicting reports that the nation's "morality police" had been shut down. The strikes will create more pressure against Iranian authorities, especially after the attorney general said this weekend that the morality police had been shut down. A minimum of 326 protesters have been killed in the unrest that erupted in September after the custodial death of Mahsa Amini, a 22-year-old Kurdish Iranian woman who was detained by the morality police for breaking hijab rules. Read our Daily Star's breaking views on the attorney general's "disbanding of the morality police." 
5. Fardin Murder: A month later, family
Buet student Fardin's murder shook the nation to its core. Now, a month later, his family is yet to find closure. Watch The Daily Star's exclusive interview of his family.