A month after Fardin's murder: Family waits for closure with no hope in sight
The books he used to read, the shirts he used to wear, the bed he used to sleep in and the prizes he won are constant reminders of Fardin.
It has been a month since his life was brutally cut short but Fardin Noor Porosh's family are yet to come to terms with his death.
His mother now watches recordings of his debate competitions. She still believes that Fardin would be travelling to Spain to participate in another debate competition. He would wear the black gown and hug his mother on the day of his graduation from Buet in a couple of years.
"When I went to Buet campus a few days back, I thought that my Fardin would call me. But that was not to be…It's like an eternal emptiness," his father Kazi Nooruddin Rana, told The Daily Star in a heavily choked voice at his Demra residence.
His family last saw him on the afternoon of November 4. On his way out, Fardin, a third-year student at Buet's civil engineering department, said he would be back the next day after finishing his exam. He never returned.
Then on November 7, his decomposed body was recovered from the Shitalakkhya in Narayanganj's Siddhirganj on November 7.
Fardin's autopsy suggests he was murdered. But a month on, there is no visible progress in the investigation, cruelly depriving the family of closure.
Nooruddin is at a loss over why someone would want to kill his meritorious son, who was a voracious reader.
"His wish was that at the time of death he would have only one identity -- a reader. When I returned home from outside, my two younger sons would look for food in the bag. But Fardin would look for books and magazines instead. He would have been very upset if he didn't find books in my bag."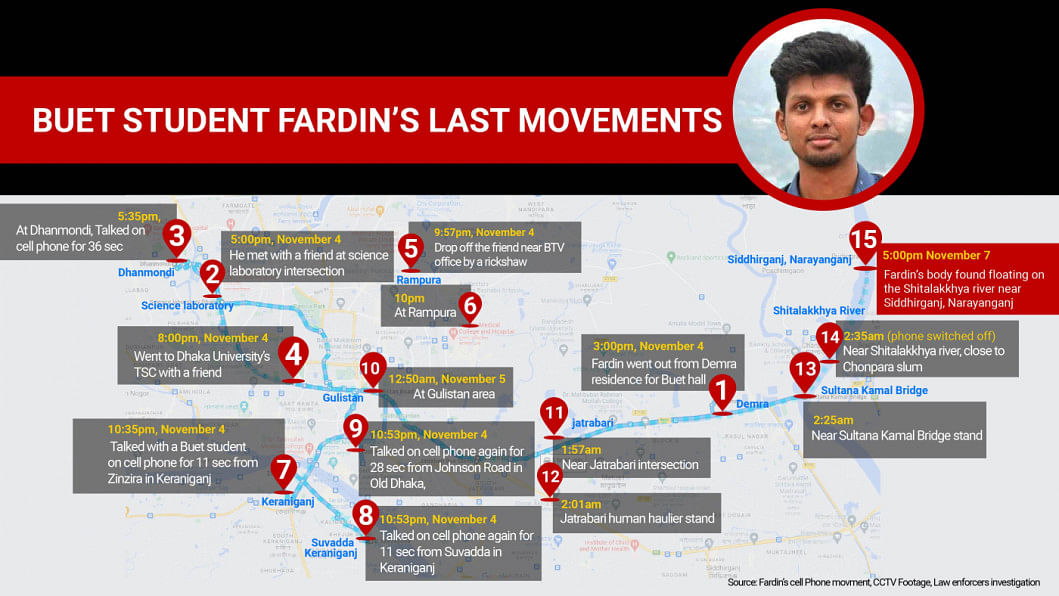 Fardin also loved maths, children and laughter and liked hardworking and thoughtful people.
"Even after the death of such a boy, I do not know why they spread false information."
Law enforcement forces also gave such information without proof.
"That is a big surprise…and some media are publishing it without verification which is very painful. They are killing a family who is already dead. We lost our loved one and now they are stabbing us from behind."
It seems the investigation is stuck somewhere, Nooruddin said.
"We usually see that the main investigating agency takes the lead. But here, it's different. The shadow investigators are more vocal, which is surprising. They gave confusing information 24 hours after the body's recovery. Now they can't come with any concrete proof."
The two agencies also gave contradicting statements, he said, adding that the conduct of Buet authorities and teachers also surprised him.
"They are not raising voices to seek justice for my son, for their student. They don't know where the investigation is heading. The Buet authorities didn't even find it necessary to visit a bereaved family's home. When students can hold rallies, the teachers turned completely mute."
Nooruddin is still hopeful.
"I want to keep faith in our law enforcement agencies as they have some commendable record of cracking hard cases. But they should not confuse people with information that lacks credibility."
Until then, there would be no closure for Nooruddin and his wife Farhana Yasmin, both of whom had big dreams and hopes pinned on their firstborn.
"From my name, I put Noor to his name. Noor means light. We had thought that he would spread the light with his knowledge and wisdom and become an asset to the country. He was on the right track. But then this thing happened."
Nooruddin left his government job and pursued journalism as his profession. His wife Farhana Yasmin is a housewife. The couple had a dream that their three sons would change the face of the low-income family and soon their days of trouble are coming to an end.
To fulfil the dream, the family rented a house in Konpara of Demra -- even though he owned a house in Narayanganj -- to provide better education to his sons.
Fardin used to study on his own routine from the fourth grade. He would go to Bishwo Shahitto Kendro to read books from sixth grade and started giving tuition from class IX.
"Because of low income, we could not take care of him. Fardin actually made himself. He was a fighter, an indomitable genius, adaptable to any situation… Now, my most wonderful son is no more."