5 Top Stories to Know Today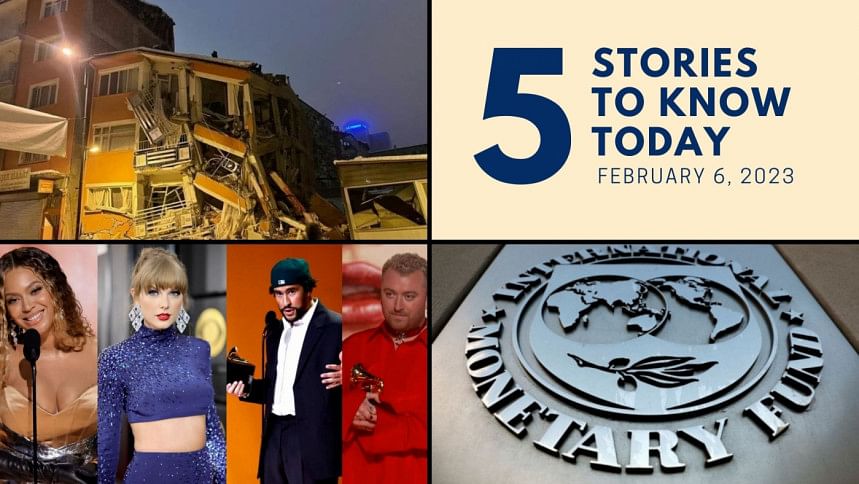 Here's everything you need to know to get up-to speed with the latest news.
Earthquake strikes Turkey, Syria; scores dead
More than 300 people have died after a major earthquake of magnitude 7.9 struck central Turkey and northwest Syria today.
Turkey's Disaster and Emergency Management Authority said 76 people had been confirmed dead, and at least 440 more were injured.
Syria's Assistant Health Minister Ahmad Dumeira said at least 42 people were killed in government-held areas of the country, while doctors in rebel-held areas also reported dozens of deaths in the aftermath.
Pilots' blunder, cover-up put 500 lives at risk 
Did you take any of these seven Biman flights on February 1 and February 2 last year?
BG602 from Sylhet to Dhaka, BG605 and BG606 from Dhaka to Sylhet and back to Dhaka, BG467 and BG468 from Dhaka to Jashore and back to Dhaka, and BG471 and BG472 from Dhaka to Barishal and back to Dhaka.
If so, two Biman pilots knowingly put your life and the lives of around 500 others at risk by hiding the fact that the plane's engines had been damaged due to the captain's improper operations of the plane mid-flight.
According to a Biman investigation, there could have been a catastrophic "inflight engine failure" during any of the seven flights of the De Havilland Canada Dash 8, popularly known as the Dash-8, a 'turboprop short-haul' plane that can carry up to 74 passengers.
No chance of debt distress: IMF
Bangladesh has a low risk of external and overall debt distress despite higher external borrowing in recent terms, said the International Monetary Fund.
"External and overall debt indicators are below their respective thresholds under the baseline," said the IMF's debt sustainability analysis (DSA), conducted to inform its executive board's decision on the $4.7 billion loan application from Bangladesh.
At the end of last fiscal year, the country's total public debt is $166.1 billion, which is 39 percent of GDP and well below the threshold of 55 percent.
Of the sum, $72.3 billion is foreign loan, which is 17 percent of GDP and well below the threshold of 40 percent of GDP.
And of the $72.3 billion, the World Bank accounts for $18.2 billion, followed by the Asian Development Bank ($13.3 billion), Japan ($9.2 billion), Russia ($5.1 billion), China ($4.8 billion) and India ($1.02 billion).
Adani Group plans to trim its capital spending plans
India's Adani Group plans to trim its capital spending plans, newspaper Mint reported today citing people close to the development, days after the conglomerate's flagship firm called off a $2.5 billion share sale.
While providing more collateral in the form of stock pledges to lenders, the group may moderate its capex plans in some of its businesses, the newspaper reported.
Adani Group did not immediately respond to a Reuters request for comment outside of business hours.
Beyoncé breaks Grammys record
Beyoncé stands alone on her Grammy throne: With her fourth win Sunday night, she has become the most decorated artist in the show's history surpassing the 26-year-old record once held by the late Hungarian-British conductor Georg Solti.
Beyoncé has now collected 32 awards after she won for best R&B song for "Cuff It," dance-electric music recording for "Break My Soul," traditional R&B performance for "Plastic Off the Sofa" and dance-electric music for her seventh studio album "Renaissance," which is also nominated for album of the year.