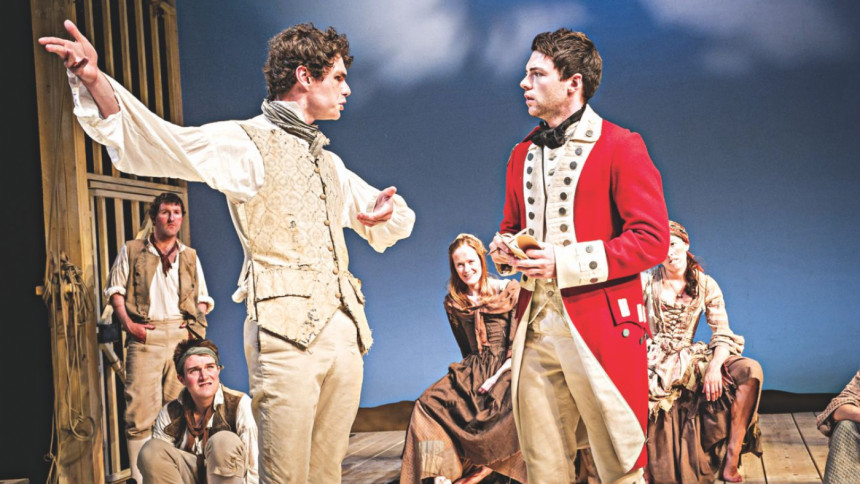 Thus in Greek city states, especially for Athenian citizens, it is rumored, watching theater was mandatory. But that was fine with city states with a handful of population. What about a country that has a population of 164+ million? Can we build enough arenas to bring even half of them to watch theater once in a month, not to speak of regularly? Though it would be a hasty conclusion if I say, that is perhaps one of the reasons why we have citizens who lack attention, judgment, patience and social values, there is no denying the fact that theater had great roles to play in the Greek, Roman, English, Norwegian, Swedish, French, German, Spanish, Egyptian, Chinese, Japanese and even Indian civilizations—or for that matter, World Civilization.   
Though theater has a chequered history traversing through both heydays and bad days, it always had a positive impact on human instinct that helped rescue it from different onslaughts of religious zealotry, political bias and inventions of science and technology. When the Greeks were conquered by the more practical Romans they tried to imitate the Greeks in their cultural ways—performing and watching theater being one of them. Though the invasion of the barbarians destroyed both Greek and Roman theatrical achievements, the achievements saw their steady evolution in other European countries like England, Germany, France, and Spain. Historically the Catholic Church had a huge negative role to play in the theatrical history of Europe. A scene in the famous movie, Shakespeare in Love, depicts a clergyman handing out handbills among the crowding audience of the Shakespeare play Romeo and Juliet that read theater was an antireligious culture condemned by God. But the same clergyman ended up watching the play and got carried away emotionally at the last scene when both Romeo and Juliet committed suicide for love. Such is the impact of human instinct found perhaps only in theatre because in all other literary genres what is missing is the visual emotive effects collectively.
Interestingly enough all Abrahamic religions forbade performing arts and as a result all aesthetic practices such as singing, dancing and drama acting of the pre-religious period had to go through a period of strict avoidance in European as well as Arab countries at a later time. England suffered two spells of such periods—one in the middle ages and the other during the rule of Oliver Cromwell in the mid-seventeenth century. Oliver Cromwell was an English military and political leader. Cromwellian Revolution executed the then King of England Charles I in 1649 and Cromwell ruled England from 1653 to 1658. England remained kingless until the restoration of Charles II in the throne in 1660. Cromwell was a religious fanatic and had a strong disliking for performing arts—thank God Shakespeare was born and wrote all his plays before Cromwell came to power or the world would have been deprived of his classic plays! In fact Oliver had a combination of fanaticism and military ego in him, and as we know fanaticism and self ego are always suited with the junta dictatorship. We Bangladeshis are witnesses to such rules.  
As I said, in the Middle Ages with the advent of Christianity in the 1st century AD as a Jewish sect the Greco-Roman world fell down hard on pagan ritual practices. History endorses the Middle Ages (especially 5th to 15th century) to be the darkest time of human civilization. At one time theater performances or for that matter all sorts of performing aesthetics were banned in Europe. But the invulnerable sustainability of theater had its revival in the Miracle and Morality plays at the end of the middle ages. That revival happened in the hands of the clergymen themselves when they found that the common people were not very attracted to their lengthy sermons and moral lectures, instead a large crowd gathered to witness miracle or morality stories performed in the churchyards. Performances have their inherent seduction.
Sir James Frazer, wrote his famous book The Golden Bough in 1890 giving a wide-ranging, comparative study of mythology and religion. He mentioned three distinct phases of human belief—witch-craft, religion and science. Humans, in spite of tremendous progress in the scientific inventions until 21st century, are still not free from the belief in magic realism. It started with witch-craft then switched to religious fanaticism and now scientific inventions. But the remnants of the first two beliefs still persist and they often overlap. However, science has always contributed to the progress of theater-stage—for example, before the invention of electricity stage plays were held in the daylight. In the present, stage is equipped with all sorts of electronic gadgets. But science has created a big problem for the stage too—audiences are now more prone to watching movies or TV-plays than theater. At many a juncture theater activists were seriously at a loss to assess the future potential of stage play. But wading through the odds of religious, political and scientific inventions theatre is not only alive and kicking it is a wonderful and one of the most coveted cultural experiences of mankind. From rituals of the witch-craft to the miracles and morality of religions, from pre-religious past to post-religious present, fighting against the digital world theater is still considered a phoenix of strength and renewal.
The writer is a theater activist, playwright and theater critic. He is also a Bangla Academy awardee for translation.