Post Graduate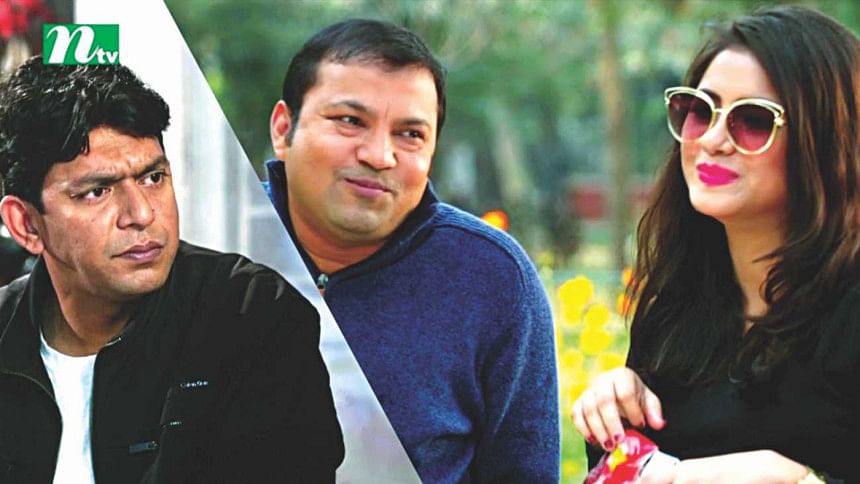 Channel: NTV

Status: Ongoing 

Director: Mostafa Kamal Raz

Cast: Chanchal Chowdhury, Siddiqur Rahman, Saju Khadem, Shahnaz Khushi, Faruque Ahmed

Strength: Parodies social stereotypes

Weakness: Lack of overall plot

Rating: 6/10
PLOT: Polash (Chanchal Chowdhury) the self-proclaimed "post-graduate" lives his life with his lecher nephew Hanif (Siddiqur Rahman) always trying to weasel money out of him. Their neighborhood is filled with a colorful bunch of characters; mostly including people who are wasting their time trying to be someone they are clearly not.
REVIEW: "Post Graduate" is a sequel of the much-acclaimed serial "Graduate", for which Zahid Hasan had won the 'Meril-Prothom Alo Best Actor (TV) Award' in 2010. However, to the disappointment of many loyal fans, Zahid Hasan's role was replaced by Chanchal Chowdhury in this sequel. While many might find the two actors playing the same character differently, the character of Polash retains his charm and silliness from the previous series. Nonetheless, one can't help but feel that "Post Graduate" is only riding the popularity "Graduate" had left behind, with questionable improvement in between.
As far as the serial goes, it follows a quite typical theme of modern Bangla natok: parodying social stereotypes. This includes the wannabe gangster who can't intimidate anyone, the neighborhood 'big boy' who is obsessed about Facebook, and the pair of thieves who steal using sleeping drugs but dream of being honest citizens. The drama looks into the lives of these unfortunate people who simply can't end up doing what they want to do, with only their shortcomings to blame. That being said, there isn't an overall storyline throughout most of the initial episodes, with no actual character development being made. The plot seems to stagnate constantly and any new fans will have a hard time comprehending who the characters are or why they are doing what they do. Despite all that, "Post Graduate" will provide a fun time-pass so no reason to pass up on it if you're bored.
Reviewed by Shams Rashid Tonmoy