From 'Star Wars' to horror scares, here are 6 Comic-Con highlights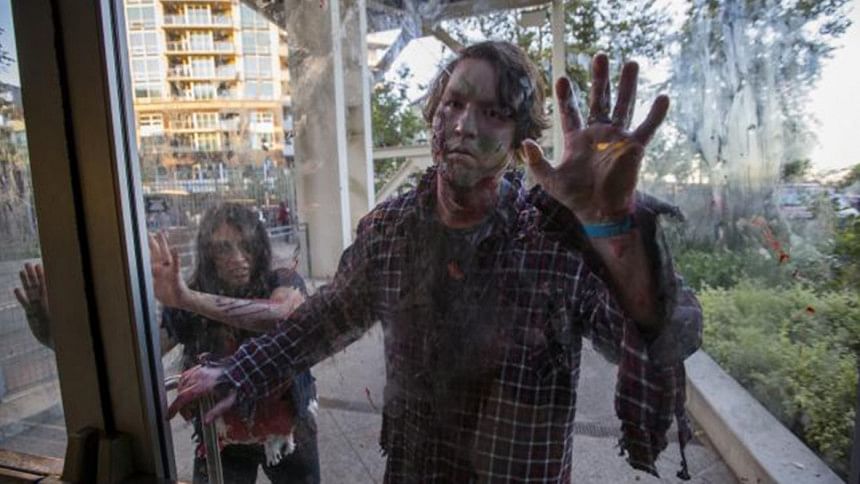 Superhero movies made the biggest splash at San Diego's Comic-Con this year, but the convention's 130,000 comic book and pop culture fans were also treated to a smorgasbord of experiences, surprises and scares.
As the 35th Comic-Con wrapped up its four-day event on Sunday, here are six highlights from the annual event.
Con of horrors
Zombies, ghosts and the supernatural served up scares, from late night fan screenings of upcoming horror movies "The Gallows," "The Visit" and "Cooties," to the undead frightening attendees on the convention floor.
At the booth for AMC's hit zombie series "The Walking Dead," fans screeched in fear as they walked into the back of a truck filled with blood-stained mattresses and a gaggle of slow-moving zombies.
Creepy bloodied "twins" from the upcoming "Sinister 2" film popped up around the streets of San Diego's downtown Gaslamp district, while indoors a trailer from "Maze Runner: The Scorch Trials" featured terrifying zombie-like creatures that frightened the crowd.
"Star Wars" thrills with live concert
The 6,000-plus crowd attending the panel for the upcoming "Star Wars: The Force Awakens" film was escorted by Stormtroopers to a nearby outdoor venue for a surprise concert.
Fans went wild and were armed with lightsabers as the San Diego Symphony performed John Williams' iconic "Star Wars" score, concluding with a fireworks display.
Good grief! Peanuts goes 3d
Snoopy's little red house became a giant, inflated playpen with real beagles to pet and a bouncy slide to glide down. "The Peanuts Movie," a 3D-animated movie due out in November, will bring the cast of Charles M. Schulz's iconic comic strip to the big screen.
Celebrities unwind at ew bash
What happens when Harry Potter, Doctor Who and Professor Xavier turn up to a party together? Actors Daniel Radcliffe, Matt Smith and James McAvoy indulged in a late-night game of ping pong at Entertainment Weekly's Comic-Con party, with Radcliffe dominating the table.
Elsewhere, "Avengers" director Joss Whedon danced up a storm to 1990s hip hop tracks.
Tarantino's "hateful eight" gets roadshow treatment
For Christmas this year, director Quentin Tarantino is bringing back the "roadshow" cinema-going experience for audiences to watch his gritty Western film "The Hateful Eight."
The "roadshow" was a popular cinema experience in the 1950s and 1960s, with movies being accompanied by intermissions and musical overtures.
Tarantino, who delivered a master class for film lovers on shooting in 65mm format, said "The Hateful Eight" will be released in 70mm widescreen in 100 U.S. theaters on Christmas Day as a roadshow event.
Virtual reality takes fans inside legendary films
Legendary Pictures offered fans a way to be "in" their upcoming movies with the help of virtual reality and Google Cardboard. The studio created three experiences on an app for fantasy epic "Warcraft," monster-robot battle movie "Pacific Rim" and gothic horror "Crimson Peak."
Fans could download the app on smartphones, slot the phone into a new edition of Google's Cardboard virtual reality device and be transported into short scenes from the films.