Noukadubi (2011)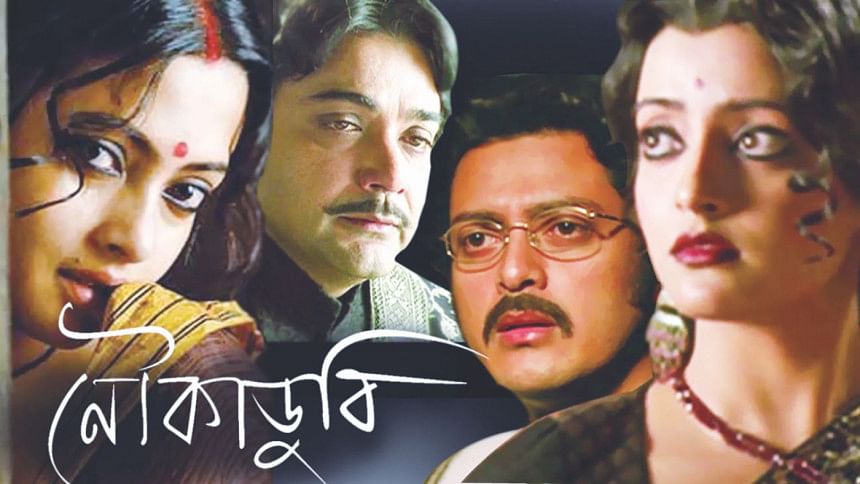 Director:  Rituparno Ghosh
Screenplay: Rituparno Ghosh, Gulzar
Cast: Raima Sen, Riya Sen, Prosenjit Chatterjee, Jisshu Sengupto
Duration: 145min
PLOT: Based on the story originally written by Rabindranath Tagore, Noukadubi is a near-to-perfect portrayal of the story of four lives being intertwined by fate. The movie unfolds when the main characters Ramesh and Hemnalini are shown to be in love but as the plot progresses, like every other great love story, they face obstacles that hinder their relationship. Ramesh's father wants his son to marry a widow's daughter, who Ramesh eventually succumbs to. The story takes a surprising twist when the newlyweds get washed up ashore after a boat crash, leading to characters like Kamla and Nalinksha to step in and take the story to an entirely different turn.
REVIEW: Noukadubi is an exceptional film that not only contains a great story but brilliant direction and a lively cast. Rituparno Ghosh showed his natural knack towards filmmaking by handling a generic beginning and giving it an ending of an entirely new perspective, not failing to leave behind a lingering sense of awe. Raima Sen, as usual, put up an amazing portrayal of Hemnalini with much elegance. Even though the woodenness of Hemnalini's brother came off as jarring compared to the other veteran actors, the overall film stood out for its exceptional cinematography and dialogue.
Set in the 1920s, the film couldn't have had a better set representation to portray the time period. What contrasted the story more were the selection of the Tagore songs that went perfectly with the scenes and situations in the story. Even though the film's plot dates back to an old era, the relationship of Hemnalini and her father doesn't fail to grab the viewer's attention as it screams out how ahead the film was of its time. It was amazing how even in that kind of social barrier; Hemnalini's father manages to maintain a very modern relationship with his daughter.
On the other hand, Ramesh was portrayed as this man in love but unsure of what to choose in life. Even though his indecisiveness is what created the story in the first place, his character could have definitely used a bit more stability. The Bengali version of the movie is much more appreciated than the Hindi because the dubbing makes it lose its originality even though Rituparna himself dubbed the character of Nalinksha's mother. Tagore stories are always enchanting, and if a story that leaves a lingering aftertaste like gourmet wine is appreciated, then Noukadubi is hands down a must watch.
Reviewed by Munia Islam