Airlift (2016)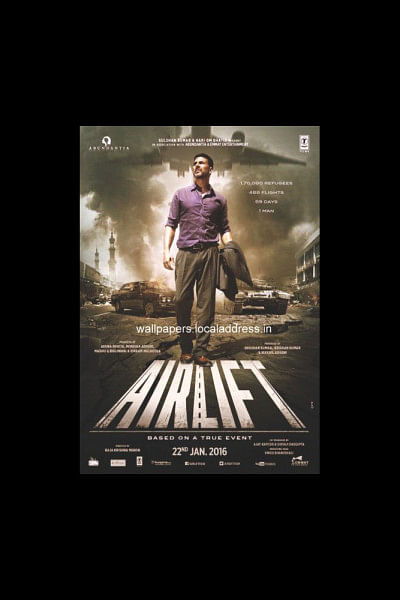 Director: Raja Menon
Writers: Ritesh Shah, Suresh Nair
Stars: Akshay Kumar, Nimrat Kaur, Taranjit Kaur
Strength: Engaging Story, Acting    
Weakness: Typical song and dance
Runtime: 130 minutes
Rating:  3.5/5
Plot: When Iraq invades Kuwait in August, 1990, a callous Indian businessman becomes the spokesperson for more than 170,000 stranded countrymen.
Review: Raja Krishna Menon brings Akshay Kumar back onscreen as Ranjit Katiyal with Airlift – a film based on India's massive evacuation of its citizens from Kuwait in 1990.
The film's narrative begins on the D-day – August 1, 1990 when Iraq president Saddam Hussein attacked Kuwait. Ranjit, a business tycoon, has closed a few deals, bought one of the most-sought after palaces in town and trumped a friend-cum-business rival. He can't wait to get home to celebrate. The same night, Iraqi forces attack the city and are running a riot. Though of Indian origin, Ranjit detests being identified as an Indian. Also as one of Kuwait's richest businessmen, he is full of himself and money is all that seems to matter. 
With the context established, Menon wastes no more time and 10 minutes into Airlift, the plot is already racing. Soon enough all hell breaks loose with blood-thirsty Iraqi soldiers wreaking havoc and Ranjit becomes an unlikely saviour for the 1,70,000 other Indians stranded in Kuwait, including his family.
Though an action-packed story, Airlift's strength lies in the turbulent emotions of people at the mercy of each other's generosity and self-preservation. Ranjit is suddenly acutely aware of the people around him including hundreds of his employees. Touching scenes like the interaction between Ranjit and his family, and with government officials are tightly edited to capture the pathos of the situation.
Airlift features Akshay at his best - based on real-life characters, there's little swag in Akshay's performance and more mature control. As Ranjit, who goes from protecting his kin to his countrymen, Akshay does a polished, restrained, powerful job
An overall engaging watch with a few gritty moments, Airlift does stumble a few times as well. Despite the foibles, it's still worth a watch. 
Reviewed By Intisab Shahriyar