Mr. Holmes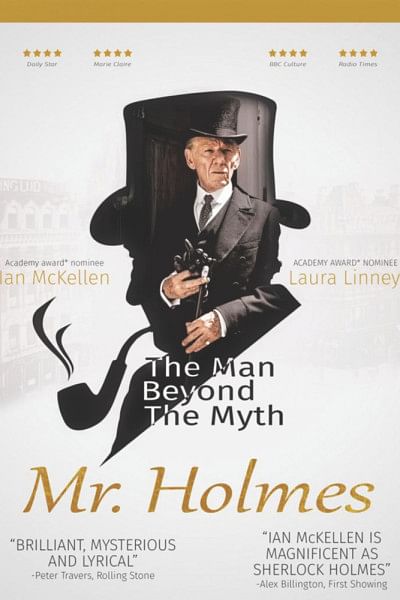 Director: Bill Condon
Writers: Mitch Cullin, Jeffrey Hatcher
Stars: Ian McKellen, Laura Linney, Hiroyuki Sanada
Strengths: McKellen's Performance 
Weakness: Plot is slightly flimsy
Runtime: 104 minutes
Rating: 4/5
PLOT: An aged, retired Sherlock Holmes looks back on his life, and grapples with an unsolved case involving a beautiful woman.
REVIEW: Sherlock Holmes is back, but we have never seen a Sherlock like this before. The new Mr. Holmes is a completely different take on Arthur Conan Doyle's legendary detective. 
"Mr. Holmes," a mild and minor bit of revisionist Sherlockiana, imagines the world's greatest detective in his dotage, retired to a picturesque rural spot on the English coast where he tends to bees and fading memories. It's 1947, and Holmes is in his 90s. Dr. Watson is long gone, and it turns out that the pipe and the deerstalker cap were fictitious embellishments. The keen ratiocinative powers that made Holmes an early hero of modern popular culture are still in evidence, though the cases he has left to solve are of a decidedly intimate, melancholy nature. No spectacular murders or intricate conspiracies: just quiet enigmas of memory and remorse. 
The film's plots are soft and flimsy, and they don't mesh as gracefully as they might, but they do serve as an adequate trellis for Mr. McKellen's performance, which is gratifyingly but unsurprisingly wonderful. With his craggy visage and papery diction, his Holmes is a study in wry, intellectual charisma. It isn't hard to imagine Benedict Cumberbatch, the kinetic, intensely focused Sherlock of the BBC series, aging into this mellow codger. 
The film suggests that there is much about Sherlock Holmes that his fans don't know. It's most ingenious conceit is that the real man has grown old alongside his legend, slipping into theaters to watch movies made about his exaggerated exploits and gently correcting some of Watson's fabrications. A long retirement has humanized him, and the specific longings and regrets chronicled in "Mr. Holmes" might constitute only a partial list. This is Holmes as many of us have never even thought of and that's what leads to its unique appeal.
Reviewed by Intisab Shahriyar