Captain America: Civil War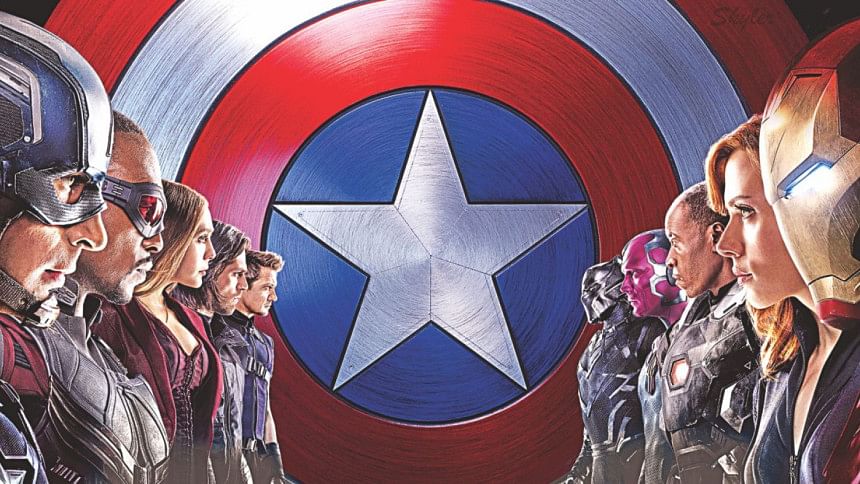 Captain America: Civil War
Director: Anthony Russo, Joe Russo
Writers: Christopher Markus, Stephen McFeely
Stars: Chris Evans, Robert Downey Jr., Scarlett Johansson, Paul Rudd, Martin Freeman
Runtime: 146 mins
Strength:  Story, CGI, Humour
Weakness: Soundtrack
Rating: 4.5/5
Plot:  Political involvement in the Avengers' actions causes a rift between Captain America and former ally Iron Man.
Review: The story is loosely based on the 2006-2007 Marvel comic where Captain America works with his Avengers teammates in a mission in Africa which winds up causing a tremendous amount of collateral damage after which the team finds itself under scrutiny from governments and people around the globe. 
Civil War acts as a sequel to both Captain America: The Winter Soldier and Avengers: Age of Ultron. The main story revolves around the conflict between Captain America and Iron Man, and the depiction of their emotional battle is really the main reason why this movie is a success. The movie binds together remarkable character dynamics; an impeccable storyline based on emotions; and entrancing action sequences, which only seems to get better each frame. The fight sequences throughout the movie were incredibly narrative and both teams pulled off enough ingenious action sequences to win over the audience. In an unexpected turn of events, humour contributed almost equally to that of action in the movie. As expected, use of CGI has justified the movie's budget and exceeds the movie's predecessors' use of quality graphics. The humorous jabs among the heroes in tense situations, coupled with the exceptionally snappy sense of humour in the dialogues make it a wholesome experience for any cinemagoer.
Civil War has introduced new characters from the Marvel Universe, and it has done so in a more accurate way than expected. The likes of Spider-Man and Black Panther have accelerated the pace of the movie, both literally and figuratively. Spider-Man in particular, takes the spotlight within just a handful of scenes with his spectacular web-slinging action. 
Captain America: Civil War proves that the Marvel Cinematic Universe has a better grip on Captain America than any other heroes. This movie is equally thrilling, engaging, funny, and emotional, and is everything that a Marvel movie should be.
Reviewed by Syed Ahnaf Sadeed