Bridge of Spies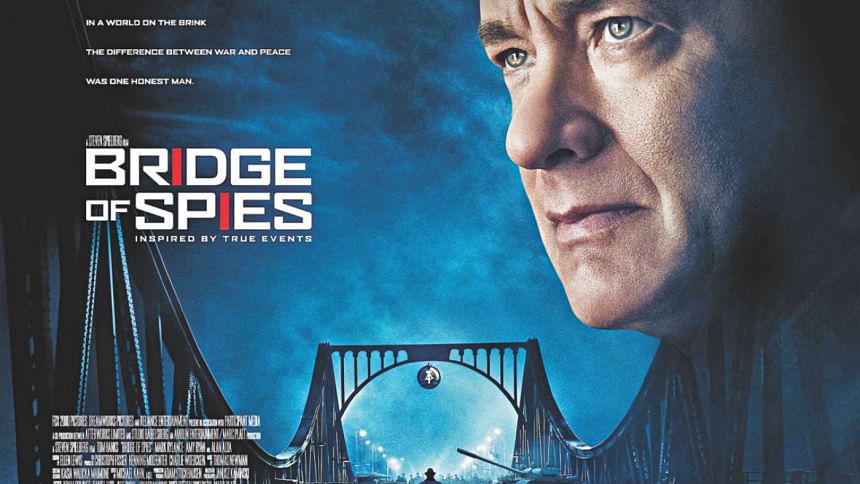 Director: Steven Spielberg
Writers: Matt Charman, Ethan Coen
Stars: Tom Hanks, Mark Rylance, Alan Alda
Strengths: Acting, Direction
Weakness: Slow pace, Long runtime
Runtime: 142 minutes
Rating: 3.5/5
Plot: During the Cold War, an American lawyer is recruited to defend an arrested Soviet spy in court, and then help the CIA facilitate an exchange of the spy for the Soviet captured American U2 spy plane pilot, Francis Gary Powers.
Review: If you were expecting a fast-paced movie about spies and dramatic courtroom battles, then this movie is not for you. In fact, many people were completely unprepared for the pace this film takes into telling its story, knowing that the Spielberg moniker is on this film, which is usually a by-word for faster paced storytelling. 
The story is set during the height of the Cold War between the Soviets and the Americans. Back then, information was the name of the game and whoever learned more about the other would become the victor and so they employed spies on both sides to collect information. The film starts with the capture of Soviet spy Rudolf Abel. To give the portrayal of a fair trial, insurance lawyer James Donovan is hired to represent him. However, he takes his client seriously and starts to properly defend him and as such, garner the hate of the entire nation. While all this was going on, American pilot Francis Gary Powers was flying over Soviet space and is shot down and captured. Meanwhile, American economics student Frederic Pryor is wrongfully captured by the East Germans during the formation of the Berlin wall. The ensuing drama makes up the rest of the film.
The film is based on a true story, so there was very little scope for the makers to add explosions and glitter wherever they saw fit. For a true story though, they did a marvellous job of bringing such an important event in history to the modern age. Acting was brilliant and so was the direction. While the pace is quite slow, the movie is still top-notch. 
Reviewed by Intisab Shahriyar