Bhalobasha Emoni Hoy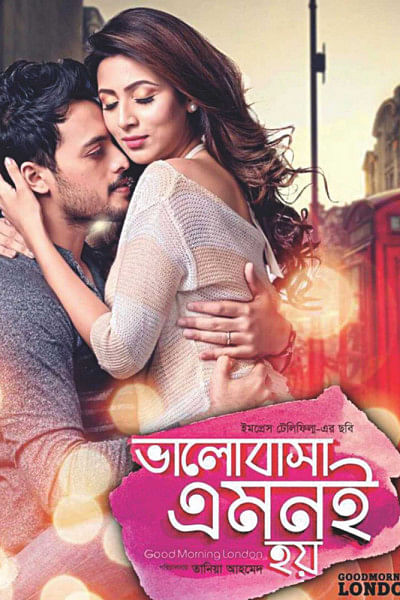 Director: Tania Ahmed

Cast: Bidya Sinha Mim, Sajjad, Mir Sabbir, Mishu Sabbir, Tanjika Amin, Tarek Anam Khan

Runtime: 145min

Rating: 6/10
PLOT: The first scene of the movie shows where Mim sets out to buy flowers for someone on her return home. Mim lies down on the road after the collision with the moving car. The scene ends. Mir Sabbir and Mishu Sabbir are the top terrors of Dhaka, residing in London hiding their identity. Tarek Anam Khan, Mim's father, is a businessman. With time a helicopter can be seen returning home with Mim convalesced. Tanjika Amin also lives with Mim and her father. The relationship between Tanjika Amin and Tarek Anam Khan is revealed after a while in the scene. An emptiness begins to grow inside Mim's head, unaware of the cause of the strange feeling. She brings Peter, a foreigner, home along with her, claiming him as her boyfriend. This leads to a conflict among Mim and her father. Her father invites Irfan Sajjad with Mir Sabbir and Mishu Sabbir home for Mim and Sajjad's marriage. Mim and Sajid act as if they know each other for quite a long time. Thus, Tarek Anam's true character is revealed: he is actually Mim's uncle. Her mother passed away when she was only four months old. Due to the property's greed, Tarek Anam tried to kill Mim because she was the sole heiress of all the fortune. After the traumatic accident Mim experienced memory loss and couldn't remember that she had been married to Sajjad before. In the end, Mim's father Tarek Anam Khan murders Sajjad and thus ends "Bhalobasha Emoni Hoy".
REVIEW: The story of the movie is magical. You'll get to know the main story of the movie long before it ends which makes a movie more interesting. The story has been well written by Raihan Khan. The movie gets slow at times but that can be completely overlooked by the amazing performance of the actors. The story-writer deserves appreciation. Tania Ahmed did her job so well that no one can guess this was her first time directing a movie. Her skill as a director was showcased in the brilliant trailer, establishing her potential as a director before the movie was even released. She should be heartily appreciated for striving to present the story very beautifully.
Tarek Anam Khan's first scene of the movie proved that he is undoubtedly a brilliant artist. His style of presentation, dialogues, mannerism, dressing sense, and just about everything else were astounding. The co-star and the heroine Mim has been represented in the most beautiful way; she looked attractive and her acting with Tarek Anam Khan was exceptional. There is nothing new to say about Mishu Sabbir and Mir Sabbir, they were great as always. Irfan Sajjad's looks and acting were great but there some hesitation was felt from him. Adding subtitles was a good initiative and provided better understanding of the plot. The movie "Bhalobasha Emoni Hoy" is like having two stories collided into one story. Despite the suggested mixture, though, the uniqueness of the love story and the way it was presented are sure to leave a lasting impact. Modern audiences should learn to appreciate movies such as these to revive the dying art of Bangla cinemas. 
Reviewed by Farhana Sharmin