Tubelight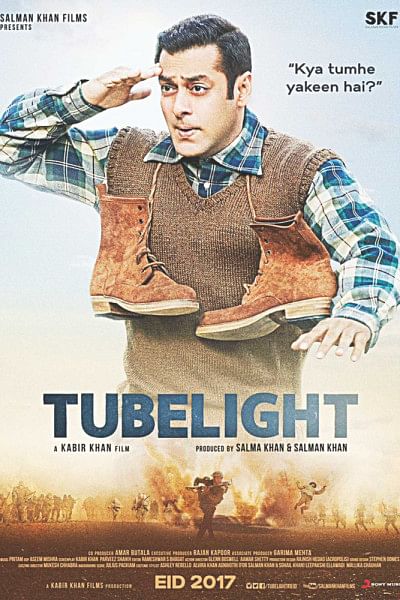 Director: Kabir Khan

Producer: Salman Khan

Story: Kabir Khan

Cast: Salman Khan, Sohail Khan, Zhu Zhu, Om Puri

Strength: Acting, Story, Cinematography 

Runtime: 136min

Rating: 7/10 
PLOT: In a small town in North India, Laxman (Salman Khan) lives with his younger brother Bharat (Sohail Khan). Laxman is a simple man and he was called 'Tubelight' by everyone due to his deviancy. One day Laxman's world comes crashing down when tension arises on the India-China border. Indian government asks young men of its nearby small town of Jagatpur to come forward to join the forces to fight for the country. Bharat leaves to fight for the country leaving Laxman in the care of Banne Chacha (Om Puri). A war gets declared on the border leaving a tense situation in the town. Li Leing and her son Gu Won arrives in town and Laxman believes that befriending them will end the war and unite him back with his brother.
REVIEW: Tubelight is directed by Kabir Khan, which is a remodeling of 2015 Hollywood movie Little Boy. The story revolves around a child-like man who believes that he can bring back his brother from the war. Salman as 'Laxman' was spot on with his performance, and the cast supported his role even more. Sohail Khan was very efficient and impressive with the couple of scenes he had. The shots were beautifully taken by Aseem Mishra. 
Tubelight is a movie that stands on the shoulders of Salman Khan's emotion and that emotion managed to correspond perfectly with his performance. The story and screenplay was very good, just like the music and the action scenes. The emotional scenes are portrayed well and Salman was indeed the biggest strength of this movie. Overall, Tubelight is a different kind of an emotional movie and so it will definitely entertain those who love these kinds of themes.
Reviewed by Sheikh Sayem Ahmed