Nazrul Teertho in Kolkata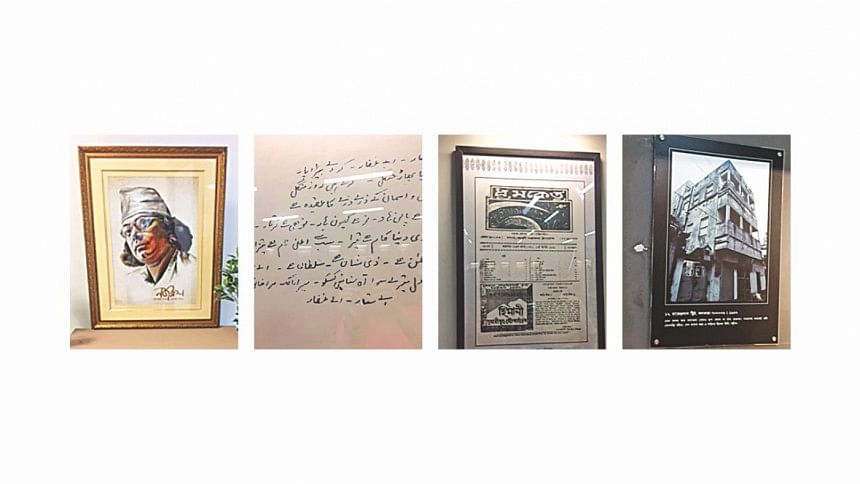 After returning from World War II the famous poet Kazi Nazrul Islam resided in Kolkata and neighboring areas till 1972. It was his seat of work, his city of fame. In 2014, the West Bengal Government built an archive in the name of Nazrul Islam. The Urdu phrase that comes to my mind when I see this memorial structure titled `Nazrul Teertho' is: Der se, durast se.
This year, Somerita Mallik, a budding Nazrul singer invited me to spend a weekend in the Nazrul Teertho. When I was introduced to this beautiful structure, I could not stop my tears. My father departed from this world on 5 January, 2015, and I remembered his worried face from years ago when my father received letters from Kazi Sabbyasachi, requesting him to do something to help the poet, detailing the misery that Nazrul Islam was in at that time. After he became silent with the Pyg's disease, Nazrul had no financial support and lived a life of misery in Kolkata. My father and uncle rushed to see Bangabandhu Sheikh Mujibur Rahman, who had told my father 'Okaloti chere tui nije jabi ante, bujhli?' (Leave your legal practice aside for now, and bring him to Dhaka). That didn't happen as other Nazrul enthusiasts paved the way for bringing Kazi Nazrul Islam to Bangladesh on 25 May 1972. After Nazrul was brought to Dhaka, Bangabandhu placed his hands on the forehead of the poet. The newspapers carried the story `Rebel meets Rebel' on 26 May 1972.
Many years later, the Chief Minister of West Bengal Mamata Banerjee paid special tribute to the Rebel poet who has been her inspiration and built this place in his memory. It archives 500 songs of Nazrul in a small studio where listeners can use headphones and listen to his songs. It has a room full of pictures of Nazrul, most of them are the ones that Nazrul Institute (Dhaka, Bangladesh) has already published in their publications. I was impressed by two sections: one, where there is a series of photographs of the buildings in Kolkata where Nazrul Islam had housed himself. This includes the building where he wrote the Bidrohi (Rebel) poem and one called 15 Jeliatola Street which is given as an address in his letters to Dr. Quazi Motahar Hossain, which I have translated into English. Another section which interested me was a chest of drawers containing the small booklets which were published when a cinema was released in those days. Nazrul had composed music for several cinemas and dramas and a collection of those souvenirs make a colorful display. I could recognize some of the movies like Sapure and Gora (by Tagore). The MD of this organization Subir gladly gave me a guided tour. There was a gramophone machine, which played a song Shunno e Buke Pakhi Mor which again made me nostalgic. I wish I could run to my father and tell him about the Nazrul Teertho.
The occasion was the 119th birthday of the poet which was being celebrated by Chayanaut, a relatively new organization in Kolkata. At their behest a new CD comprising of 57 letters of poet Kazi Nazrul Islam has been released, simultaneously from Kolkata and Dhaka (Nazrul Institute). It is titled Iti Nazrul. It has letters from the poet to his son Aniruddha, friend Dr. Qazi Motahar Hossain, Nobel laureate Rabindranath Tagore, his beloved first love Nargis, Principal Ibrahim Khan and others, read by several elocutionists from Bangladesh and West Bengal. The poet comes alive with his soul bared. And I want to ask, Neerob keno kobi? (Why are you silent, oh poet?)
Nashid Kamal is an academic, Nazrul exponent and translator