centre stage
Tuhin Hossain
Tuhin Hossain is a renowned glamour photographer, known for capturing photographs of many fa-mous celebrities. He has been wowing the masses with his brilliant shots for the past twenty years or so. In an interview with Star Showbiz, he goes in depth about his passion for photography.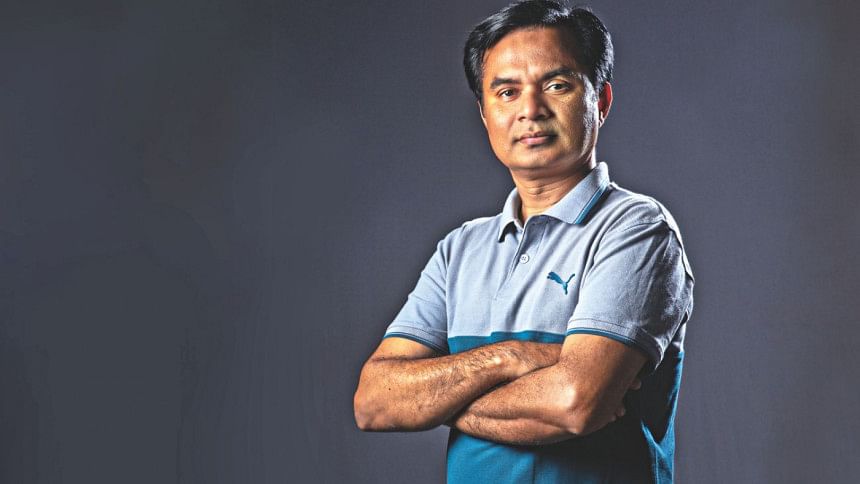 Tell us something about yourself.
I'm a photographer. I work in different sectors, like glamour, fashion, corporate and advertising photography among others, because I believe that I need to be diverse to explore my potential.
Tell us about your journey with photography?
When I was in school, I used to see the work of many photographers, and wished to capture photographs as beautiful as theirs.I enrolled in a photography course in Bangladesh Photography Society, when I started college. I went to Delhi for higher studies. After returning, I joined Anandadhara, a lifestlye and entertainment magazine published by Mediaworld Ltd. Through Anandadhara, I was able to photograph many celebrities. Our editor at that time encouraged me to open a personal studio, after which, I started receiving many offers from different corporate houses and celebrities.
Who inspired you through it all?
No one in my family ever inspired or encouraged me to take on photography. Since my childhood, I was always interested in the making of a perfect photograph. The inspiration came from within.
Who is your favourite celebrity to photograph?
I have photographed a lot of celebrities, but my personal favourite is Purnima. She was in eighth grade when I first got the opportunity to photograph her. She was going to be on the cover of Anandadhara, so it was a huge challenge for me to make her look as glamorous as possible. She was extremely cooperative, and the pictures came out exactly how I wanted them to. She even received a lot of offers for films after that issue was published.
Who do you think is the most glamorous star of this generation?
Personally, I think Mim is the one. She is punctual, glamorous, talented and assiduous. She follows instructions properly and delivers perfectly.
What do you think are the difficulties a photographer has to face in their career?
Being a photographer is very expensive; more so now than before. We have to upgrade our equipments frequently. When I first started, modern equipments were not available in Bangladesh, and we couldn't even purchase them from foreign countries. However, this is not the case now.
What are your favourite forms of photography?
Glamour, advertising and human figure. The fact that a business could profit, a lady could get a job through my photographs, fascinated me.
What was the turning point in your career?
My turning point was my photo studio. When my clients saw the other shoots taking place, they were encouraged to hire me on other projects. That's how my career expanded.
You have received many awards in your career. Which is the closest to your heart?
I received my first award in 2001. It was a big deal during that time as newspapers were reluctant to publish the kind of photographs I took. I am very grateful for the award as it inspired me to carry on.
What qualities do you think an aspiring glamour photographer should have?
They have to be patient and honest. They have to be comfortable with the models, and believe in their work. They should never misuse their skill. They must always seek the permission of the person they are photographing before publishing the photographs.
How do you perceive glamour?
Our understanding of the word, 'glamour' is distorted. I learnt that glamour is not just in the clothes, but in the expressions as well. Photographers don't fully understand what their clients want and vice versa. We must find the glamour in people, and accentuate that.
Do you have any tips to look good in photographs?
No matter what kind of photographs you're taking, always look natural. Keep your facial expressions easy, and be comfortable with the photographer. Also, be confident in the skill of the photographer and yourself. Practise the things that make you look attractive and use those to your advantage. Never overdo it; people generally look their best when they're natural.
Do you have any message for the readers?
I have a long history with the newspaper you're reading, and it's very dear to me. I would encourage you all to keep seeing the different forms of photography displayed in this as it is very dynamic.