Crosstalk: Of Arts & Culture
Paragon of modern art in Bangladesh, renowned painter Rafiqun Nabi, also known as 'Ronobi' is a name that is revered by all. His remarkable woodworks, acrylic paintings, water colours and his iconic cartoon character, 'Tokai', makes him stand apart in the crowd of art paramours. Versatile artist, Afzal Hossain, mostly known for his drama roles in the 80s and 90s, also plays a significant role as a writer, painter and poet in the industry. Hobby turned into passion, Durjoy Rahman is an art collector, who treasures unique artworks and exhibits them to spread the love of art among others. Following the series, Crosstalk, this week Star Showbiz presents these three cultural personalities, who share their thoughts on the evolution of art form and talk about the promoters of culture in Bangladesh.
Rafi Hossain: Rafiqun Nabi sir, can you share your thoughts on the current state of art culture in our country?
Rafiqun Nabi:  Talented artists like, Zainul Abedin, Quamrul Hassan, SM Sultan and Qayyum Chowdhury are few names who are considered as the pioneers of Bangladeshi art. The thing is, with each time period, the art culture changes. It reflects the current mindset of the people. The financial, social and political state dictates the direction art is going to take. So, the art we have now is fitting to our current times.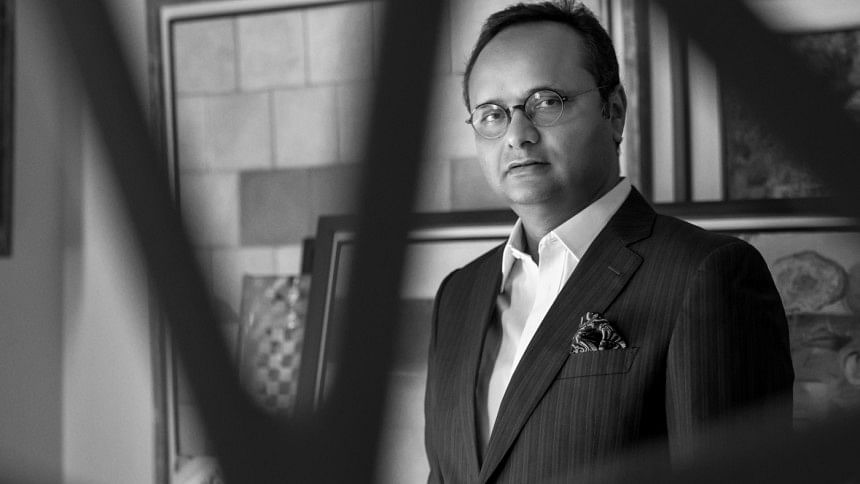 Rafi Hossain: Sir, do you think television programmes are promoting our art and culture?
Rafiqun Nabi: I do not watch television. However, if I do, I prefer watching selected programs. I used to watch some selected telefilms. But, now I don't continue that practice anymore. Still, when I see some familiar faces like Afzal Hossain or Suborna Mustafa, I tend to watch their programs. There is a possibility of finding some good content in them. According to my observation, nowadays, I have seen the use of local language of different districts in our country in dialects and characters. I don't think we really need that. Just one or two regional character is enough in my opinion. I'm saying all this because the regional languages of our country geographically changes every ten miles. So, it is somewhat impossible to work with all of them. I also feel that the satirical approach of promoting the regional languages in dramas or films is sometimes disrespectful. Back in our times, everything was made with time and dedication. Now, due to advanced technology and digital mediums, work has become easily accessible and fast. The rising stars of this generation are doing well. They are participating in various competitions, both in Bangladesh and aboard, and through their participation, our Bangladeshi culture is being promoted to wider horizons. There are talented artists who are delivering remarkable projects. Everyone is busy doing great work and trying to bring changes.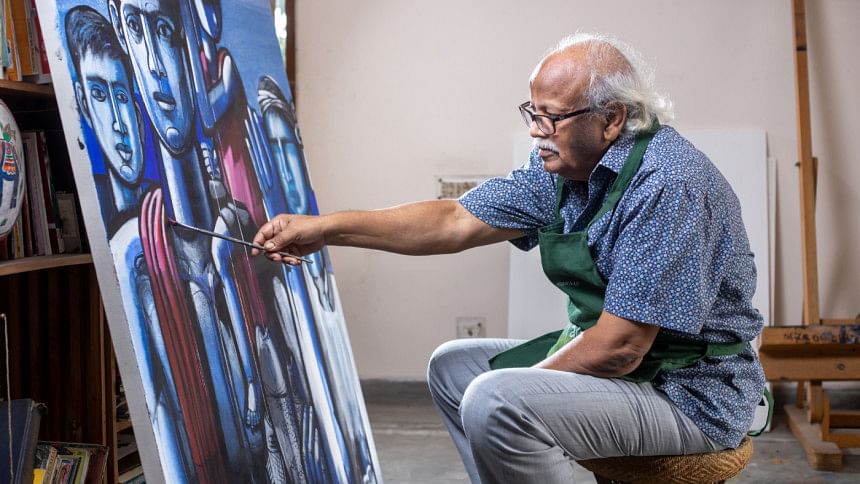 Rafi Hossain: With modern techniques and accessible technologies, I feel that many people are doing contemporary art, just to follow the trend, without even understanding it properly. Durjoy Rahman, what's your take on that?
Durjoy Rahman: I don't think it's fair to assume that the artists in Bangladesh don't understand contemporary art. Many do know what they're doing, and the ones that don't, get to exercise their skills. This way, they have the scope to learn about contemporary art. There's nothing wrong with doing that if someone is truly passionate about it, even if they have limited knowledge on it. Also, I think that people should clarify what they call contemporary art. Many believe that every new type of painting is contemporary, and that's very incorrect.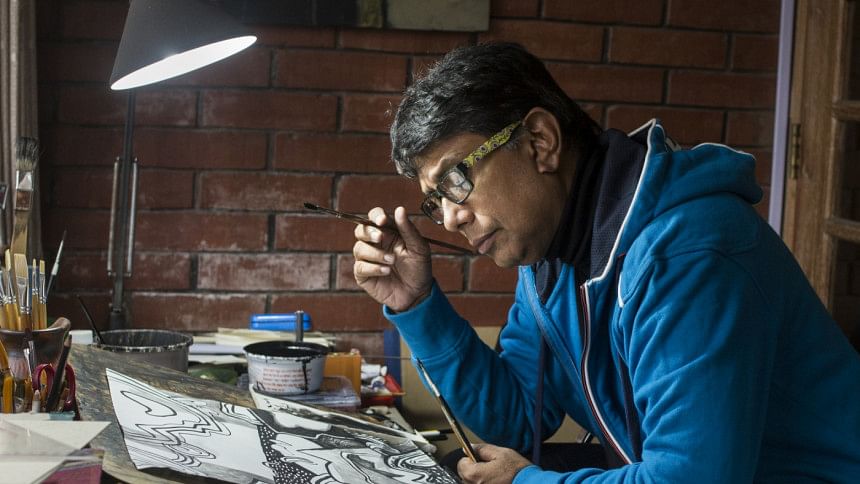 Rafi Hossain: Afzal Hossain, what is your take on all of this?
Afzal Hossain: Ever since the liberation war of Bangladesh, the most developed cultural sector has been the sector of painting. I feel that the main reason for this is the increase in people's interest in art. This change can actually be observed in people all over the world. When I'm abroad, I like seeing different artworks from that country as I'm very interested in art. When I observe different artworks from around the world, I feel that Bangladeshi paintings have similar value to those aboard. However, I think Bangladeshi art is not being promoted properly to greater masses. It is our responsibility to introduce our art to the world.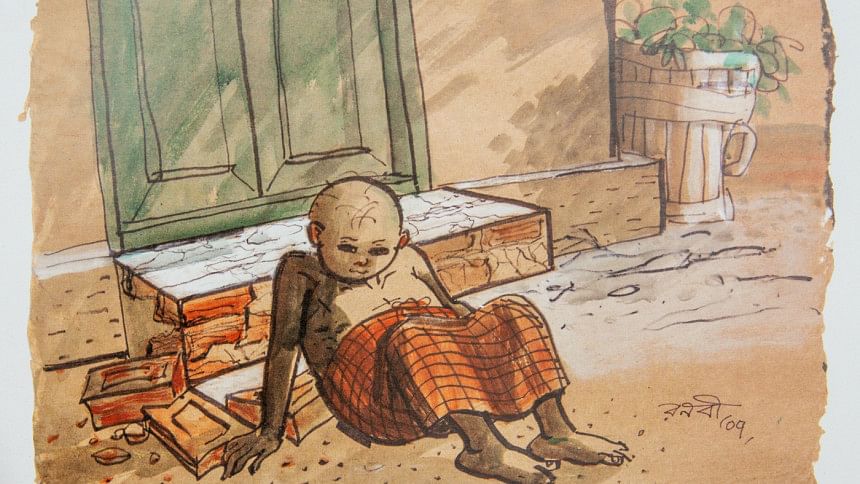 Rafi Hossain: Durjoy Rahman, you recently did a project in Venice with six young artists from Bangladesh and six from abroad. Can you tell us about that?
Durjoy Rahman: I feel that the artwork we have here is of international standards, but what we lack is exposure and promoters. I saw many artists get no exposure at all, and I really wanted to help them get international attention. But, I realised that if I made an art residency using Bangladeshi artists, it wasn't going to get that much attention. So, I decided to do Majhi International Art Residency, where we promoted six artists from Bangladesh, and also worked with some Venetian local ones. This year, we held it at Venice because throughout history, Venice has been a very important place for art. Moreover, I feel that our artists aren't the only ones that got exposure there; the Venetian artists also learnt from them. I'd say that it was a cultural exchange.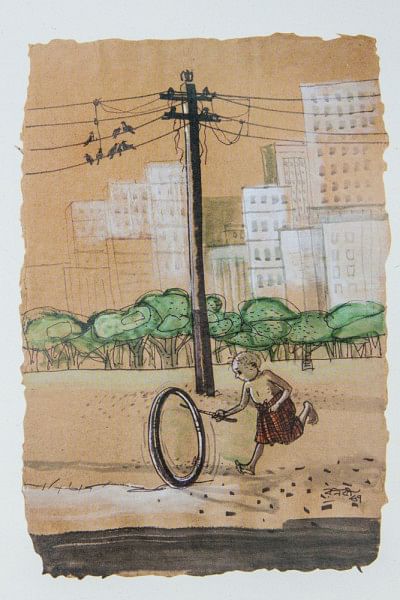 Rafi Hossain: Whenever I go to art exhibitions abroad, I always want to see a painting by a legendary Bangladeshi artist. You're doing a lot of work with international exhibitions, Durjoy Rahman. Do you think that it will ever happen?
Durjoy Rahman: The thing is, to do expositions or symposiums abroad for legendary painters, like Zainul Abedin and S M Sultan, we will require permission from the government as the artists' most beloved artworks are currently under their possession. So, if we are to display the paintings of legendary artists, we need the government to assist us.
Afzal Hossain: It saddens me that we can't showcase the contributions that these legendary artists made to the world through their art. For example, we have Rafiqun Nabi sir with us, and his work is astounding, no matter what platform he uses. But, the thing is, most people in our country don't even know of his work. Many people know him for the cartoons he made, and he is also known by people abroad. I don't think that's enough. Artists aren't getting the attention they deserve, and many have to promote themselves. It's very difficult to focus on one's artwork, while simultaneously trying to promote it. When we talk about promoting art and culture, I also have to mention Shahadat Chowdhury. He is someone whose thinking was way ahead of his time. But, sadly, we never remember him as we should. We don't even remember his birth or death anniversary. But, it was him who made cartoons famous.
Rafiqun Nabi: I would like to take the opportunity to talk about my school friend, Shahadat Chowdhury. He was the one who helped me make the character, Tokai. He was a very creative person, and he used to write a lot of short stories. He took part in the Liberation War. He was a journalist, and after the war, he made a team to work with lifestyle and culture. I consider myself very fortunate to have been a part of that team.
Rafi Hossain: Rafiqun Nabi sir, can you tell us how you established the character, Tokai?
Rafiqun Nabi: Before going straight to how Tokai was established. I want to talk about my journey. I grew up in a politically turbulent environment, and initially, began drawing cartoons based on politics, processions and riots. Back then, it was difficult to draw cartoons, so after the independence I thought maybe cartoon will not be valued by the mass. I took part in the democratic political movement of 1969, and during that time, Shahadat and I decided to gather political poems from various sources. We collected poems from poets, like Shamsur Rahman, Al Mahmud and so on. We also collected poems from scholars who never wrote poems before, and created a small magazine issue. We had few pages blank right at the end, so I contributed my writings in it. Working on off-set was very new to us, so we used carbon drawings to have some picture in it, and published it under the name, Unoshottorer Chhora. We started to receive positive feedbacks, and people were appreciating our work. Seeing all the love and support, Shahadat suggested doing something different, and my story as a cartoonist took its next step. I used to draw cartoon for an English weekly newspaper, called Express that had Zahir Raihan as the editor, and in another newspaper named Kalyan Forum. Zainul Abedin sir supported me a lot and used to help me get work. With his and Shahadat's support, I delved into the world of a cartoonist. Later, I got the opportunity to study aboard, and learned wood art there. I practised it for a while. After the war, I came back to Bangladesh, and decided to not do cartoons anymore. I had been doing political cartoons all throughout the 1960s, and I didn't want to continue it. Shahadat came to me, and wanted my help in making cartoon strips. Eventually, he managed to convince me, and I decided to create a character of a child in the shades of Sesame Street. I was inspired by the cartoon character, Charlie Brown and came up with the idea to create Tokai. A few weeks after Tokai came out, we started getting letters from people, talking about how they loved it.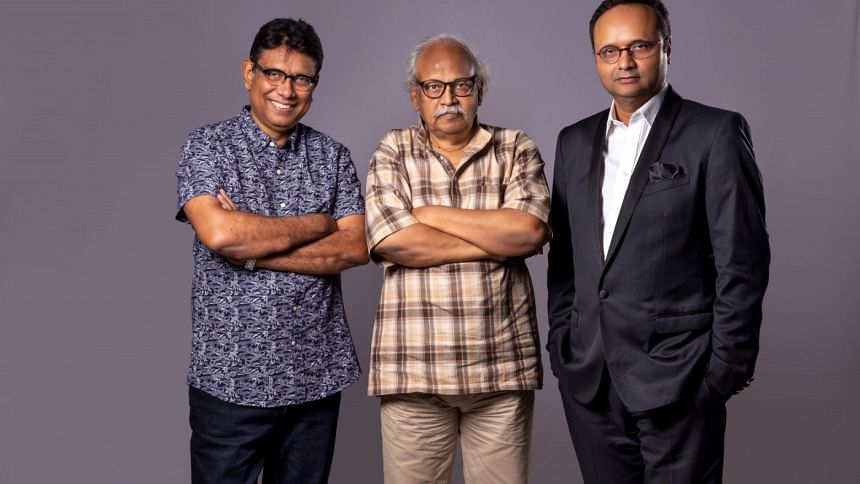 Durjoy Rahman: I have to ask Rafiqun Nabi sir something, why did you use the name, Ronobi?
Rafiqun Nabi: Back when I was protesting against the Pakistanis, and made posters and cartoons, I needed a pseudonym. That's why I started using the name Ronobi.
Afzal Hossain: I remember, back in the 70s, comics would be published in the daily paper, where Rafiqun Nabi sir would illustrate the art and Shahadat bhai would write the script. It was very difficult as he wasn't a comic artist; he was a painter. Drawing according to a script is easy for a comic artist, but it must have been very difficult for Rafiqun Nabi sir.
Rafi Hossain: We are aware that our industry, as a whole is going through a transitional phase. In this crisis, can we expect a ray of hope?
Afzal Hossain: Of course, we can. If we observe around us, we can find a lot of praiseworthy projects, and we must learn to appreciate good work. Nowadays, when we attend an art exhibition, we only find those with an understanding of art, attending it. But, we have a duty and responsibility to make everyone understand and appreciate art. I have been to many exhibitions, and I have noticed that people with no understanding of art, usually don't spend enough time in front of a picture.
Durjoy Rahman: I think Afzal bhai has a point. Those who have no idea about art must be encouraged by those who do. It is our duty to make them aware of it. The lack of encouragement is creating a crisis. In our country, people cannot take constructive criticism well. Whereas, in the other countries, the criticism makes them determined to do something better. But, in our country, we are killing a sprout of talent with our harsh words, and make them step aside before their work can be evaluated.
Rafi Hossain: We have a crisis in our film industry. Is it possible to solve this?
Afzal Hossain: Of course, it can be solved. It's not that we are only making bad films; a lot of good films are also being made. I think that we should all give credit where credit is due.
Rafi Hossain: Let's end our discussion here. It was a real pleasure talking to all of you.
Transcribed by Ridwan Intisaar Mahbub & Joana Nomrata Mazumder