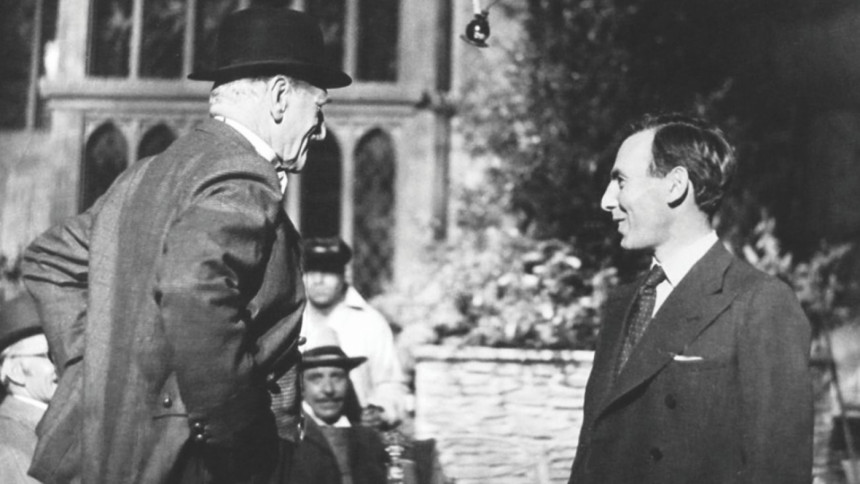 Zoltan Korda, born on June 3, 1895 was a Hungarian motion picture screenwriter, director and producer. Born as Zoltán Kellner, in a Jewish family in Pusztatúrpásztó, Túrkeve, Hungary, he was the middle brother of Alexander and Vincent Korda, all of whom later became filmmakers. He made his first film in Hungary in 1918, and worked with his brother Alexander Korda on film-making in both Hungary and London. Before leaving Hungary to work full-time in London, he served in the Hungarian Army as a cavalry officer. 
As a young man, Korda used to work as a camera operator; he also worked for some time brushing his skills in film editing and as a screenwriter. In 1918 and 1920 in Hungary, he directed two silent film shorts and a feature-length silent film in Germany in 1927.
In London, he made his English-language directorial debut with the sound drama "Men of Tomorrow" (1932). He gained widespread respect for his first adventure film, "Sanders of the River" (1935), starring the American actor Paul Robeson and Leslie Banks. The film proved to be a significant commercial and critical success, which ended up fetching Korda the first of his four nominations for "Best Film" at the Venice Film Festival. Korda and Robert Flaherty later won the Venice festival's "Best Director" award for "Elephant Boy" (1937).
A former military officer in Hungary, Korda made a number of military action/adventure films, many of which were filmed in Africa or India. Being a person with an avid social conscience, his film projects often reflected that perspective, especially when he focused on the indigenous people of the British Empire. Of his directorial efforts, 1939's "The Four Feathers", starring Sir Ralph Richardson, is considered to be one of his greatest achievements as a cinematic director. It created such a lasting impression on the film community that despite being nominated for the Palme d'Or at the 1939 Cannes Film Festival, it was presented again by the Festival committee in retrospective on the 2002 edition of the festival.
He moved to the United States in 1940 to join in Hollywood and the bustling American film industry that promised them more opportunity towards growth and fame along with his brother Alexander. Working through "United Artists", he served as the executive producer of "The Thief of Bagdad." The promises of Hollywood lived up to his expectations and then some, which led Zoltan Korda to decide that he would be spending the rest of his life in southern California. He made another seven films, including the widely acclaimed 1943 World War II drama, "Sahara" in 1943, for which he also wrote the screenplay. The star of the film was the suave and sophisticated Humphrey Bogart, whose performances in iconic 1940s films noir earned him the status as a cultural icon. Korda also directed films rife with content referring to social activism which included films like "A Woman's Vengeance" (1947) with Charles Boyer and Jessica Tandy and the anti apartheid film "Cry, the Beloved Country". It focuses on the story of a black minister Stephen Kumalo, who journeys to the city to search for his missing son, Absolom, only to find his people living in squalor, and Absolom a criminal after committing murder.
Korda was married to the British actress Joan Gardner in 1930 and the couple remained in the ties of matrimony until his death and had only one offspring, David Korda, who also grew up to be in films as a producer. However, his attempts sadly did not reach the heights of success as one would expect. The extended family's colourful history is the subject of a book by Zoltan's nephew Michael Korda, called "Charmed Lives."
Poor health, brought on years earlier from a battle with tuberculosis, forced Zoltan Korda's retirement in 1955. He died in 1961 in Hollywood after a lengthy illness and was buried in the Hollywood Memorial Park Cemetery.
By Mohaiminul Islam