Basudeb Das Baul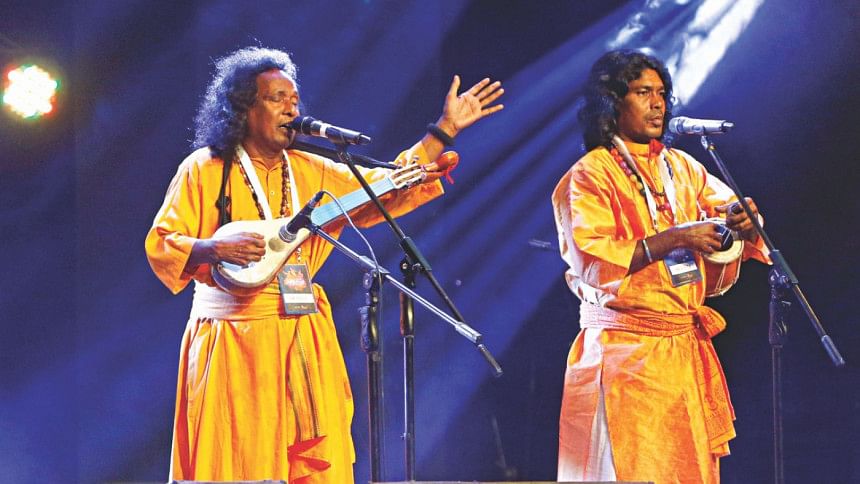 Thank you for your time. Could you please share your experience of being in Santiniketan and how this place shaped your singing career? 

I started singing folk songs when I was thirteen years old. I grew up in a village twenty five kilometers away from Santiniketan. Since I was passionate about singing, I used to visit Santiniketon every now and then. That is how I became friends with a number of famous singers. People of Santiniketan loved listening to Baul songs. Singer Shanti Deb Ghosh was very close to me. I used to go to his home, eat and sing there. He learnt playing Khamak from me. In that time one Khamak cost tk 15. I also came in touch with Prabhat Mukharjee there. I still remember those days when he used to give me 1 taka for my performance at his home.
Could you please briefly tell us about your Guru (mentors)?

I have had five Baul mentors in my life. Shwapan Chatterjee was my first mentor. He paved the path for Baul songs, because of him I am here today. My mother has always been my precious guide. From her, I have learnt the basics of music. Dinanath Das Baul, Naran Das, Baka Sham Das, Biswanath Das had been my mentors for a very long time. 
Do you find any similarity in terms of practicing Baul songs now and back in 80s?

Yes, I do. We still practice our old songs but along with them we have added the new ones as well.  In my birthplace, at Birbhum and also in Calcutta, acceptance of Baul songs is increasing day by day. Different bands are also incorporating these songs in their albums. 
Please tell us something about the lifestyle, food habit and residence of the Baul singers.

Baul singers have a very different life style. We exercise and maintain our own food habit. We do certain exercises to keep our mind and voice sound. Through our songs we convey aesthetic messages to our audience. Our body and mind have certain connections which we value and take care of.
In our country, sometimes Baul singers witness various obstacles in terms of celebrating their songs and life style. Have you ever encountered any such obstacle in your country?

Certainly, we do face problems in terms of celebrating our life style. But I believe people who really love Baul songs and its life style; will never count them as hindrance. Not only the contemporary singers but the Baul loving youths are also welcoming these obstacles with positivity and standing strong against them.
How positive do you think the approach of the new generation bands, who incorporate modern instruments in folk songs?  

Using modern instruments in old Baul songs is not a bad initiative. I support their effort to make Baul songs more appealing. Our contemporary audiences have different taste of melody, so if the new bands are able to catch this diverse segment of audience, it is good news for us. But for me, Khamak, Ektara, Dotara- these are the primary instruments for Baul songs. I still feel no other instruments can beat the essence of folk instruments. 
Do you have any special message for our Bangladeshi audience?

This is my first visit to Bangladesh. I have always wanted to visit this country. This time I got the chance to visit and sing for my audience here, and it is a privilege for me.  In Bolpur, I shared the stage with Kangalini Sufia and Abdul Jabbar. It was a remarkable experience for me. I have some Bangladeshi students as well who are also doing great. Paban Das Baul is a great friend of mine. We have shared different experiences in life. I will never forget my experience in Dhaka Internationa Folk Fest 2017.
By Sanjida Chowdhury