In reminiscence and reverence: Sabina Yasmin
If a Bengali was asked to name a female singer from the top of their minds, they would immediately answer with Sabina Yasmin along with Runa Laila. That is the kind of folkloric reputation that she has managed to garner from her fans. It seems her reputation has taken an even bigger leap after her recovery from a very serious illness and so, as a tribute to this legendary and iconic singer, Star Showbiz presents to you a small insight into the life of Sabina Yasmin.
In the making
I remember, when I was little, I tried to play a children's song with the harmonium. But I couldn't do it properly. My first song with the harmonium was 'Khokon Moni Shona'. Interestingly, I never planned to learn singing. 
Everyone in my home was singing. My mother was singing. My sisters Farida and Fauzia were learning how to sing. Nilufar had not started by then. Anyways, they used to learn under an 'ustad'. I used to sit with them, observing and enjoyed every minute of it. Of course, there was always a desire within me to sing. Picking up from my family, I didn't even realise when I had immersed myself in songs.    
Then, I started singing regularly in a radio programme named 'Khela Ghar'. That was around the year 1964. During that time, I had to learn the perfect melody of many songs. 
My mother, Mouluda Khatun, had inspired me a lot. She was a good singer herself. She and my maternal grandfather learned music in Murshidabad, from Kader Baksh. I used to get amused at how beautifully she used to play the harmonium. At the time, it was not very easy to play music or sing songs: it was not socially acceptable, and people used to throw stones at our house for that. So, since my mother couldn't continue with her singing, she wanted her dream to be fulfilled through her daughters. We were five sisters. Therefore, all this is entirely my mother's contribution. 
I used to be very keen on fashion and makeup. I and Shahnaz Rahmatullah once won awards, from Ayub Khan, as child artists. We got busy planning on spending the money to buy dresses. I was interested in the latest trends of the time. 
We used to stay in Shahidbagh. Altaf Mahmud once came at our neighbour's house. My mother and I were very excited. He was working in many films at that time. My mother asked him to give me a chance. He wasn't very interested, but we kept on insisting. Eventually, he agreed to give me a try, but said that if the song doesn't turn out good, he will reject it. I replied that the fact that I was given an opportunity to sing was by itself a great deal.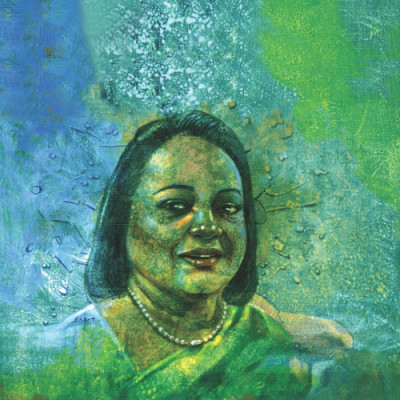 My first song was in a Zahir Raihan film, 'Agun Niye Khela'. The song was titled 'Modhu Jochnar Dipali'. 
After completing the song, Altaf Mahmud did not give any feedback. Two or three days passed, and I began fearing that a rejection was coming along. Five or six days later, he instead asked me to sing another song. This time, the song was with Mahmudun Nabi: 'Ekti Pakhi Dupure Rode Songhihara Eka'. I was very nervous singing alongside him. For some reason, the two songs didn't become that popular.
I was in ninth grade at Siddheswari School. The other directors were not calling me; I was just participating on the chorus with renowned singers like Ferdausi Rahman, Anjuman  Ara Begum and others. 
Third time lucky
Then it was time for my third song; 'Shudhu Gaan Geye Porichoy' with Altaf Mahmud. It was a major hit - a breakthrough for me. I didn't have to look back after this song. Altaf Mahmud was busy working in many films – 'Anowara', 'Nayantara' and 'Taka Ana Pai' and so on. Singing in movies became a regular affair for me. 
Gradually, I started singing with Satya Saha, Shubol Das, Khan Ataur Rahman and Ali Hossain.
I had sung with Satya Saha in many movies. I would go to the studio at around 11 or 12, and by the time I finished, it would be dawn. This was an era when a song had to be recorded in one take. A song would require as much as 80-100 takes as a single mistake meant scrapping the whole take. After working the whole night – and a little bit of sleep – I had to attend classes at school.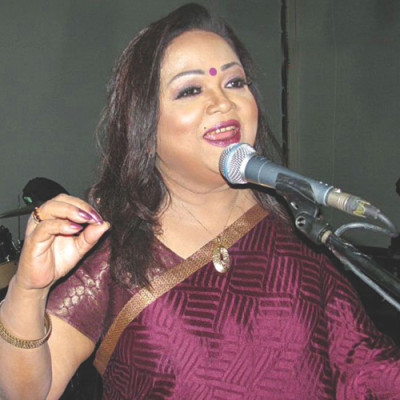 After 'Shudhu Gaan Gaye Porichoy', other songs of Khan Ataur Rahman, be it 'Eki Shonar Aloy Jibon Voriye Dile' or 'Osru Diye Lekha', were well received by the audience. After Liberation, many of the songs in which I lent my voice had started to become popular. 
I had a very nice chemistry with Satya Saha. He used to make me sing many songs. Then, I sang with Alauddin Ali, and after that, I did a lot of work with Ahmed Imtiaz Bulbul. Their songs were much liked by the audience and they even got National Awards. From 'Chithi Dio Protidin' to 'O Amar Roshiya Bondhu Re', I have also done numerous songs with Alauddin Ali. 
I cannot explain in words how good a music composer and director Satya Saha was. His contribution to Bengali music - cinema or otherwise – is enormous. How instantaneously he could compose songs!
I used to go to his house to learn music. Gazi Mazharul Anowar was there too. Maybe Satya Saha was tired and taking a nap whilst Gazi bhai was writing the lyrics. And I was trying to learn. In this way, rehearsals used to take place for two or three days for a song. I have learnt a lot from Satya Saha. After all, it was my time to learn then. Actually, he is incomparable, and his songs, featuring such sweet melodies, are unparalleled. 
Alauddin Ali is another great artist. He had a strong command over both folk and 'raag'. Hemanta Mukhopadhyay once said in a Kolkata studio that if a musician understands and is skilled in folk as well as 'raag', he would be an excellent music composer. And such was the case with Ali bhai. He showed his magic, giving the audience a vast number of splendid songs.
There were many other fine composers and directors I had worked with. Alam Khan, Sheikh Saadi Khan, Azad Rahman and Debu Bhattacharya are some names.
Ahmed Imtiaz Bulbul used to play guitar at the time. He used to live in Azimpur. He probably used to work with Satya Saha; he also worked with Alauddin Ali for a while. During those times, Bulbul often used to ask me to listen to some of his compositions. When I listened to titles like 'Ekta Lal Golap Amay Dao Na' and 'Oi Je Nodi Jai Boye Bohudur' – I was absolutely enthralled by the melody and lyrics. I should have asked him to sing earlier. I told him to go for recording impromptu.   
In 1980, I sang 'Shob Kota Janala Khule Dao Na'. The song was written by Nazrul Islam Babu and composed by Bulbul. This used to be played before BTV News for many years. 
I did a lot of songs then: 'Majhi Nao Charia Dey, 'Ektara Lage Na, Dotara Lage Na, 'Mago' and so on. Before Liberation, I had sung a patriotic song. 'Jonmo Amar Dhonno Holo' was composed by Azad Rahman and was written by Naeem Gahar. It was recorded in Karachi. 
Those were the days
I studied Sociology in the University of Dhaka. My classmates included Sheikh Kamal and his wife Khuki. Another friend of mine was Gora; I am still in touch with her. And there were Rehana and Fonu. 
The ambience was very calm and quiet then. And Dhaka University of course was in a league of its own. Four friends – me, Khuki, Dora and Fonu – often used to go to a Chinese restaurant at Topkhana Road by a rickshaw. Everyone used to contribute Tk5 each and the accumulated Tk20 was more than enough for the bill. Tk2-2.5 was ample for one person. 
I used to skip the morning classes quite often due to the fact that they were preceded by whole nights of recording. My studies were heavily affected. Nevertheless, as Nilufar was also in the sociology department, I used to collect notes from her. My friends also helped me a lot.
Apart from the restaurant, the cinema and the photo studio also provided entertainment options. We used to go to a studio in New Market; all dressed up in saris, and take photographs. I did not wear saris regularly; photo sessions in the studio were an occasion to wear them. I also used to hang out at my friends' houses. We spent all day on the rooftop of Khuki's house, picking and eating tamarind from the tree.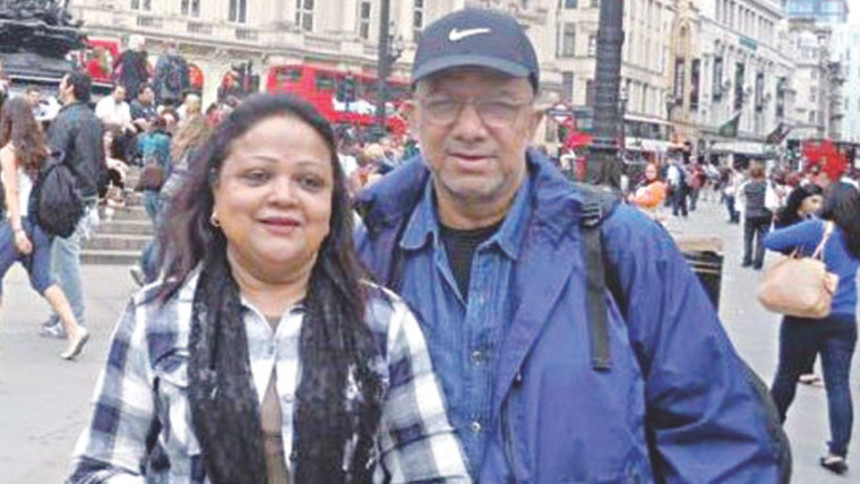 How i met Suman
Kabir Suman had once come to Dhaka in 1998 and I had met him then. I went to attend his programme at Hotel Sheraton. Asaduzzaman Noor introduced me to him. Based on his beautiful lyrics and his love for the melody, we had developed a wonderful relationship. He used to work for Voice of America. When Zahir Raihan's 'Jibon Theke Neya' was released in Kolkata, he watched that movie in the theatre. The song 'Amar Sonar Bangla' was played in the movie. Khan Ataur Rahman made me sing the song at a high pitch, while the rest of the crew sang in low pitch. This song, and the idea of singing in high pitch and low pitch voices, had impressed him a lot. And he went about asking people who the singer in the high pitch voice was. Even in Voice of America, he inquired about it. So, in 1998, when we met, he even asked me the same question. And I replied that it was my voice. He was extremely surprised. That was the start of our relationship.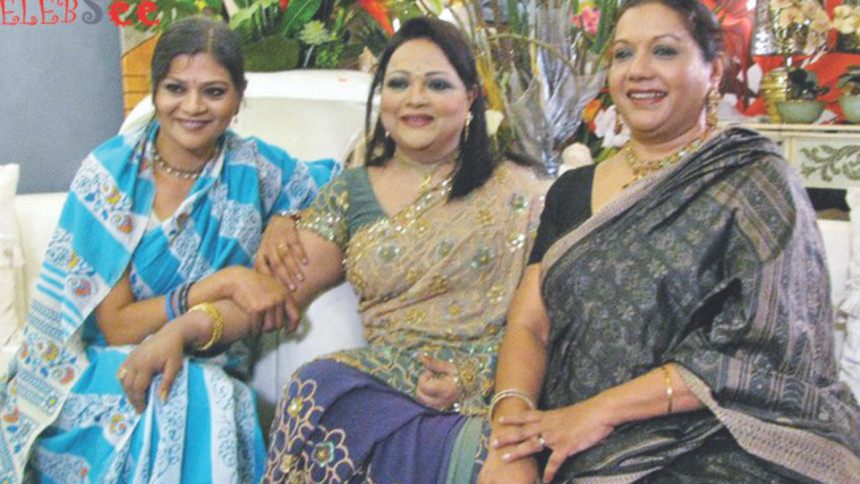 Friends in films
I performed with the actor Kabori on stage. It was from that time she became my good friend. 
Kabori and I were inseparable. I have been friends with Anjana since my childhood; we used to learn music together. With Kabori and Anjana, I have been to many trips.  I was also friends with Shabana and Bobita. Actually, I had a good relationship with everyone. I met Bobita a few days ago. She said whenever a movie had songs in it, she used to ask whether there were any of Sabina's or not. I am a huge fan of Razzak. I was so in love with him! 
I have been to Bombay, and sang in the Bollywood movie, 'Annai Obichar'. I sang in both Hindi and Bengali songs. I also sang in the movie, 'Shatru'. I have sung with Kishore Kumar. The music composer was R D Burman. I have worked in many songs in Kolkata, with Hemanta Mukhopadhyay, Ajoy Das and V Balsara.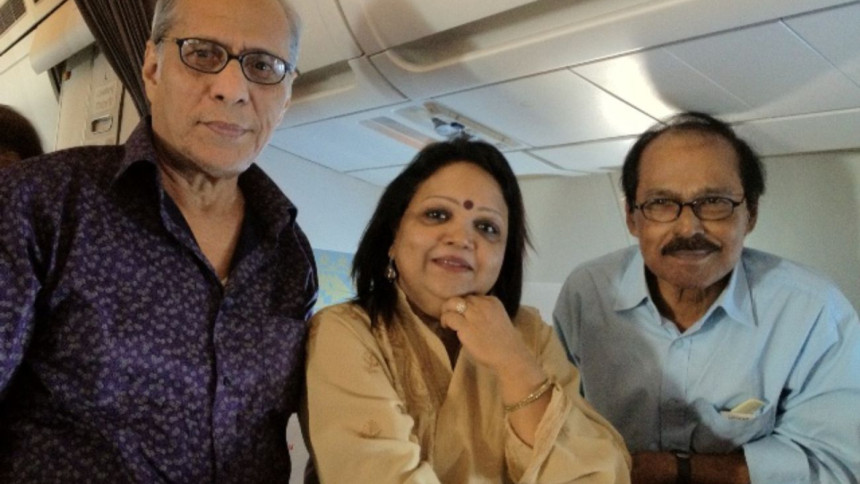 For example, I did an entire album with V Balsara. Musician Gouri Prasanna Majumdar was very affectionate towards me. I used to call him dad. So, the autograph he signed for me also reads, 'Sabina's father'. I have kept it with a lot of care. I was also close to Pulak Bandyopadhyay. I used to gift his wife Jamdani saris. Although we didn't work together, I was pretty close to Salil Chowdhury and I have been to his houses in Kolkata and Bombay. 
Singing Shyamal Mitra's song is one of the most memorable events of my life. I cannot explain how big a fan I was of him. There was a music director by the name of Amir Ali. He used to work with Ata bhai. I told him that I wanted to work with Shyamal Mitra.   
I used to drive a car then. I remember an instance when Shyamal Mitra and Bhupen Hazarika were in the car and the fuel ran out. Consequently, these two renowned artists had to push my car! Good humoured as they were, they said that it was fun for them to push a foreign car (probably at that time imported cars in Kolkata were rare). 
With Shyamal Mitra, I sang 'Pothero Sathi Namogo Pothe Aaj'. And with the composition of Bhupen Hazarika and the lyrics of Masud Karim, I sang two songs. 
Words to live by
The philosophy of my life is much like Khan Ataur Rahman's 'Jibon Shey Je Poddo Patar Bindu': if you think of it, life is really long. But on the other hand, life is too short. If we could've gotten more time, perhaps we could have given more. 
Rules of the business
One thing I don't like about our music industry is that there is more or less no provision for royalty. Paying royalty to artists is a common practice all around the world. On one hand, the telecommunications companies are making big bucks with ring tones and welcome tunes of our songs. And on the other, when an artist falls ill, funding for treatment becomes a grave issue. Why are we singing? We might tolerate it but what about the next generation of artists? There was once a time when television and radio channels used to pay royalties. But this practice has disappeared. 
I remember that my first pay check from singing in the radio (for the programme Khela Ghar) was Tk10. When Altaf Mahmud paid me for the first time as a playback singer, the amount was Tk500. In 1967, that was quite a sum for a song! 
But I never worked for, or kept track of, money. And many people have indeed taken advantage of it. Alauddin used to say, "There are a very few people who have not taken your money." Well, the love I have received from all is the most important thing, not the money.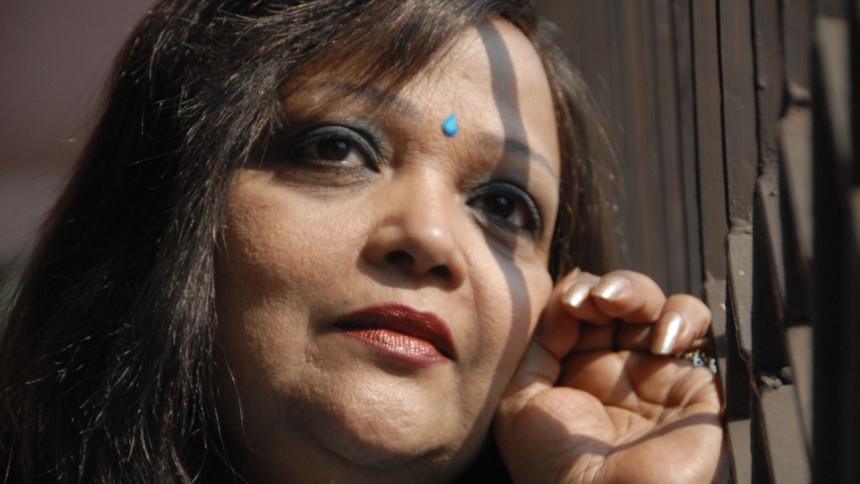 Awards
I first won the National Award for the songs in the film, Shujon Shoki. I was really excited. After that, I went on to receive 13 of these awards. I have received the most number of this award. In 1975, I received the National Award from Ziaur Rahman. Not just me, there were many others who received National Awards that year. 
Birds of a feather
I have never been jealous of other artists. Yes, that there have been times when I loved a song sung by another artist so much that I thought, "I wish it was me who got the opportunity to sing that song!" But whenever a fellow artist sang beautifully, I always took it positively and thought that I should also try to sing as good. 
I am in very good terms with Runa Laila. We have also sung together. I like her songs; some of them are simply marvellous. A duet where both singers are female is scarce! But the song 'Tumi Boro Bhaggapati' was one of those rare occasions. 
Everyday
When I am home, I practice and continue cultivating my art. Sometimes, I cook, particularly when my daughter Badhon has an order for me. These days, I am spending the afternoons by searching for my songs on YouTube! Among the 15000-16000 songs I have sung, when I stumble upon an old song of mine, I feel very delighted!
So, that's how my life is going by.
Interviewed by Zahid Akbar and Narrated by M H Haider
Photo: Collected