The Versatile Showman
Emon Chowdhury has made himself renowned with his skills in being a multi-instrumental musician. From playing for the band Chrikutt to making his own instrumentals, he has showcased his talents in various forms. He was even awarded the 'National Film Award' for doing the background score in the movie 'Maya The Lost Mother'. In this interview with Rafi Hossain, he talks about what inspired him to begin his journey in music and his ambitions with music.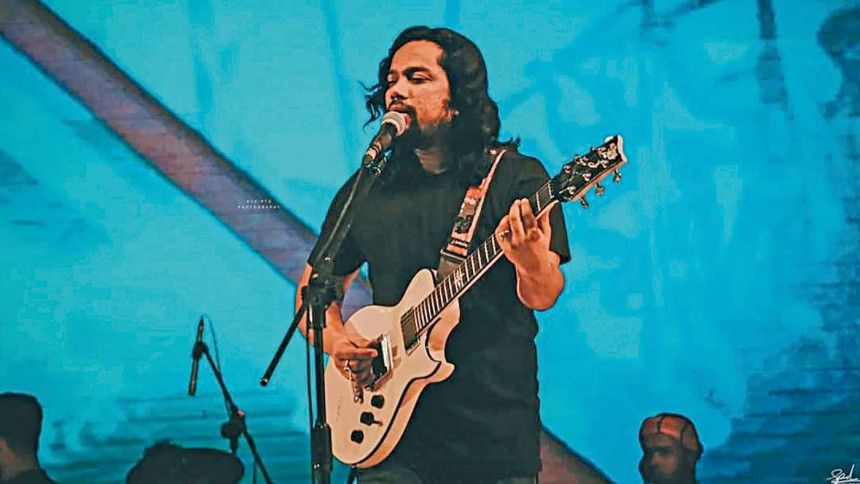 Rafi Hossain: Welcome to Uncensored with Rafi Hossain. Today, we are joined by the renowned music director from the new generation Emon Chowdhury. Emon, thank you for giving us your time. 
Emon Chowdhury: Thank you for having me, Rafi Bhai. I am very happy to be here talking to you.
Rafi: Emon, I must congratulate you for winning the 'National Film Award'.
Emon: Thank you, I won it for doing the background score of the Masud Pathik film Maya The Lost Mother. 
Rafi: What instrument do you prefer the most?

Emon: I am mainly a guitarist, and I like to identify myself as a guitarist. I also know how to play some other instruments.
Rafi: How did you learn to play so many instruments?
Emon: It was a gradual process. I still am learning to play instruments better, and I hope that I will keep on learning to improve my abilities for as long as I am alive. I was raised in a household where everyone was very invested in music. There was always many instruments lying around the house, and when I was young, I found out that guitar classes were being held at my house. Due to living in such a musical environment, it inspired me to become a multi-instrumentalist. When I was much younger, my father tried to teach me to play the guitar and the tabla, but I was never very keen towards it, so he gave up and thought that I would never be interested in music. But, when I was in class eight, I used to see this senior friend from my neighborhood playing the guitar and singing. I was inspired by that and thought to myself that I need to learn to play the guitar. Then, I told my father about it, and he was skeptical at first, but he soon realized how invested I was when I borrowed guitars from others to practise. My father bought me a guitar and since then, he has been supporting me. My father has always been supportive in my musical ventures and I am very grateful to him for that.
Rafi: When getting married, did anyone from your wife's family raise objections because you are a musician? 
Emon: I had to hear that a lot. There was even a point where we almost had to elope. It is a very funny story. At that time, I was on tour with my band Chirkutt in the US, and I heard that my then girlfriend, who is my wife now, might be married off. Fortunately, that did not happen. After hearing that, I quickly came back here, and we decided that we need to get married. Once we came back, Sumi apu told me that she will arrange everything for me. So, we booked a resort, and Sumi apu herself arranged everything, and even bought things like the Panjabis we all need to wear. My wife was also very enthusiastic about it, and it was decided that the wedding would be held, and we would invite our band members and some other friends. I even told my parents about it and said that if needed, we would hold a bigger ceremony in the future. However, the night before the wedding I got a call around four am. Sumi apu had called me crying saying that Pavel had got into an accident and had hurt his arm. Upon hearing that, I said that we have to cancel the wedding as we cannot do it without Pavel. However, a year later, we finally held a wedding, this time with the support of both our families, but we still used the same clothing Sumi apu had bought. 
Rafi: When you started, did you set yourself any goal, or do you not plan too far ahead in the future?
Emon: I did not plan too much, but I did set myself a few goals. I wanted to make good music, and music which I will feel good about making. I wanted people to enjoy listening to what I make. I also like making instrumentals. I have noticed how other countries value instrumental music a lot, but in Bangladesh, it is not given the importance it deserves. That is why I try to introduce more instrumental music here, and I am doing that by doing instrumental styles which are a little uncommon here. I did that by making an instrumental where I incorporated both guitar and violin together. I also try to use different instruments from other countries. I even did an instrumental style called the one-man band, which is a very rare style, where I had to play all the different instruments a band might use by myself.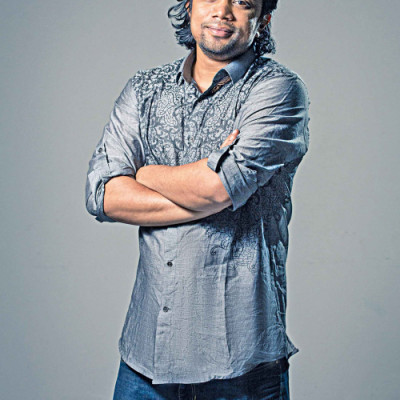 Rafi: Do you enjoy composing songs more or do you enjoy playing instrumentals more?

Emon: I enjoy all aspects of music. But, I enjoy playing the guitar the most. I really enjoy doing background scores, since I have to do that a lot with advertisements.
Rafi: What kind of music do you enjoy listening to the most?
Emon: I really enjoy listening to classic bands. I am a huge fan of Pink Floyd; David Gilmour is one of my all-time favorite guitarists. Other than that, it depends on my mood what I like to listen to. But, I try to listen to as many types of music as I can. 
Rafi: Do you have any parting message for the readers?
Emon: We are now going through a very difficult time, so I would urge everyone to stay safe. My love and prayers to you all, and I hope you all will keep on supporting and praying for me. Thank you for having me here, Rafi Bhai. I would also like to thank The Daily Star for always supporting art.