ENTHRALLING TWO BENGALS
Jaya Ahsan, a prominent actor adored in both Bangladesh and Kolkata never ceases to disappoint her fan followers. The diva is the undisputed queen of our showbiz industry. She bagged the best actress (Critics) award for her roles in Bijoya and Robibar at the Joy Filmfare Awards (Bangla) in Kolkata. In an Uncensored episode with Rafi Hossain, Jaya shared her feelings regarding the big win and her take on the world of acting. between her personal and professional lives, and how she is where she is today.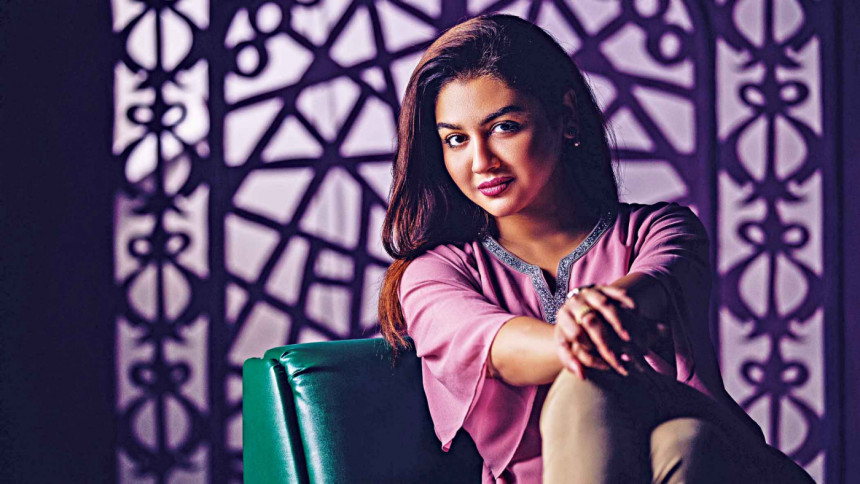 Rafi Hossain: Today we have with us, Jaya Ahsan. Tell me about your most recent win, Jaya. 
Jaya Ahsan: Since my first work in Kolkata, I have been nominated every time. I received a nomination for Eagoler Chokh and Bishorjan, for Best Debut Actor, in the Popular Choice category, and I also received the Critic Award, which is a very big honour. Due to the COVID-19 pandemic and border restrictions, it was very difficult to attend these ceremonies, but since the Filmfare Awards committee were so insistent, I had to arrange everything and go anyway after taking proper precautions. I did go on to win the Critic Award for two of my films - Bijoya and Robibar, and this is the first time two Critic Awards have been handed out at once in the Filmfare Awards.
Rafi Hossain: What are some of the takeaways you have from all these experiences and your career in general?
Jaya Ahsan: I would say my whole career has been a learning process. There are many things I have learned every step of the way while carving out a path for myself. I had chosen a path that had more risks and challenges which, in the end, has allowed me to work outside of Bangladesh and create new experiences. I believe there is no certain "final destination" when it comes to art; it is more of a never-ending path you can take to experience special moments as I have.
Rafi Hossain: Do you have any advice for people who follow you or want to pursue such a career?
Jaya Ahsan: I want to remain a student in the industry and learn from all the experiences I have and implement them into my work. I have also developed a specific taste over the years as an actor. For example, I am not a fan of watching myself on screen, I like playing characters that are not too similar to myself, I do not choose to play characters that are portrayed to be overly feminine or bubbly. I try to experience the life I have not lived through the roles I play on screen. I believe much of my work revolves around these preferences. Besides these, I have patience and dedication for my work. I am very hard working and try to give it my all to the characters that I portray. However, I believe that less is more, and it is necessary not to overdo it while acting. It is essential to establish a balance between work, personal life and financial goals and not be too competitive as everyone moves ahead at their own pace. Lastly, the most important thing is to love your work and be honest with it. Even today, when I play a new role, I try to think of it as my first. I still feel anxious when I play new roles, but it is important to be calm as well.
Rafi Hossain: Do you think luck played a pivotal role in your career?
Jaya Ahsan: I have had to prove myself as a competent actor,for instance, not always was I chosen to play experimental characters. I remember Animesh made me play my first ever experimental character in a telefilm called Hatkura. I remember many people criticizing me, saying I was not the right fit to play a rural character as I carried too much of an urban personality. It made me feel bad as I did not want to be limited to a few roles for acting. So, during one of the shooting sessions, I smothered some soot all over my body after we were done with makeup to fit the role better. I wanted to prove that I could play any character if I wanted to. For this very reason, I was chosen by many directors. I was never picked to star in films without having to prove myself. I had to prove myself to directors such as Atique, Sumon and Amitabh, and that is how I achieved these roles. I was lucky to work with great directors, and I believe they have also influenced my taste.
Rafi Hossain: Do you think actors are sufficient to make good films in this modern age?
Jaya Ahsan: Teamwork is essential in making films. Good acting alone is not enough and having a talented director is incredibly important to make a good film. It is unfortunate because, in recent television shows, I see artists with potential who do very well when given the right roles. I think television channels nowadays have become too commercially driven and forget that films are a very iconic aspect of our society. What is essential for newer artists is to choose their work carefully and focus on them. I do not believe it is necessary to be a jack of all trades; it is more important to stay passionate in your field of work.
Rafi Hossain: Tell me about how you started working in Kolkata.
Jaya Ahsan: It is quite simple. At the time, I was working alongside Mahfuz Ahmed on one of his films. I received a call from a director who said they were looking for an actor for their debut film where they would tell a story about six iconic characters of Satyajit Ray, and I got offered to play the role of one of these characters. At the time, I did not think about cinema too much as I was more focused on television. Once I found out about the director, I took a look at the script and decided to take on the role.
Rafi Hossain: Would you say you are lucky to have been able to take on such great projects?
Jaya Ahsan: I would not say I am lucky, but rather, I chose to take on unique projects. I pick my films carefully and also reject many of them as well. My years of experience has helped me achieve this understanding. 
Rafi Hossain: Could you talk about the film industries in Bangladesh and West Bengal and their differences?
Jaya Ahsan: I believe a person's best work is always in their own country, and I love working in Bangladesh. But what I want to note is that the working environment is fantastic over there. Even someone with a small role in the entirety of the work is prominent, and one person not doing their responsible work ideally, in a manner, can break the chain and ruin the project. In Bangladesh, the industry has not been able to grow. Something I appreciate in West Bengal is the worth that is attached to everyone in the team. While we have great ideas here, they are more prepared and organise everything around the budget to avoid any hassle during shooting. Unlike West Bengal, it is hard to make a living here by only focusing on acting. However, times are changing, and new people are entering the industry. I hope they will make positive changes soon. 
Rafi Hossain: How is your connection to Mumbai currently?
Jaya Ahsan: A lot of people from Bengal get called to Mumbai, and I did too. However, I believe it's more important to me to work for the two Bengals in a strong position and do something for Bengali lingual people rather than take on low-grade projects in Mumbai. If I did get an exceptional offer, I would consider it, but it is not a priority for me right now. Moreover, foreign-language films are reaching people because of different streaming platforms, and they are garnering attention as well. Because of subtitles, it's not necessary to only focus on films in a dominant language anymore. So, I don't believe I have to work in a Hindi movie. I  would preferably work for a great Bengali film or series that would reach millions of people worldwide and have our culture and language presented to them. 
Rafi Hossain:Have you noticed any differences between journalists in Bangladesh and West Bengal?
Jaya Ahsan: I haven't noticed any differences at all. I observed that you will always have people on your side if you are true to your work and are willing to put in the effort. I feel blessed to receive the same amount of love from my co-workers and friends in the media in both countries. After all, it is essential to maintain a professional but friendly relationship with those in the media, as they are the ones who are promoting our work and getting it out to the masses.
Rafi Hossain: What are your thoughts on your future projects?
Jaya Ahsan: I had many plans, but they had to be postponed because of COVID-19. However, when the situation is under control, our production house will start working on new projects. Currently, it is restricted to have a joint production house between Bangladesh and West Bengal, but I will be interested in considering it if the opportunity ever arises. For now, I want to focus on work here, perhaps even for an OTT. Moreover, because of OTTs, the line between the two Bengals has been blurred and expanded. I find this to be a great thing.
Rafi Hossain: Do you think OTTs might cause the traditional film industry to die out?
Jaya Ahsan: This is something that only time can tell. For instance, the 35mm film is dying out, and all movies are digitally made nowadays. As an artist, I would want theatres and such to stay as I love the larger-than-life experience of watching films in a cinema hall. The feeling of watching a cinema on a big screen in a dark theatre hall alongside other people who are witnessing the same moments and emotions is quite amazing to me. I haven't worked on OTTs yet. But I believe as an artist, it is important to keep up with changing times and embrace them, and I am trying to do so as well. 
Rafi Hossain:Have you taken on an OTT project yet? If not, why?
Jaya Ahsan: I am still focusing on the projects that I have yet to complete, and the OTT offers I have received are not very unique.
Rafi Hossain: Would you say you have sacrificed your personal life for your work?
Jaya Ahsan: While my work is of utmost importance to me, my personal life is very precious as well, especially when it comes to my family, as they are my breathing space. Whenever I am burnt out or need a break, I spend time with them. I don't believe you need a husband and children to have a family because for me, my family is my mother, my sister, and my pet dog, and perhaps even my plants, as I love gardening.
Rafi Hossain: Is there anyone you're hoping to work with?
Jaya Ahsan: I would love to work with newcomers and that is very important to me. I have also had the honour to work with many great directors in West Bengal and I would love to be a part of their project again someday. It was a valuable experience working with Shiboprosad Mukherjee as well. I haven't had the opportunity to work with Gautam da and I hope to do so someday. It's all a learning process for me. Moreover, I feel comfortable working with everyone, as during the shooting process, I try not to focus on the director. In those moments, what matters is my role as that is what they chose me for, and I try my best to do it justice. I haven't had the chance to work with Soumitra da, but I spent valuable time with him and I learnt a lot from him. I was really looking forward to working on a good project with him.
Rafi Hossain: What movies of yours should we look forward to next, Jaya?
Jaya Ahsan: Peyarar Subhash, which was directed by Atique, is coming out soon. There is Beauty Circus as well which is Didar's debut film. I also worked with Akram Khan for a film titled, Bidhobader Kotha. There are quite a few films awaiting release in West Bengal too, such as Ardhangini by Kaushik Ganguly, Bhoot Pori and OCD which are both by Soukarya Ghosal, and Binisutoy by Atanu Ghosh. Atanu Ghosh is a really favourite director of mine and I was lucky to have been able to work alongside him in two films, Robibaar and Binisutoy. I also worked in Jibananondo Das's biopic where I played Labonno Das.
Rafi Hossain: It was great talking to you, Jaya. Do you have any parting messages for the audience?
Jaya Ahsan: Thank you to everyone who was here today. I am deeply grateful to those who have facilitated this discussion and made it possible. I would like to end with a request and ask everyone to stay safe and more importantly keep everyone else around you safe. Best wishes for everyone.