The Southern Pearl
Meghla Mukta is a renowned actor and model. She recently starred in a Telegu film, called 'Sakala Kala Vallabhudu'. In an interview with Rafi Hossain, she talks about her career and the hurdles she had to overcome to reach where she is today.
Rafi Hossain: Welcome to Uncensored with Rafi Hossain. Today we are here with renowned model and actor, Meghla Mukta. Meghla used to do modelling, and she recently went to India, and did a Telegu film. Meghla, can you tell us about 'Sakala Kala Vallabhudu'?
Meghla Mukta: In all honesty, I never expected this to happen. I was not very involved with the film industry here. I only played the second lead in a 2014 movie called, Ami Shudhu Cheyechi Tomay. It was a joint venture film; Subhashree Ganguly played the lead role. My co-star was Ankush Hazra. Vikram was also in that film. The other film was in 2017. JAAZ Multimedia offered me a role in the film Nabab. Shakib bhai was in that film, along with Subhashree Ganguly. The offer for my Telegu film, Sakala Kala Vallabhudu came in 2017. I had sent my portfolio a year before, in 2016. I was a little unhappy with the Bangladeshi film industry during that time.
Rafi: Why were you unhappy with the industry?
Meghla: I was trying to star as the lead in quite a few Bangla films, but I was not getting any offer. That's why I was unhappy.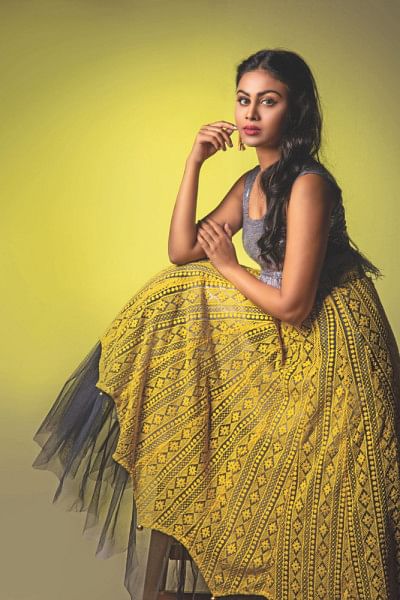 Rafi: But were you doing ramp modelling at the time?
Meghla: Yes, I was. I started my career as a fashion model, and I learned valuable lessons from the industry. Now, since I don't have enough time, I don't get to do ramp modelling.
Rafi: How did you send your portfolio?
Meghla: I used to look up email addresses for acting agencies in India. I thought that maybe I should try. So, I sent my portfolio to various agencies. I have a friend from Hyderabad, who asked me to send my portfolio, and later sent it to an agency, I got a call from them, and was asked to go and audition for them. I thought that since I had done many auditions here, I could go there for a new experience. I was the only non-native person to audition. One week later, they called me up and informed me that I was selected in the primary casting, and soon enough, I was informed that I had been selected for the role.
Rafi: Since you don't know Telegu, what did you audition in?
Meghla: I did not know Telegu, so they gave me a four-line script. A lot of the people auditioning came from different cities. Naturally, many did not know the language. After being handed a script, an assistant was assigned to help me fix my speaking. I was given an hour to work with them, and then I did my audition. Afterwards, they asked if I could also audition in Hindi. Since I knew Hindi from watching Indian films, I was ready to do it. After the audition, they were impressed with me. I also had to do a dance audition. When I was done, I returned to Bangladesh. And then, on December 31, 2017, I was called to inform that I had been cast as the lead role.  I was told to go there as soon as possible, as I had to do a language workshop, since I did not know anything about the language.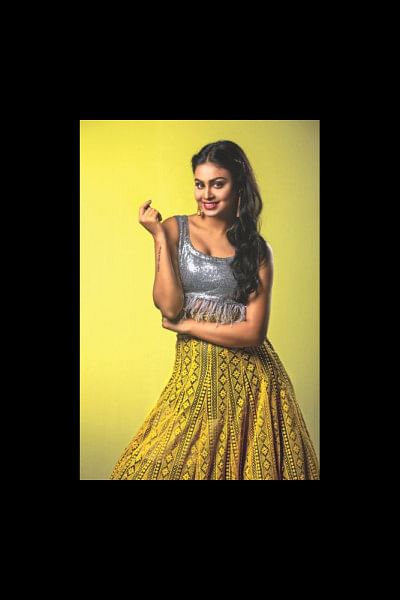 Rafi: Did the shooting of the film begin after that?
Meghla: The film was shot for over three months. A final dub was done by someone else, but I did my dialogues myself. I used to memorise my lines the day before a scene was supposed to be shot. Hence, I did not even need a dialogue prompt while shooting.
Rafi: Did you get any offer after this?
Meghla: I am going to India for another Telegu project this month.  It is under a completely different team. They asked me to join the film when I was doing the post production work for Sakala Kala Vallabhudu.
Rafi: If your second or third Telegu film does very well, and you start getting many offers, would you consider moving there?
Meghla:  Since their industry gave me my big break, I will make them my main priority. If I get a lot of offers, I would not mind moving there.
Rafi: You did two films here. Who were the directors in both films?
Meghla: My first film was directed by Ashok Pati. As for the second, I do not remember the director's name, unfortunately.
Rafi: Did the shooting for both films take place in Kolkata?
Meghla: Both of these films were joint venture projects. Shooting for Ami Shudhu Cheyechi Tomay took place in Darjeeling, and Nabab's shooting took place in Kolkata.
Rafi: Is there any major difference between the industry there and the industry here?
Meghla: There is only one major difference - the treatment I received there was very different from here. When I first went there, I was a little worried because I didn't know how people would receive me. I also did not know the language, and most people there did not speak English or Hindi. I had a hard time at first, but they pampered me. The treatment there was amazing. The industry is also very punctual. My call time for make-up was 4:30 in the morning. Make-up artists would show up at my hotel room exactly at that time. We had to be at the set by 6 am, and shooting would always start at exactly 6:30. That showed just how punctual they were.
Rafi: How did the Telegu film industry accept you?
Meghla: The people there are like family to me now.
Rafi: Can you fluently speak Telegu now?
Meghla: I still cannot speak the language fluently, but I can understand it pretty well. When I watch a movie in Telegu, or when someone speaks to me, I can understand it.
Rafi: Did you get any offers in Bangladesh recently?
Meghla: I have not received any offer, but that is because all the directors know that I am busy shooting abroad, and that I cannot give time. But, if I receive any offer here, I will definitely take it because the industry here holds a special place in my heart.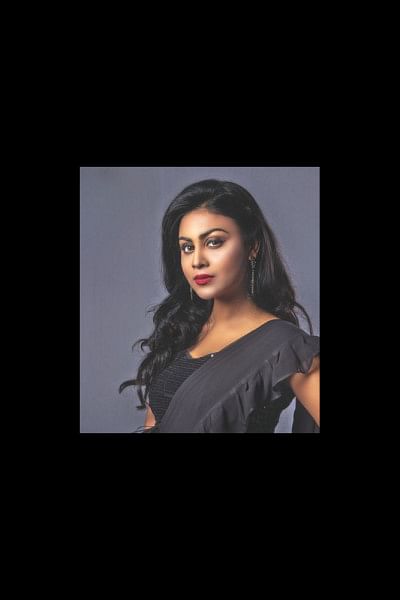 Rafi: You must be very brave, going to audition for a language that you don't know. It is still a problem in our society that some people frown upon girls who go somewhere far alone. Did anyone from your family go to India with you when you went to audition?
Meghla: No, I went alone. I didn't tell anyone at home about the audition. Since I travel a lot, I just told my mother that I was going to India to travel. I informed everyone at home, only after I had got selected for the film. While shooting it, my mother fell very ill. Thankfully, my sister was there for her when she got hospitalised. She told me to stay there and finish the shooting. My father was also very supportive, and told me that if I needed anything, I should just let him know.
Rafi: What you did is very brave. How did you find all this courage?
Meghla: Since I could not get any major roles here, the pent-up stubbornness of not getting what I deserved gave me the courage to go and do it.
Rafi: Was it this hard getting into the fashion industry here?
Meghla: I am very grateful to the fashion industry here. I got to work with all the major brands and did the covers for most magazines.  I am extremely happy with it.
Rafi: Do you have any intention of going into Hindi films?
Meghla: I have no plans of going into the Hindi film industry now. The thing is, I need to make my footing firm in the Telegu industry first. Then maybe, I will think about moving to the Hindi film industry.
Rafi: Meghla, do you have any parting message for our readers?
Meghla: I would like to tell the readers, be it Bangladeshi or Indian, to pray for me. I had to strive a lot to be where I am now. All your prayers and best wishes make me work harder to present you all with better works. Thank you.
Transcribed by Ridwan Intisaar Mahbub