Annisul Huq a music connoisseur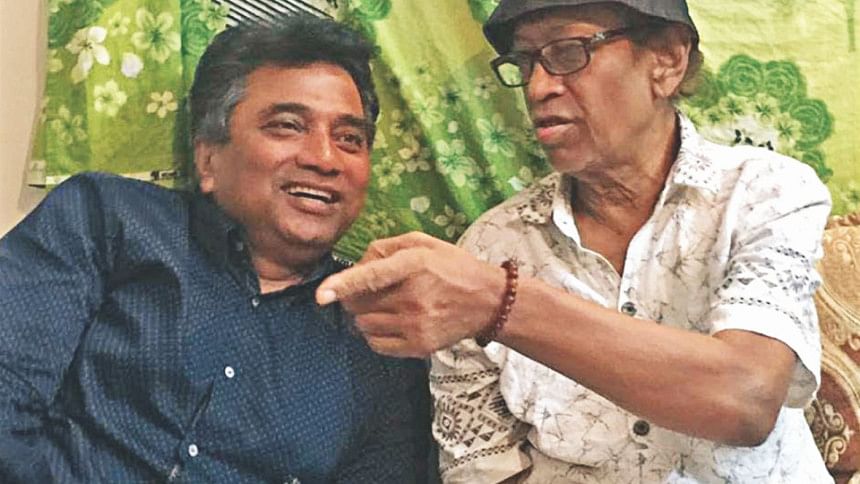 It was a billboard that I saw somewhere in Gulshan in 2015 which indicated citizens' aspirations to see Annisul Huq as Mayor of DNCC. I called up Rubana who confirmed the news and promptly volunteered to be a part of the campaign as and when it started. Yet in a couple of days when the media frenzy took over and the drums of the much awaited Mayoral election reached its crescendo, I found my position fast changing. With the pitch and pace surrounding me and my known "soft to the left" position in national politics I was approached by Zonayed Saki for endorsement and I chose him over Annisul Huq!
There was no reason for my shift in position other than the fact that Saki was the youngest candidate in the fray and I have always had great love and affection for the young, inspired and intelligent of the nation. Saki fell into the criteria perfectly and I found myself campaigning headlong. Talk shows, press conferences, meetings and hardcore campaigning commenced in earnest and I attended most events during the time. It was while campaigning in the bustees around Banani and Gulshan that Saki informed we are to head towards Independent TV by 10 pm.
It was to be the first 'face to face' debate between the candidates, and I really wanted to be part of the live audience than watch the debate at home. On the elevator I met Annisul Huq and he gave me his customary hug and asked loudly, "So I see you switched sides at the last moment?", to which I replied, "If you weren't a Mayoral candidate, wouldn't you support Saki?", to which he gave a reverberating laugh and exclaimed, "Of course I would" and briefly shook Saki's hand. That ended any ill feeling that Annisul Huq may have harbored towards me. The rest as they say is history.
Enough has been written about Annisul Huq's achievements as a Mayor of DNCC and I do not wish to repeat them here, however there are several aspects to his death that left indelible imprints in my soul. The see-saw in his health while in London was a cause of worry, and I was again on the phone cross-checking the various conflicting news with Abdun Noor Tushar. Yet when the end came, what surprised me was the grief that gripped the whole nation. Indeed one of the nation's prodigal sons has made his transition; it was a reality which was very hard for me to either fathom or get a firm grasp on. I remained depressed for months!
I am reminded here about the compassion and love for music and musicians that was a core virtue of Annisul Huq's life and living. For instance in 2015, the legendary musician Lucky Akhand was diagnosed with cancer. Appreciating his dignity because of the media's penchant for labeling such tragic cases as dushtho shilpi or "impoverished musicians" the news was initially kept a secret. Lucky Bhai had a reasonable amount of money on him, yet some of us in the core group did whatever could be done, with Annisul Huq coordinating and helping financially as well.
After Lucky Bhai's return from Bangkok he appeared to have made a marked recovery, yet most of us knew that the cancer has spread and him surviving the ailment was next to impossible. Nonetheless, Lucky Bhai was in high spirit and set about doing what he loved best – singing, composing and recording artists he was close to. On the flipside things were bad. Not only had the media got a wind of the news by unsolicited sources, cancer too was detected in the award winning national treasure, the music director Alauddin Ali as well as the now deceased singer from Sylhet Shammi  Akhter. Worse was to follow. Lucky Bhai's health detioriated rapidly and he needed again to be transported to Bangkok for another round of aggressive chemotherapy. The irony was this time around Lucky Bhai simply did not have the financial resources to handle the treatment on his own.
Enter Annisul Huq! He made a special trip to Lucky Akhand's residence in Old Dhaka to reemphasize his solidarity during crisis and in a poignant video caught on Facebook live and YouTube, sat next to the ailing artist who regaled him with songs. The Mayor of DNCC sometimes even joined in chorus and the videos and Annisul Huq's visit and efforts did not go unnoticed – but as expected the news went viral.
The go-getter that he was, Annisul Huq discussed the issue with the core committee and realized that unless a lot of money was raised, Lucky Bhai would have a very tragic end. He immediately went on the phone calling up the Honorable Minister for Cultural Affairs Asaduzzaman Noor and several others, not asking for financial assistance – but help in organizing a massive concert all in aid of Lucky Akhand.
What was to follow is the Shilpir Pashe Foundation which I will talk about next time.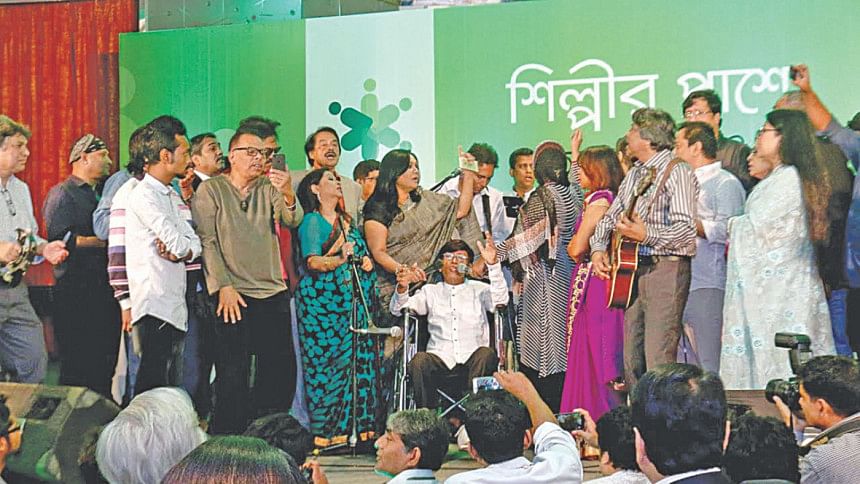 Maqsoodul Haque (Mac) is a columnist and a jazz-rock fusion musician.