Once upon a time, it was a jar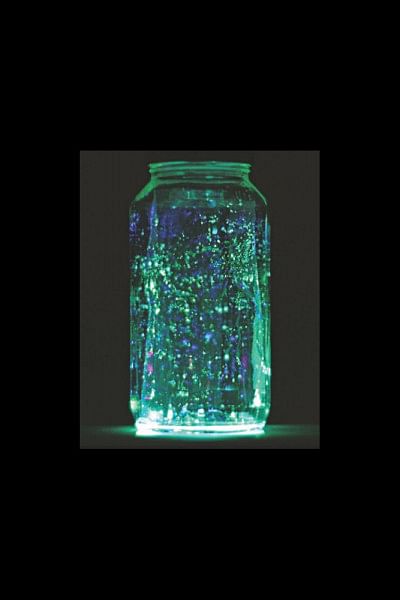 If there is one thing that's been abundantly lying around in your kitchen, stuffing up the cabinets and blockading your refrigerator, it's the infamous jar. What does a person do with so many jars except throw them in the trash? Well, what if I told you that they'd mean so much more but only on one condition: stop thinking of them as just jars.
It could be a glow-in-the-dark nightlight
Whether you want to perceive this fluorescent jar as a piece of galactic décor or a pretend makeshift crystal ball, making it requires only one thing: a glow stick. All you've got to do is cut open a glow stick with scissors, empty the contents inside the jar, shake it up and turn off the lights to bathe in a fluorescent aura of your "glow jar". If you have trouble finding glow sticks, simply opt for the glow-in-the dark stars, stock your jar up with them and watch them illuminate your bed-stand as you fall asleep.
How about a twinkling lamp?
If you want your room alight with a glittering charm, all you need is a pack of LED twinkling lights, more commonly known as "morich baati" from any local hardware shop. One packet comes with about 10 yards of the lights along with a plug and switch. Now for the fitting, remove the lid of the jar, cut out a square piece of beautiful fabric such that it covers the neck of the jar and make a hole of about 2cm diameter in the centre. Place the whole string of lights through the hole in the cloth and stash it inside the jar, leaving the plug and switch out. Secure the fabric over the jar head using a rubber band, plug it in and awe away. 
It could be a memory capsule too
Take your souvenirs, combine it with the memories you captured in photos from various points in your life and preserve in mini memory capsules. For example, the souvenirs could be shells you collected on a vacation on the beach or that tassel from your graduation hat. Glue a photo that belongs to the memory inside the jar vertically and carefully place the mementos within. Cover the jar with a square piece of fabric, securing it with a ribbon. Most importantly, put up a beautiful label.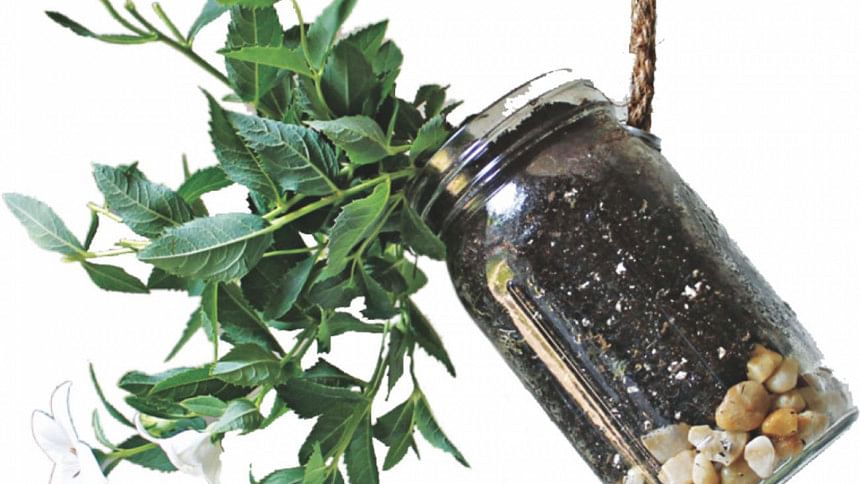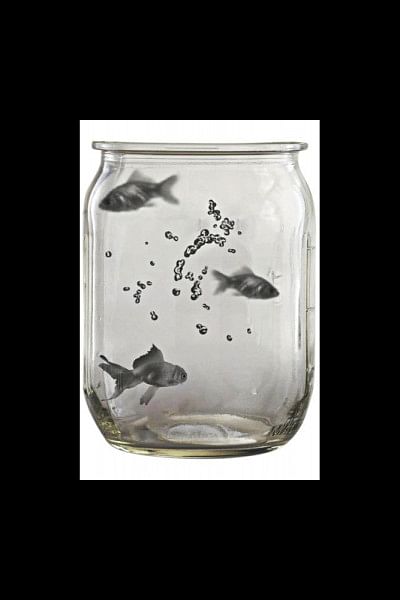 Vases are never out of fashion
Every once in a while you'll come across a very shapely jar and when you do, you'll preserve this jar for a very special calling: flower vases. To refurbish the modest jar you could always go with a classy polished look by spray painting it golden. For a more vintage look, mix a few drops of food colour (blue works best) with some adhesive and water and coat the inside of the jar. Then, simply place the jar in the microwave for 30 seconds (or more if the paint hasn't set). Voila! You now have a vase.
A portable home for your best pal?
I'm not joking. If your best friend is a fish and you cannot imagine a moment passing by without it, find the most gigantic jar, fill the bottom with pebbles and marbles, maybe throw in some decorative plant, fill it up with water and let your "bestie" revel in the comfort of its new home. Oh, please remember to NOT put the lid back on: you don't want to suffocate your fish.
Labiba Mustabina studies biochemistry and biotechnology at North South University. A tree hugger, she also claims to be a closet artist. You can reach her at [email protected].