The Fine Line between Plagiarism and Influence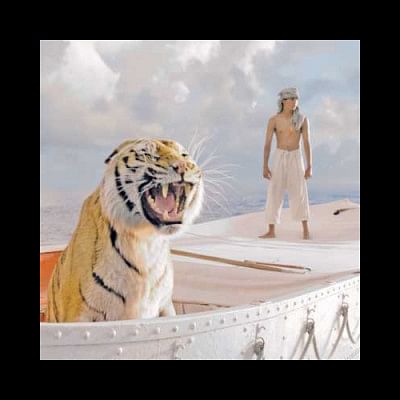 Kaavya Viswanathan's novel, "How Opal Mehta Got Kissed, Got Wild, And Got a Life" is a prime example of plagiarism. And no matter how much the author talks about it being "completely unintentional and unconscious," 40 passages from the books of authors such as Megan McCafferty, Meg Cabot, and Salman Rushdie don't insert themselves. 
This was conscious. 
There is a fine line between plagiarism and inspiration: plagiarism is when you deliberately copy someone else's stuff and take credit for it, while influence is when you read another work, get inspired by it and work out something of your own – something that would have little resemblance with the source material.
Yann Martel's "Life of Pi" was subject to plagiarism allegations when he'd readily admitted that he had taken inspiration from Brazilian writer Moacyr Scliar's novel, "Max and the Cats", where a Jewish child by the name of Max gets stranded in the ocean with a jaguar while trying to flee Nazis. Martel said that he had only read a review of the novel and liked the premise so much, he decided to use it. 
When asked if that wasn't intellectual theft, he responded saying that his own novel and Scliar's were different; while his book was about "religion, faith, and imagination," Scliar's book was more in line with holocaust literature. 
Portions of The Lord of the Rings were said to have been plagiarized by Tolkien from Richard Wagner's opera cycle "The Ring of the Nibelung". Tolkien said he was merely inspired by it. 
Similarly, the late Terry Pratchett was often asked if he got the idea for his school for wizards in the Discworld series (Unseen University) from J. K. Rowling's Hogwarts. Unseen University predates Hogwarts so Pratchett once joked that he used a time machine to steal the idea.
I don't think it is stealing if the writer uses the premise in his own unique way and gives it a voice that is authentic. Ian McEwan's novel "Atonement" was alleged to be plagiarized from Lucilla Andrews. McEwan refuted that claim. Even Thomas Pynchon, the world's most reclusive author, broke his silence and wrote an open letter supporting McEwan. He said, "Writers are naturally drawn, chimpanzee-like, to the colour and the music of this English idiom we are blessed to have inherited. When given the choice we will usually try to use the more vivid and tuneful among its words." 
So we can see that this influence business is a regular thing in writing. However, unintelligent copy-pasting, as was the case for Viswanathan's, is theft, and should be discouraged.