THE FASHION SHOWCASE: BIGGER AND BETTER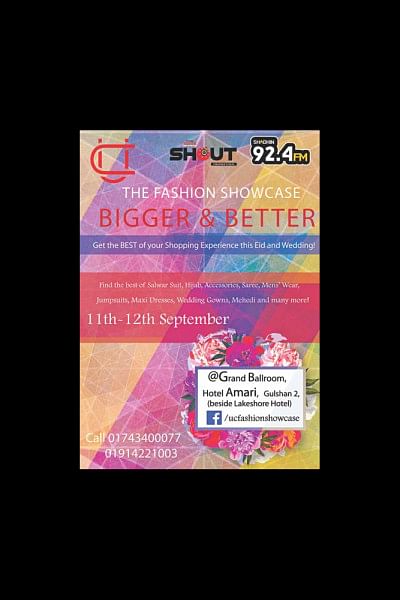 UC Fashion Showcase is organising a two day long exhibition, titled "The Second Fashion Showcase – Bigger n Better", on September 11 and 12, 2015 at the Grand Ballroom of Hotel Amari in Gulshan, Dhaka. The festival will be open to all, from 10 am to 10 pm, on both days. 
UC Fashion Showcase is the event management sector under the online boutique house, Unique Collection. Unique Collections, founded in 2012, has grown into a brand in its years of operation. It is one of the largest online boutiques of the country, and believes in bringing quality clothing and lifestyle products to its customers. It also supports the newcomers of the industry by providing them platforms to showcase their products. 
This is the third and by far the largest exhibition that Unique Collection is hosting, with 26 young and competent lifestyle brands from all over the country. So there will be plenty of non-mainstream fashion and craft houses displaying their exclusive collections under one roof. 
Organised with Eid and the upcoming wedding season in mind, the stalls will boast a wide range of items befitting the theme, including panjabi and wedding wears. Additionally, there will be shalwar-kameez outfits, men's and kids' wears, various accessories, bags and hijabs among many other products. Mehndi stalls are a new addition in this exhibition to set the spirit right for the Eid and wedding season.
"The aim of the exhibition is to provide exposure to the exclusive and authentic fashion brands of Bangladesh, and give them an opportunity to establish their brands," said Tamanna Ahmed, owner of Unique Collection and founder of UC Fashion Showcase. "Starting from people who make homemade soaps to those who sew their own bags and then sell, we're trying to bring everyone together and encourage them through the platform," she added. She also informed that Unique Collection works to empower the e-commerce sector through these exhibitions.
SHOUT is the strategic partner of the exhibition, while the radio partner is Shadhin 92.4FM. 
To know more about the event, visit the event page at www.facebook.com/events/788986967882308
Arman R. Khan is a caffeine addict, a dreamer and a culture enthusiast who takes life one day at a time. Correspond with him at [email protected] or tweet @ArmanRK