How to Waste Time on the Internet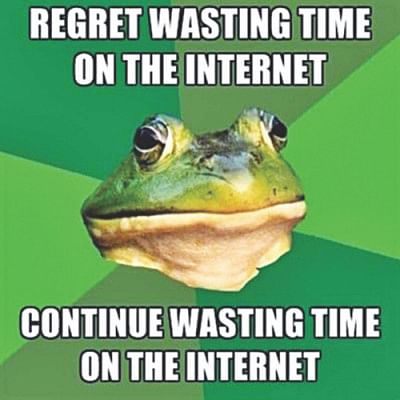 Seeing as Facebook exists, wasting time online should be easy, right? But sometimes even social media and YouTube can get boring. 
No worries. Next time you have an internet connection and a lot of time, you can waste it on these things instead:
Six degrees of Wikipedia: Choose a target article, and click Random Article. You can only click on links to other articles on the page, and within six clicks you have to get to the target article. I chose 'Adolf Hitler' as the target article, and it went like this:
ApprenNet>Columbia Business School>Manhattan>Ethnic Groups in Europe>Germans>Adolf Hitler
If you get really good at this, reduce the number of potential clicks. You can also compete with friends! 
Make-a-superhero: Visit Superpower Wiki (powerlisting.wikia.com). Click Random Page. That's your superpower. Make up a superhero identity and backstory based on that. Click Random page again. That's your main villain's superpower. Make up a backstory for him/her too. Now plan how you can defeat the villain!
Puppies!: If you just want to unwind in the company of cute animals, go to www.sanger.dk . The site is basically a pug puppy licking your computer screen. Proceed to d'awwwww. 
TV Tropes: Just visit tvtropes.org, a website dedicated to the common tropes that appear in all kinds of pop culture and examples. The site is practically a time machine which will drop you off to a few hours in the future. 
Unleash your inner Neo: Visit hackertyper.com . Type random gibberish, and green, technical looking code(which actually doesn't work) will appear on the black screen. If you want to roleplay a Matrix character or just pose as a hacker, this site is for you. 
Regret not having an international credit card: Go to shutupandtakemymoney.com, which has a collection of the most attractive useless (and expensive!) stuff from around the web. A good site to fish for ideas.  
Add some atmosphere: Nothing adds to the atmosphere like the sound of pouring rain. rainymood.com. That is all. 
Explore internet history: archive.com has a diverse collection of material from the relatively short but eventful history of the internet. Browse old webpages, games, videos and all kinds of other stuff. 
Get recipes you probably are too lazy to make: Tell supercook.com which ingredients you currently have, and the site will generate a list of recipes that use those ingredients. A useful first step in learning to cook. 
Take a roller coaster ride: And you can even take control! Go to www.barcinski-jeanjean.com/entries/line3d/ (Just google 'line3d', click the first link), and you can control a solid line that moves through space like a roller coaster. Protip: Use a mouse. 
Paint like Jackson Pollock: If you think Pollock's paintings are just random splotches of colour, you can (maybe) prove yourself right by visiting manetas.com/pollock/ and creating your own Pollock-like paintings. Click to change colour. 
Pop bubble-wrap bubbles: One of those rare activities that every person loves. Go to 
virtual-bubblewrap.com to do it online. 
Browse The Useless Web: Visit theuselessweb.com, click 'Please'. Every time it will take you to a different simplistic time-wasting site. Make it your homepage, and you will never get anything done ever again.