Cult Favorite STAR WARS Characters
The Star Wars universe is huge, and teeming with characters. Some of them, despite not being front and centre in the movies, have managed to acquire quite impressive fan followings. Turn away now to avoid spoilers.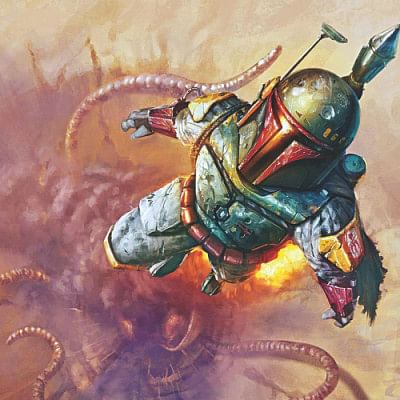 The Force Awakens
The riot control trooper, popularly known as TR-8R on the internet, is the latest cult favourite Star Wars character. Despite being one of the stormtroopers, who are supposed to be weak, he dominates the fight with Finn, a main character. His dropping the gun to use a melee weapon, and calling Finn out as 'Traitor!' has endeared him to the fandom. 
Original Trilogy
Wedge Antilles- Wedge is a rebel fighter pilot with only a few lines in the movies. But he is the only pilot to always survive, never even getting shot down, and having a direct role in the destruction of two different Death Stars. The expanded universe novels set him up as the most talented fighter fighter pilot of his time. 
Boba Fett- The most famous example of a cult favourite Star Wars character. This bounty hunter seldom speaks, appears for only a few minutes, ultimately fails his job, and gets eaten by a giant alien. But his cool demeanour and appearance made him a surprise fan favourite, leading to him gaining much more importance in subsequent media releases.  
Admiral Ackbar- The exotic looking Rebel Admiral will forever be remembered for his immortal cry, uttered when he realized his forces had been led into an ambush. 'It's a trap!' indeed. 
Prequel Trilogy
Aurra Sing- Originally designed to as a background character; she appears onscreen on Episode 1 for only a few seconds. As with Boba Fett, she became a surprise fan favourite due to a striking appearance, and appeared as a more important character in the animated series. 
Ahsoka Tano- Anakin Skywalker's first padawan only appears in the animated series, but has won hearts through her charm.
Kit Fisto- This Jedi dies rather easily in the hands of the Emperor in the movie and doesn't have a major role. But in the Clone Wars animated series, he is an unstoppable force of destruction, complete with a toothy grin. Plus he can breathe underwater. No wonder fans love him.
General Grievous- He is just like Kit Fisto: weak in the movies, awesome in Clone Wars. His scary, Jedi-murdering animated persona made for a wildly popular villain. 
Darth Maul- Only appeared in one movie, but his unforgettable fight scene, perhaps the finest lightsaber battle in celluloid, won him a legion of fans.
Expanded Universe
Thrawn- One of the few non-human characters to rise through the Imperial ranks, his unstoppable intellect and military tactics almost managed to undo all the victories that Luke and the gang earned; and won the admiration of fans. 
Mara Jade Skywalker-She is strong, independent, and a former apprentice of the Emperor. Later Jedi Master. Wife of Luke Skywalker. Redhead. What else do you need to become a fan favourite? 
Darth Revan- Appears in the Knights of the Old Republic video game franchise as the player character. His struggle to choose between his Jedi and Sith identities defines him, and makes for a compelling main character. 
Find them interesting? Check out the media they appear in to find out how these characters came to be cult favourites!
Novo Manzoor is an athlete. He surfs the web all day. You can reach him at: [email protected]